AWS Direct Connect Double Jackpot – Las Vegas & re:Invent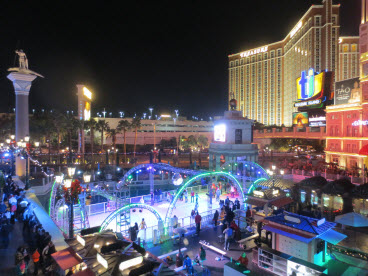 AWS Direct Connect makes it easy to establish a dedicated network connection from your premises to AWS. You can establish private connectivity between AWS and your datacenter, office, or colocation environment. This has the potential to reduce your data transfer costs, increase bandwidth throughput, and provide a more consistent network experience than Internet-based connections.
Now in Las Vegas
Today we are introducing our 14th Direct Connect location: Switch SUPERNAP in Las Vegas, Nevada (see the Product Details page for a complete list of Direct Connect locations.
If you are hosted within or wish to use an APN Partner to connect through the Switch SUPERNAP data center, you can create a dedicated 1 Gbps or 10 Gbps network connection through the AWS Management Console: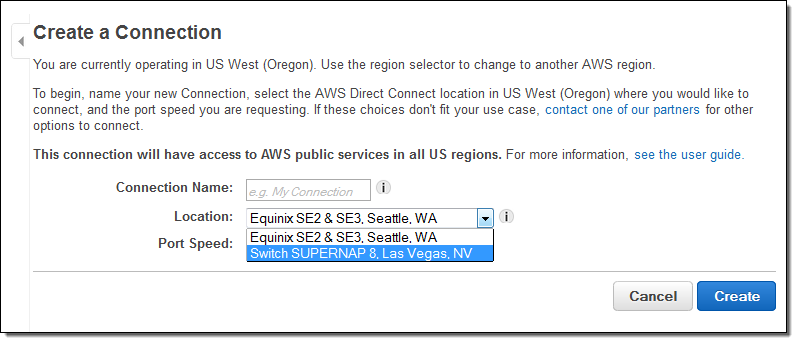 This will generate an authorization document and assign a Direct Connect port to you.
Direct Connect at re:Invent
This new location is convenient to the Sands Expo and Convention Center and we're going to take advantage of it at AWS re:Invent!
Our friends at Level 3 Communications and Cisco Systems (both APN Advanced Technology Partners) are providing the connectivity, fiber networking, encryption and security resources needed to bring Direct Connect live to the show. AWS Direct Connect will be powering the Test Drive Showroom and an ongoing demo of Amazon WorkSpaces running on a collection of zero client (PCoIP) devices, as well as showcasing the AWS Management console vCenter plug-in that enables the transfer of VMware workloads into AWS over Direct Connect.
The Direct Connect implementation at re:Invent is based on a proven Enterprise reference architecture that several AWS clients have deployed for production use. Cisco and Level 3 will also be launching their own joint AWS Direct Connect solution at re:Invent based on this architecture and will work with Accenture to promote it. To learn more, stop by the Test Drive Pavilion or the Level3, Cisco, or Accenture booths at re:Invent.
— Jeff;
Modified 1/27/2021 – In an effort to ensure a great experience, expired links in this post have been updated or removed from the original post.