New Annual Pricing for AWS Marketplace Products
I'm writing today to tell you about an important new feature for AWS Marketplace. As you may know, the AWS Marketplace lets you find, buy, and immediately start using a wide variety of software for developers and enterprises — 26 categories that span infrastructure, developer tools, and business applications.
You can now purchase AWS Marketplace products on an annual subscription basis. You will make a single upfront payment by selecting the annual option and an Amazon Elastic Compute Cloud (Amazon EC2) instance type and have unlimited use of the software for that EC2 instance for the next 12 months.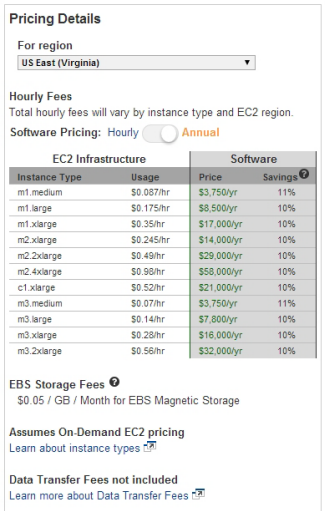 Annual subscriptions are be available for more than 90 software products from ISVs such as Alert Logic, Barracuda, Citrix, Fortinet, MicroStrategy, Progress Software, Riverbed, Sophos, Tenable, and Vormetric.
You can purchase an annual subscription with a couple of clicks:
Find the desired product, note the annual subscription price, and click Continue.
Specify the number of subscriptions that you would like to buy.
Click Accept Terms & Launch.
Benefits of Annual Pricing
This new option provides you with several important benefits:
Predictability – The annual pricing model will allow you to make more accurate forecasts of your software expenses when you are running steady-state workloads.
Cost Savings – You can reduce your software costs by 10% to 40% or more when you purchase an annual subscription for select software products on AWS Marketplace. You can continue to pay for usage on an hourly basis in situations where your workload is bursty.
Flexibility – You can run the software in any Availability Zone of any AWS Region in which the software is offered. The purchase is, however, specific to a particular EC2 instance type.
Ease of Use – You can change your software pricing model without restarting any instances or re-launching any applications.
Uniformity – As is the case with hourly pricing, all annual subscription charges will appear on your AWS bill. You don't have to set up any new accounts or share the payment information with a third party.
The Details
If you are currently paying for a product on an hourly basis, you can convert to an annual subscription pricing by simply buying annual subscription(s) as needed. You do not need to restart the instance or re-launch the application.
Let's walk through the process of purchasing a product through AWS Marketplace. The first step is to search for the product you are interested in. In this case I am lookingfor the Sophos UTM 9 security gateway: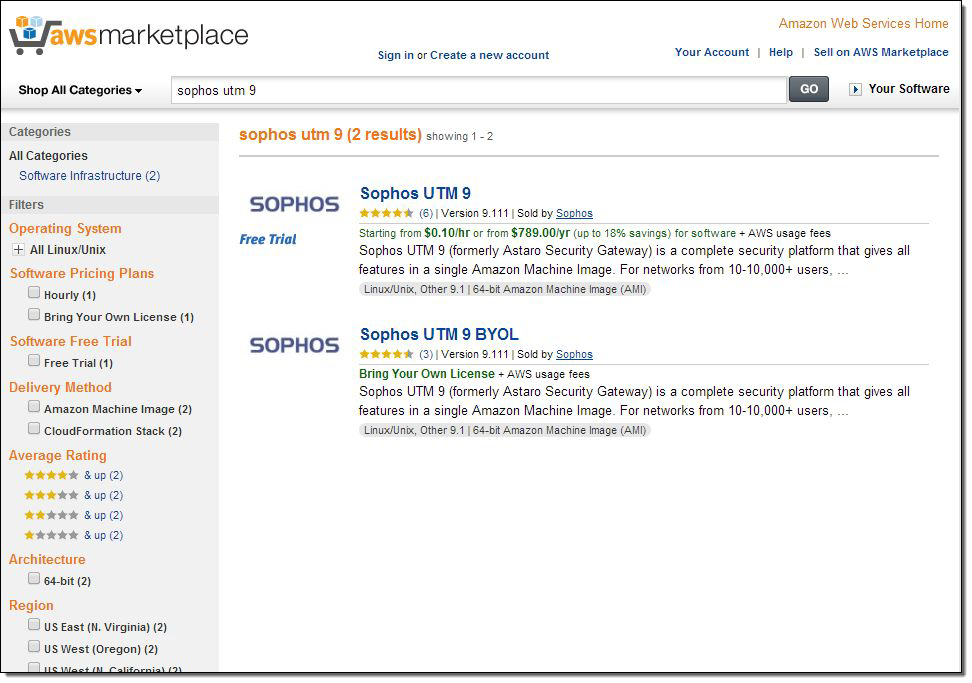 Then I review the pricing details: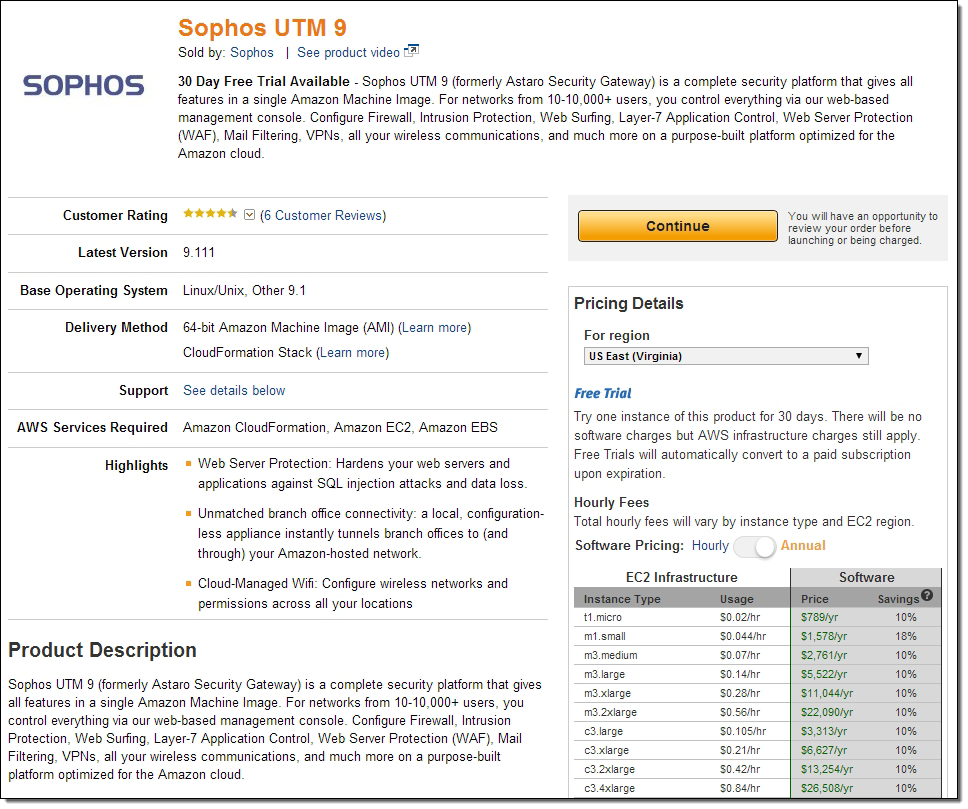 And make the purchase: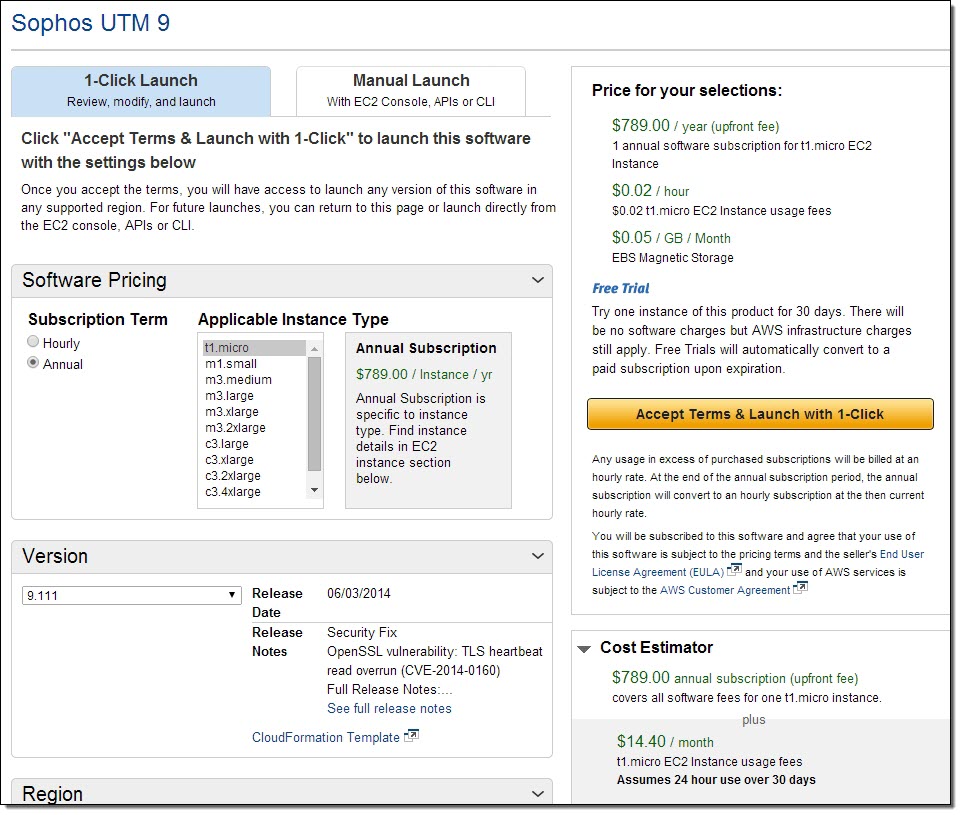 There will be a short wait while we spin up the EC2 instance, deploy the software and purchase your annual subscription: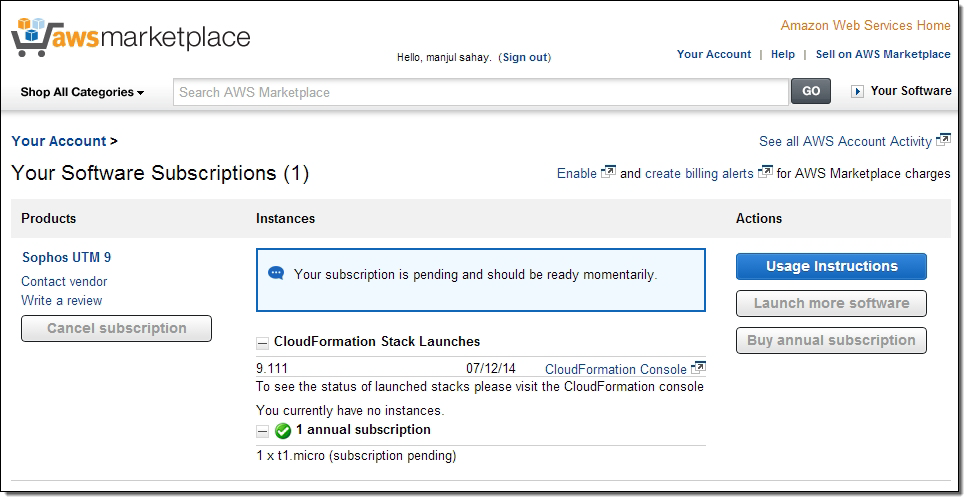 Once the software is running, you can click the Usage Instructions button to check on the next steps. If you want to add, cancel or change a subscription you can always go to the Your Software Subscriptions page to manage your software: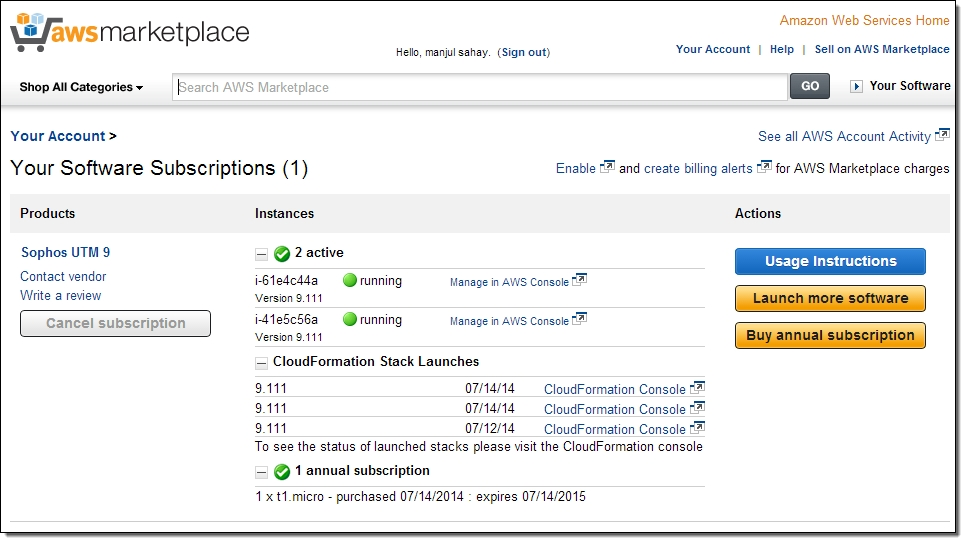 If you are an ISV and your software is already in AWS Marketplace, you can offer an annual subscription by submitting annual prices for your product.
Available Now
As I mentioned earlier, annual pricing is available in AWS Marketplace now!
— Jeff;