New Mechanical Turk HITS: Help McCann Erickson Find Some Favorite Picks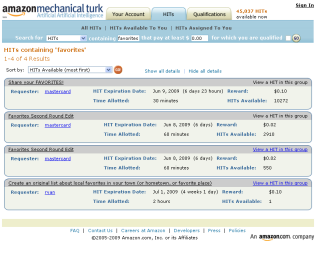 McCann Erickson is using the Mechanical Turk to collect information about people's favorite locations around the United States. They'd like you to be as specific as possible, about places that you have actually visited. They are looking for the places that other people don't always know about. The secret local hangout, or the place you would recommend to a friend or a relative.
The HITS come with some fairly specific requirements, so please read the instructions with care. You can get started here or by searching the HITS for the word 'favorites'.
— Jeff;