New – Product Support Connection for AWS Marketplace Customers
There are now over 2,700 software products listed in AWS Marketplace. Tens of thousands of AWS customers routinely find, buy, and start using offerings from more than 925 Independent Software Vendors (ISVs).
Today we are giving you, as a consumer of software through AWS Marketplace, the ability to selectively share your contact information (name, title, phone number, email address, location, and organization) with software vendors in order to simplify and streamline your requests for product support. The vendors can programmatically access this information and store it within their own support systems so that they can easily verify your identity and provide you with better support.
This is an opt-in program. Sellers can choose to participate, and you can choose to share your contact information.
Product Support Connection as a Buyer
In order to test out this feature I launched Barracuda Web Application Firewall (WAF). After selecting my options and clicking on the Accept Software Terms & Launch with 1-click button, I was given the option to share my contact details: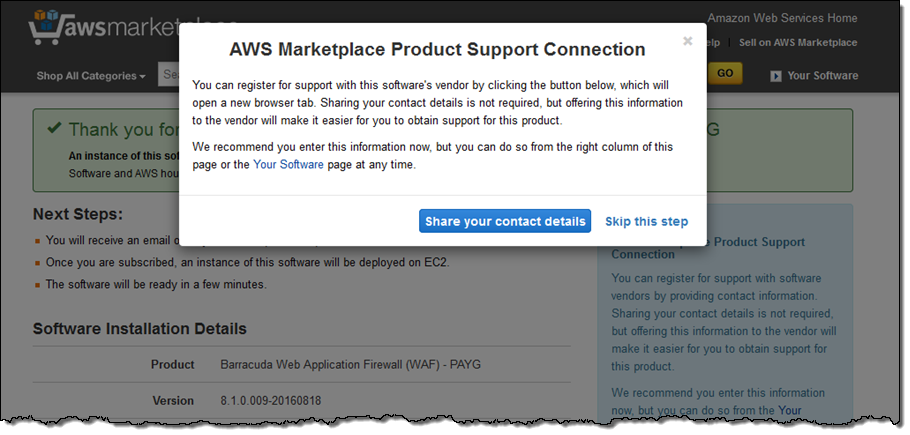 Then I entered my name and other information: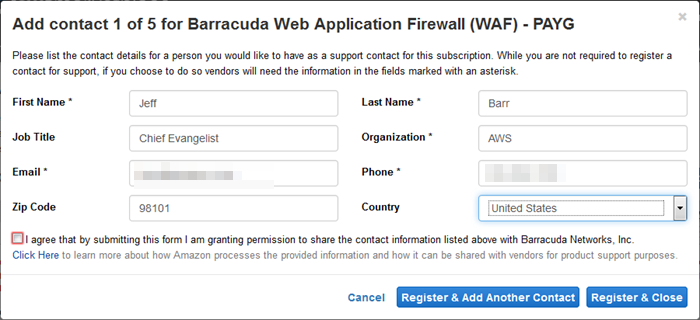 I have the option to enter up to 5 contacts for each subscription at this point. I can also add, change, or delete them later if necessary: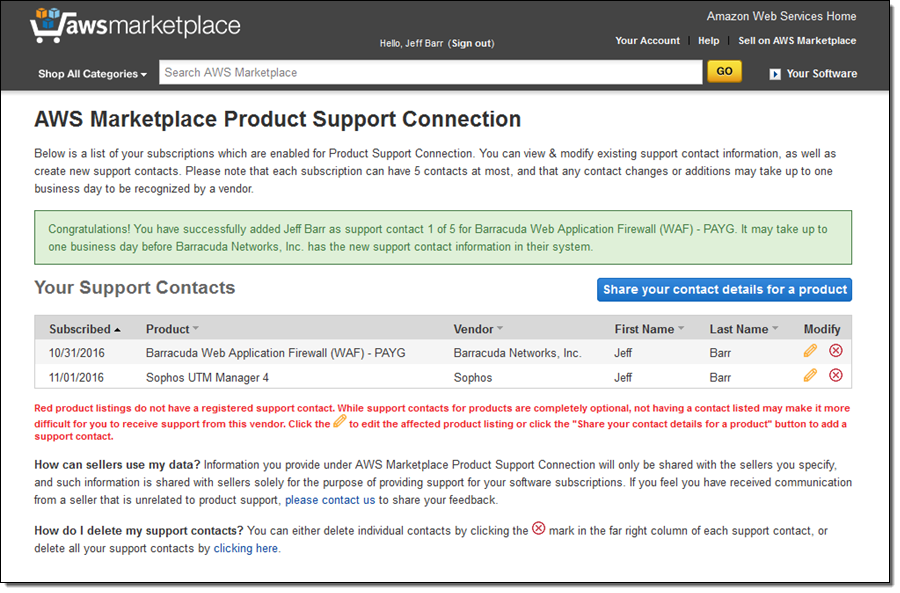 If products that I already own are now enabled for Product Support Connection, I can add contact details here as well.
Product Support Connection as a Seller
If I am an ISV and want to participate in this program, I contact the (AWS Marketplace Seller & Catalog Operations Team). The team will enroll me in the program and provide me with access to a secure API that I can use to access contact information. Per the terms of the program, I must register each contact in my support or CRM system within one business day, and use it only for support purposes. To learn more, read AWS Marketplace Product Support Connection Helps Software Vendors Provide More Seamless Product Support on the AWS Partner Network Blog.
Getting Started
When I am searching for products in AWS Marketplace, I can select Product Support Connection as a desired product attribute:

As part of today's launch, I would like to thank the following vendors who worked with us to shape this program and to add the Product Support Connection to their offerings:
Barracuda – Web Application Firewall (WAF), NextGen Firewall F-Series, Load Balancer ADC, Email Security Gateway, Message Archiver.
Chef – Chef Server, Chef Compliance.
Matillion – Matillion ETL for Redshift.
Rogue Wave – OpenLogic Enhanced Support for CentOS (6 & 7, Standard & Security Hardened).
SoftNAS – SoftNAS Cloud (Standard & Express).
Sophos -Sophos UTM Manager 4, Sophos UTM 9.
zData – Greenplum database.
Zend – PHP, Zend Server.
Zoomdata – Zoomdata.
We're looking forward to working with other vendors who would like to follow their lead!
To get started, contact the AWS Marketplace Seller & Catalog Operations Team at aws-marketplace-seller-ops@amazon.com.
— Jeff;