Now Open: AWS Region in Asia Pacific
Businesses and developers in the Asia Pacific part of the world can now obtain their processing, storage, and other services on an economical, pay-as-you-go basis from resources located nearby.
We've just opened up an AWS Region in Singapore, with two Availability Zones. The new region supports Amazon EC2 (including Elastic IP Addresses, Amazon CloudWatch, Elastic Block Storage, Elastic Load Balancing, and Auto Scaling), Amazon S3, Amazon SimpleDB, the Amazon Relational Database Service, the Amazon Simple Queue Service, the Amazon Simple Notification Service, Amazon DevPay, and Amazon CloudFront. The page for each service includes full pricing information for the Singapore Region.
Existing toolkit and tools can make use of the new Region with a simple change of endpoints. The documentation for each service lists all of the endpoints for each service.
I know that RightScale will be supporting the new Region and will be migrating their templates and images in the next couple of weeks. They already have their infrastructure up and running in the Region to provide fast communication between managed instances and their platform. Read more about how they are accelerating cloud adoption with support for the new Region, Windows, and simplified image creation.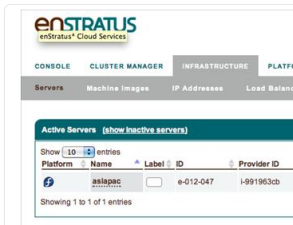 George Reese of enStratus wrote to let me know that all 46 of their AMIs are already up and running in the new Region. This includes all of the AWS services, user management, financial controls, infrastructure automation with automatic application deployment, multiple auto-scaling options, automatic recovery, encryption, and key management.
Attention developers: I'll create a list of updated tools and toolkits soon! Please send info to awseditor@amazon.com.
A number of customers are already planning to migrate their applications to the new Region. Here's a sampling:
Singapore
Kim Eng, one of Asia's leading securities brokers, is using AWS to host a trading application for the iPhone that will be launched in the near future. They chose AWS and the Singapore Region in order to minimize latency and to make sure that they can provide quick and efficient service even if there's a sudden spike in usage.
iTwin, creators of the iTwin remote device for plug and play access to remote files, recently started using EC2. Lux Anantharaman, Founder and CEO, told us that "After evaluating multiple cloud service providers, we realized AWS is the only one which is globally available and which satisfies our deployment needs. AWS is extremely simple to configure and use, provides a comprehensive suite of web services which are unmatched by any other provider, and the billing system is convenient. Last but not least, our engineers love AWS."
Australia
Altium provides software for electronic design. They have moved their content delivery over to Amazon S3 and CloudFront, reducing their bandwidth and storage costs to just 25% of that charged by their former provider. As their CIO, Alan Perkins, said, "At times we have thousands of clients asking for 1.5GB files at the same time and AWS has delivered without a glitch. " They have also moved a lot of their research and development work to AWS.
Also in Australia, 99designs.com runs their crowdsourced graphic design site on AWS. They use a cluster of application servers on EC2, backed up by database servers and proxy servers that also run on EC2. They count on Amazon S3 to store massive amounts of data — a new design is uploaded every seven seconds. Lachlan Donald, CTO of 99designs.com, told us that "AWS has virtually eliminated our infrastructure concerns and allowed us to focus on our core business."
India
Rediff provides online news, information, communication, entertainment, and shopping services. They've been using AWS for highly demanding data processing such as data mining and analytics. Sumit Rajwade, Rediff's Vice President of Technology, told us that "The flexibility and scalability of the AWS platform is unparalleled and we are pleased that AWS is opening up a region in Asia Pacific."
Indiagames decided to use AWS to launch and run their popular T20Fever game on Facebook. They turned to AWS as an alternative to building and scaling their own infrastructure. As a result, they were able to keep their staffers focused on development instead of on managing physical hardware. Their application makes use of EC2, S3,RDS, and CloudFront. According to Vishal Gondal (CEO), "By leveraging Amazon EC2, Amazon S3, Amazon Relational Database Service (RDS), and Amazon Cloudfront, we've been able to handle thousands of gamers concurrently without having to spend a rupee on physical infrastructure."
— Jeff;
PS – We've been ramping up our marketing and business development activities in Singapore and we're hiring a Marketing Manager, a Regional Account Manager for the International Market, and a Regional Account Manager for the Indian Market.
We also need to hire some Solutions Architects, Technical Sales Representatives, a Data Center Manager, and some Data Center Technicians in Singapore. If you are interested in any of these positions, please send your resume or CV to tina@amazon.com .