Now Open – South America (Sao Paulo) Region – EC2, S3, and Much More
With the paint barely dry on our US West (Oregon) Region, we are now ready to expand again. This time we are going South of the Equator, to Sao Paulo, Brazil. With the opening of this new Region, AWS customers in South and Central America can now enjoy fast, low-latency access to the suite of AWS infrastructure services.
New Region
The new South America (Sao Paulo) Region supports the following services:
We already have an Edge Location for Route 53 and CloudFront in Sao Paulo.
The AWS Toolkit for Visual Studio includes the new Region in the dropdown menu. You will need to restart Visual Studio to refresh the menu.
This is our eighth Region, and our first in South America (see the complete AWS Global Infrastructure Map for more information). You can see the full list in the Region menu of the AWS Management Console: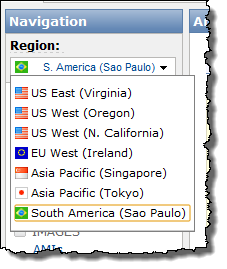 You can launch EC2 instances or store data in the new Region by simply making the appropriate selection from the menu.
New Resources
Portions of the AWS web site are now available in Portuguese. You can switch languages using the menu in the top right: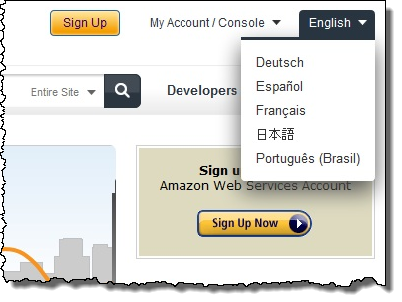 We now have an AWS team (sales, marketing, and evangelism to start) in Brazil. Our newest AWS evangelist, Jose Papo, is based in Sao Paulo. He will be writing new editions of the AWS Blog in Portuguese and Spanish.
Customers
We already have some great customers in Brazil. Here's a sampling:
Solution Providers
Our ISV and System Integrator partner ecosystem in Brazil includes global companies such as Accenture, Deloitte, and Infor along with local favorites Dedalus and CI&T.
Jeff;