Now Open – US West (Oregon) Region
We have just opened up another AWS Region!
This one is located in the Pacific Northwest area of the United States, in the beautiful state of Oregon, and offers low-cost, low-latency access to our services from the Western portion of the US. Were always trying to provide you with services at the lowest possible price. Pricing for this new region is currently the same as for the US East (Northern Virginia) region.
The new US West (Oregon) Region supports the following services:
This is our seventh Region, and our fourth in North America. You can see the full list in the Region menu of the AWS Management Console: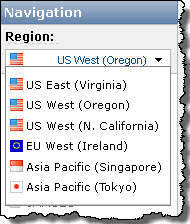 You can launch EC2 instances or store data in the new Region by simply making the appropriate selection from the menu.
— Jeff;
PS – There are really four US Regions even though the menu shows just three. The fourth region is the ITAR-Compliant AWS GovCloud (US) Region, which I wrote about earlier this year.