Creating an inclusive culture where technical women can thrive
Today marks International Women's Day (IWD), a global holiday designed to celebrate the social, economic, cultural, and political achievements of women. It's also a call to action to advance women's equality. This year's theme is #BreakTheBias and focuses on a gender-equal world where differences are valued. I'm truly honored to lead an incredible organization focused on growing the talents of individuals around the globe, and with that is the opportunity to help women, in particular, flourish.
During AWS re:Invent 2021, we brought together an esteemed group of professionals to share how they are tackling this issue in a powerful conversation called Cultivating a Culture Where Technical Women Flourish. Panelists included Lucy Hur, chief people officer at Slalom; Iesha Berry, former chief inclusion diversity and equity officer at Slalom; Carolyn Paola, account director at Year Up; and Brian Taptich, vice president at Amazon Web Services (AWS) worldwide specialist organization. Each is passionate about breaking down the unique barriers facing women and girls.
In the spirit of IWD, here are some highlights they shared about the top obstacles facing women, including how we attract, develop, and retain diverse talent, and what steps we can take to advocate on their behalf through true allyship.
Use data to understand your workforce
Using data is critical to building strategies that propel short- and long-term inclusion, diversity, and equity (IDE) goals. Collecting data from a variety of feedback channels allows you to measure how employees are feeling and understand unique nuances of diverse identities. IDE pulse surveys, roundtables with employees from historically underrepresented groups, and informal conversations to collect anecdotal feedback are all great options that give respondents the opportunity to choose whatever feedback channel is most comfortable for them. For example, some respondents may prefer to speak in a group setting, while others may want to submit written feedback so they have more time to reflect on the questions.
Iesha Berry, Slalom's former chief inclusion diversity and equity officer, remarked, "We have found that looking at the differentiated experiences of our employees is helping us to drive laser-focus on programs, strategies, and initiatives that we can begin to launch, allowing us to more readily wrap our arms around our employees to create a more inclusive culture. We invite our employees to share their sentiments both in a quantitative and qualitative way."
The data derived from feedback gives organizations additional insights into the changes necessary to better support a gender-diverse workforce.
Practice allyship
Creating a sense of belonging through allyship by actively promoting and advancing a culture of inclusion through intentional, positive, and conscious efforts that benefit people as whole is key.
Inclusive language is one of the most immediate changes you can make to improve IDE efforts. Is your organization using language and creating messaging that drives IDE forward? When people feel included in a conversation, they are more likely to contribute.
Brian Taptitch, vice president of the AWS worldwide specialist organization, said, "Making sure that there's a level of awareness, not just for yourself but that you're projecting it out to your teams, leadership, and the entire organization. Make sure the language you are using is equitable."
Allyship requires us to lead by example. Advocate for those who don't have a seat at the table, ensuring visibility and equitable opportunities across your teams.
Berry said, "The power of sponsorship is so important—looking to ensure that our women have access to advocates who are in the room speaking about who and what they are as professionals and the talent they bring to the organization, using their bargaining chips to create areas of access and opportunity for the women who are not in the room. We've looked at how to leverage advocacy as a powerful policy and strategic differentiator, not only pivoting on greater gender diversity, but broadly speaking, about investing in developing of the next generation of technical talent."
Invest in programs to develop and retain your existing talent
Representation matters. For women and other underrepresented groups, it's a powerful and tangible message that says, you belong here. This is a key driver of retention. As is safeguarding the development of women in tech. All employees deserve opportunities to learn and experiment among a community of their peers without fear of failure. It's important to provide them with the training, resources, and mentors they need to be successful. This is especially crucial for women, as we are often judged solely by our accomplishments and not our potential.
In 2018, Slalom noticed that only 6% of its female workforce held AWS Certifications, an industry recognized credential. The CEO, Brad Jackson, consulted AWS to drive gender-parity solutions. Together, in 2020, AWS and Slalom built a unique training model called Project Ada to increase women technologists through an investment in training, certification, experiences, and mentorship for female employees in non-IT roles. They had hoped for 300 participants and ended up with nearly 900, resulting in 400 women receiving net-new certifications. Inspired by this new training model, AWS adopted the program internally to accelerate training for its IT and non-IT female workforce, part of its ongoing efforts to upskill employees.
Creating networks for women and underrepresented communities to come together is vital. Carolyn Paola, account director at Year Up shared, "Having mentors that look like them helps them realize they can achieve their goals. Female-identified students want to see themselves in other professionals. They'll feel a heightened sense of belonging, which is lacking for women in tech."
Think bigger on benefits to support women
Encouraging and aiding the development of women in tech is a great start, but it's only one piece of the puzzle. There are cultural norms and other factors to consider when defining wraparound support. For instance, according to the 2020 Lean In Women in the Workplace report, 76% of mothers with children under the age of 10 say childcare is one of the top three challenges during COVID, compared to 54% of fathers with young children. Flexibility for working parents, especially women, is particularly critical. Many organizations are offering programs and expanded family benefits to help their employees balance their home and work life.
Lucy Hur, Slalom's chief people officer, shared that in response to the disruption of the pandemic, Slalom put multiple programs in place like childcare and eldercare and dialed up investments in health and wellbeing, offering wellness days to their employees. She said, "Our approach felt really reactive, so we asked ourselves, 'What's our approach to the future of work?' Our future approach is that work should work for you. Discuss what works for you and your team. Flexibility is a cornerstone of this. A one-sized-approach doesn't fit all. Embracing rapid experimentation and then sharing it broadly when it's successful and committing to this hybrid way of working moving forward, is a big part of this."
Get creative to recruit diverse talent
Recruiting practices must include actions that promote and advance gender equality to give women 360-degree support along their professional tech journey. Supporting women means making a commitment to hire with representation in mind, even if it takes more time to fill a role. It's not always easy to find a diverse candidate pool of both entry-level and experienced candidates, but there are a number of tactics that can help organizations source talent:
Tap into the networks of your current workforce. Ask everyone to identify five people who would be a good fit for current or future opportunities, further priming your hiring pipeline.
Invest in higher-touch recruiting. For example, at AWS, we hosted 12 diversity events, including a virtual panel and fireside chats to help prospective hires learn more about our recruiting and interview practices and our company culture. We also invited current employees to share their personal experience of what it's like to work at AWS.
Tap into the non-technical talent in your current workforce and offer upskilling opportunities. Migrating to the cloud impacts several business teams, not just the technical teams.
Next steps
Being an active participant in IDE efforts means making a pledge to drive change. It means behaving in more immediate, impactful ways to support women in every aspect of our lives. As we work to achieve gender parity in tech, it will take approaches that are based in empathy, permission to learn and experiment, allyship, and data to recruit, develop, and retain talent. I also encourage each of us to open the dialogue, not just on IWD, but all year long, to help women flourish in tech.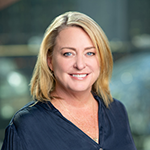 Maureen Lonergan is vice president of AWS Training and Certification where she leads a global team of builders committed to training the next generation of cloud talent. Maureen helps AWS customers, Partners, and employees gain the skills and knowledge to unlock the power of the AWS Cloud in the age of digital transformation.