From his father's computer store to life as a developer: Nicola's story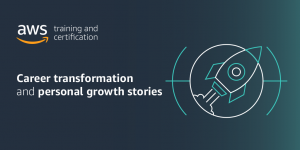 For Nicola, life as a developer emerged through a combination of two formative experiences. First, the discipline he learned from skiing, and second, a happy childhood learning all about IT in his father's computer store.
While Nicola embraced skiing and technology at different stages of life, he maintains that both, in different ways, inspired him to seek out AWS Training and Certification. This, he says, is what set him on the path to a successful career within the IT industry, having not only learned techniques and skills, but sharing the experience with other like-minded individuals.
For Nicola, that spirit of creativity and innovation is now a part of his DNA and continues to motivate him to achieve, whether problem-solving for retail clients or solving customer headaches before they turn into a real nightmare.
If you, like Nicola, have the desire to be a part of something exciting and want to learn the discipline needed to carry it forward into a career, read more about Nicola's journey below.
Nicola Racco, Tech Lead
What attracted you to a career as a developer and AWS Training and Certification?
AWS was new in 2015 in Italy. I was already a web developer and my company was trying to empower me to enhance my cloud experience, so I began looking into what AWS could do. I could see it was a powerful platform and proposed to my company that we become the first in Italy to partner with AWS and offer a few different services. We did, and that's where I began my certification process.
It was perfect for me because I love to learn about technology. It's an obsession that began while spending time with my father at his computer shop. And it's now being fed by AWS Training, which is giving me the great depth and breadth of knowledge I need as an architect.
What did you learn from this process aside from cloud development?
That it's never too late to learn as long as you have a passion for it. I started a little later in my career, but with the right experts advising me, it was possible to become an expert myself. It's like me and skiing. I didn't learn in my youth and then went on a holiday as an adult and fell over all the time. I found an instructor with the sole aim of being able to get down a mountain. His teaching gave me so much confidence that I came to love my time on the snow and I now ski whenever I can. That first time on the slope was the same as starting my first certification—scary but with a strong sense of possibilities opening up.
Just be passionate about the cloud. If you approach AWS as something that's not strictly related to work, you'll have fun with it, and that's important because you won't feel pressured.
What's been your most rewarding moment since beginning your AWS Training?
I had a client in the retail sector who was preparing for Black Friday, which they knew would put their ecommerce platform under huge pressure. They were telling us they had a problem with capacity but couldn't find the source of the problem. We were able to locate it quickly and solve the problem so their application performed brilliantly and their customers had an excellent experience. There was no downtime and no lost revenue. When you know your customers are worrying and feel under pressure, it's so rewarding to solve their headaches before they become a real difficulty. That was the first time I realized the real-world value my knowledge could bring.
Learn more about how AWS Training and Certification can help you advance your career as a cloud developer. Hear the stories of other developers who are prioritizing cloud learning and creating a new future.