Architecture Monthly Magazine: Architecting for Financial Services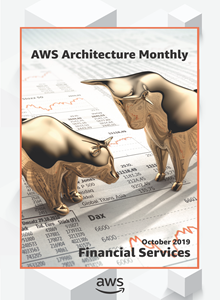 This month's Architecture Monthly magazine delves into the high-stakes world of banking, insurance, and securities. From capital markets and insurance, to global investment banks, payments, and emerging fintech startups, AWS helps customers innovate, modernize, and transform.
We're featuring two field experts in October's issue. First, we interviewed Ed Pozarycki, a Solutions Architect manager in the AWS Financial Services vertical, who spoke to us about patterns, trends, and the special challenges architects face when building systems for financial organizations. And this month we're rolling out a new feature: Ask an Expert, where we'll ask AWS professionals three questions about the current magazine's theme.In this issue, Lana Kalashnyk, Principal Blockchain Architect, told us three things to know about blockchain and cryptocurrencies.
In October's Issue
For October's magazine, we've assembled architectural best practices about financial services from all over AWS, and we've made sure that a broad audience can appreciate it.
Interview: Ed Pozarycki, Solutions Architecture Manager, Financial Services
Blog post: Tips For Building a Cloud Security Operating Model in the Financial Services Industry
Case study: Aon Securities, Inc.
Ask an Expert: 3 Things to Know About Blockchain & Cryptocurrencies
On-demand webinar: The New Age of Banking & Transforming Customer Experiences
Whitepaper: Financial Services Grid Computing on AWS
How to Access the Magazine
We hope you're enjoying Architecture Monthly, and we'd like to hear from you—leave us star rating and comment on the Amazon Kindle page or contact us anytime at aws-architecture-monthly@amazon.com.
Financial Services at re:Invent
We have a full re:Invent program planned for the Financial Services industry in December, including leadership, breakout, and builder sessions, plus chalk talks and workshops. Register today.