Amazon at CES 2020 – Connectivity & Mobility
The Consumer Electronics Show (CES) starts tomorrow. Attendees will have the opportunity to learn about the latest and greatest developments in many areas including 5G, IoT, Advertising, Automotive, Blockchain, Health & Wellness, Home & Family, Immersive Entertainment, Product Design & Manufacturing, Robotics & Machine Intelligence, and Sports.
Amazon at CES
If you will be traveling to Las Vegas to attend CES, I would like to invite you to visit the Amazon Automotive exhibit in the Las Vegas Convention Center. Come to booth 5616 to learn about our work to help auto manufacturers and developers create the next generation of software-defined vehicles: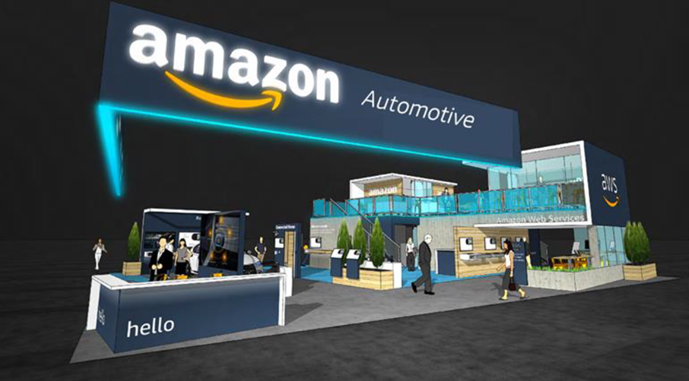 As you might know, this industry is working to reinvent itself, with manufacturers expanding from designing & building vehicles to a more expansive vision that encompasses multiple forms of mobility.
At the booth, you will find multiple demos that are designed to show you what is possible when you mashup vehicles, connectivity, software, apps, sensors, and machine learning in new ways.
Cadillac Customer Journey – This is an interactive, immersive demo of a data-driven shopping experience to engage customers at every touchpoint. Powered by ZeroLight and running on AWS, the demo uses 3D imagery that is generated in real time on GPU-equipped EC2 instances.
Future Mobility – This demo uses the Alexa Auto SDK and several AWS Machine Learning services to create an interactive in-vehicle assistant. It stores driver profiles in the cloud, and uses Amazon Rekognition to load the proper profile for the driver. Machine learning is used to detect repeated behaviors, such as finding the nearest coffee shop each morning.
Rivian Alexa – This full-vehicle demo showcases the deep Alexa Auto SDK integration that Rivian is using to control core vehicle functions on their upcoming R1T Electric Truck.
Smart Home / Garage – This demo ensemble showcases several of the Alexa home-to-car and car-to-home integrations, and features multiple Amazon & Alexa offerings including Amazon Pay, Fire TV, and Ring.
Karma Automotive / Blackberry QNX – Built on AWS IoT Core and machine learning inference models developed using Amazon SageMaker, this demo includes two use cases. The first one shows how data from Karma's fleet of electric vehicles is used to predict the battery state of health. The second one shows how cloud-trained models run at the edge (in the vehicle) to detect gestures that control vehicle functions.
Accenture Personalized Connected Vehicle Adventure – This demo shows how identity and personalization can be used to create unique transportation experiences. The journeys are customized using learned preferences and contextual data gathered in real time, powered by Amazon Personalize.
Accenture Data Monetization – This demo tackles data monetization while preserving customer privacy. Built around a data management reference architecture that uses Amazon QLDB and AWS Data Exchange, the demo enables consent and value exchange, with a focus on insights, predictions, and recommendations.
Denso Connected Vehicle Reference System – CVRS is an intelligent, end-to-end mobility service built on the AWS Connected Vehicle Solution. It uses a layered architecture that combines edge and cloud components, to allow mobility service providers to build innovative products without starting from scratch.
WeRide – This company runs a fleet of autonomous vehicles in China. The ML training to support the autonomy runs on AWS, as does the overall fleet management system. The demo shows how the AWS cloud supports their connected & autonomous fleet.
Dell EMC / National Instruments – This jointly developed demo focuses on the Hardware-in-Loop phase of autonomous vehicle development, where actual vehicle hardware running in real-world conditions is used.
Unity – This demo showcases a Software-in-Loop autonomous vehicle simulation built with Unity. An accurate, photorealistic representation of Berlin, Germany is used, with the ability to dynamically vary parameters such as time, weather, and scenery. Using the Unity Simulation framework and AWS, 100 permutations of each scene are generated and used as training data in parallel.
Get in Touch
If you are interested in learning more about any of these demos or if you are ready to build a connected or autonomous vehicle solution of your own, please feel free to contact us.
— Jeff;