AWS Podcasts – Legion Analytics, Bohemian Guitars, Remind, Remeeting
Earlier this month I spent two exceptionally pleasant days at the AWS Loft in San Francisco. While I was there I sat down with a number of startups and recorded their stories. These stories are part of a new Intel Startup Spotlight series that I'll be focusing on in the coming weeks and months. As an experiment, I am releasing four podcasts simultaneously.
In the past, I spent a lot of time editing the podcast to remove some pauses and some background noise. This was very time consuming and made for a marginally better product. In an attempt to get these stories to you on a more timely basis, I am now relaxing my standards and presenting the content to you on a more-or-less as-recorded basis. Because these interviews were recorded in the basement of the Loft, you will hear the occasional footstep or siren, along with the rumblings as the BART trains pass by underneath Market Street.
On Monday, August 31 I spoke with the following startups:
Legion Analytics– Automated lead generation.
Bohemian Guitars – Next-generation electric guitars.
Remind – Messaging for teachers, parents, and students.
Remeeting – Meeting recording and analytics.
One of the big takeaways from two days interviews with these startups (apart from the obvious creativity and intensity) is just how quickly containers have become an integral aspect of the systems that these developers are building. They spoke glowingly of Docker and make good use of Amazon EC2 Container Service to encapsulate applications and to support quick-turn development practices.
Here are the episodes and the show notes (the "Episode" links go directly to the MP3 files):
Episode 107 – Legion Analytics
For Episode 107, I interviewed Jamasen Rodriguez (co-founder and CEO. below in the center) and Sinan Ozdemir (co-founder and CTO, below at left) of Legion Analytics to learn more about how they built an automated lead generation platform on AWS using AWS Elastic Beanstalk, Amazon Simple Storage Service (Amazon S3), and other services. Jamasen and Sinan offered a free trial of their product; email them (yourfriends@legionanalytics.com) for more info.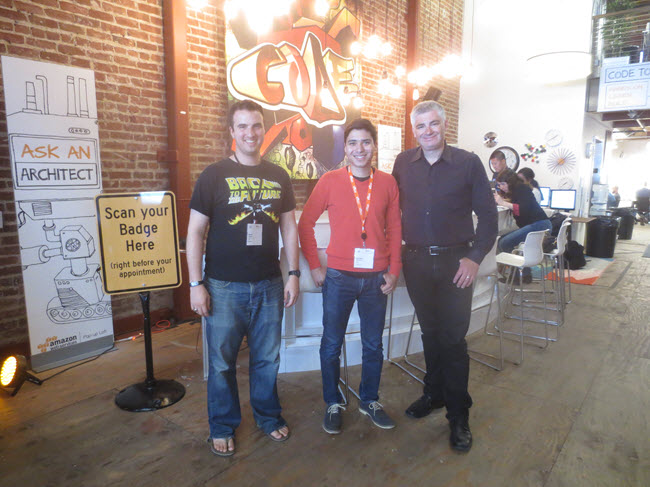 Episode 108 – Bohemian Guitars
For Episode 108, I interviewed Adam Lee (Co-founder) of Bohemian Guitars. He told me how he and his brother were inspired by the musicians of South Africa, who repurposed discarded materials into musical instruments, starting from a ping-pong table in their parents' basement. Adam shared some tips that will be useful to anyone who wants to run a successful KickStarter or Indiegogo campaign.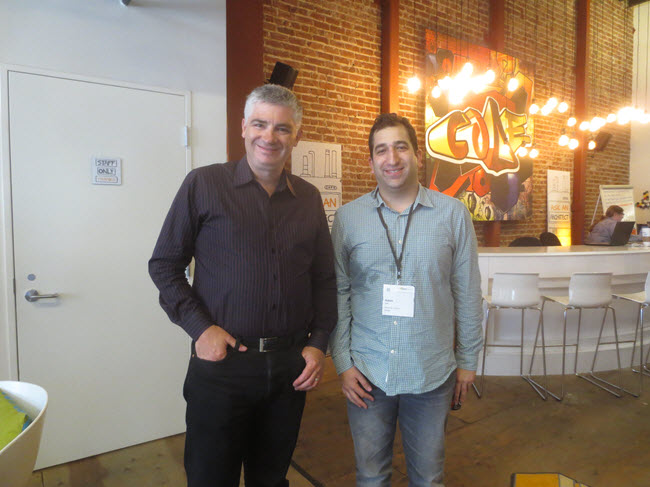 Episode 109 – Remind
For Episode 109 I spoke with engineers Mike Barrett and Eric Holmes of Remind.com to learn more about how they provide teachers with a better way to communicate with students and their parents. They have 25 million users and have sent over 2 billion messages to date, peaking at about 85,000 requests per minute to the API that is consumed by their mobile clients. The site runs on AWS (atop the Empire PaaS that was also built at Remind) and is backed by dozens of microservices. Events are dumped in to a "really big" Redshift cluster for analysis.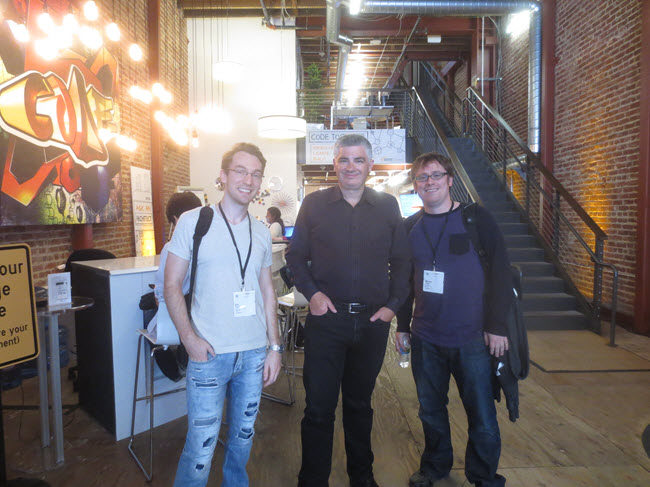 Episode 110 – Remeeting
For Episode 110 I spoke with Arlo Faria, founder of Remeeting.com . The voice recorder app runs on iOS and Android devices and uploads the raw (but compressed) audio to AWS for post-meeting analysis. As Arlo puts it, "the magic happens afterward." Using speech technology that Arlo and his co-founder developed at UC Berkeley, they identify individual speakers and isolate phrases, and present the result in a structured, color-coded form.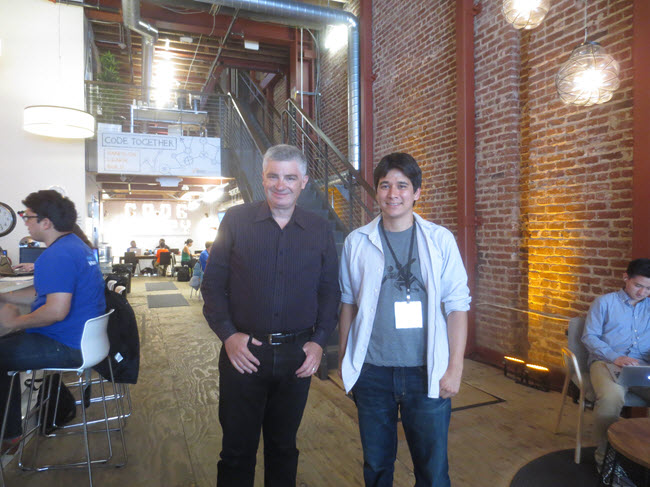 In the Works
I will be publishing the second day of Intel Startup Spotlight interviews shortly. After AWS re:Invent, I plan to interview even more startups in Seattle and Portland (Oregon). Stay tuned for more info!
— Jeff;
PS – Special thanks are due to my colleague Gloria Kim for settings up the interviews and for taking the pictures.
Modified 6/2/2022 – In an effort to ensure a great experience, expired links in this post have been updated or removed from the original post.