AWS Launches, Previews, and Pre-Announcements at re:Invent 2018 – Andy Jassy Keynote
As promised in Welcome to AWS re:Invent 2018, here's a summary of the launches, previews, and pre-announcements from Andy Jassy's keynote. I have included links to allow you to sign up for previews, as appropriate.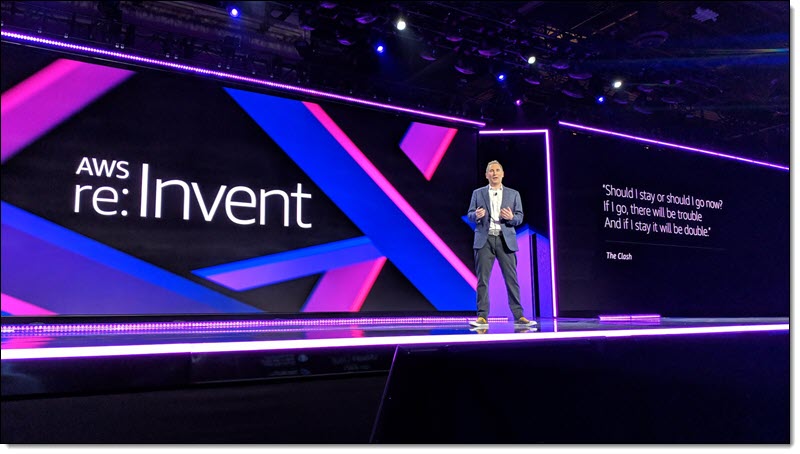 (photo from AWS Community Hero Eric Hammond)
Launches
Here are the blog posts that we wrote for today's launches:
S3 Glacier Deep Archive
This new storage class for Amazon Simple Storage Service (Amazon S3) is designed for long-term data archival and is the lowest cost storage from any cloud provider. Priced from just $0.00099/GB-mo (less than one-tenth of one cent, or $1.01 per TB-mo), the cost is comparable to tape archival services. Data can be retrieved in 12 hours or less, and there will also be a bulk retrieval option that will allow you to inexpensively retrieve even petabytes of data within 48 hours.

AWS Control Tower
This service helps you automate the set up a well-architected multi-account AWS environment using a set of blueprints that embody AWS best practices. Guardrails, both mandatory and recommended, are available for high-level, rule-based governance. You will have access to an integrated dashboard so that you can keep a watchful eye over the accounts provisioned, the guardrails that are enabled, and your overall compliance status. Learn more.
Amazon Textract
This Optical Character Recognition (OCR) service will help you to extract text and data from virtually any document. Powered by Machine Learning, it will identify bounding boxes, detect key-value pairs, and make sense of tables, while eliminating manual effort and lowering your document-processing costs. Sign up for the preview.
AWS Outposts
This service will bring AWS to your existing data center, providing a consistent, seamless experience across on-premises and the cloud, and giving you the ability to run on-premises applications with the exact same Application Programming Interfaces (APIs), consoles, features, hardware, and tools that you use on AWS. Sign up for the preview.
Amazon RDS on VMware
This is a fully managed service for on-premises databases. You can set up, run, and scale databases in VMware vSphere using the same tools already enjoyed by hundreds of thousands of Amazon Relational Database Service (RDS) customers. You can build low-cost high-availability hybrid environments, implement disaster recovery to AWS, and do long-term archival in Amazon Simple Storage Service (Amazon S3). Sign up for the preview!
Amazon Quantum Ledger Database
This fully managed ledger database will allow you to track and verify the complete history of changes to your application data. It uses an immutable journal that maintains a sequenced, cryptographically verifiable record of all changes that cannot be deleted or modified. It is scalable and easy to use, supports SQL queries, and lets it run 2-3x faster than common blockchain frameworks. Sign up for the preview.
AWS Managed Blockchain
This is a managed blockchain service that lets you quickly create and manage a scalable blockchain network using popular open source frameworks, Hyperledger Fabric and Ethereum, that you can use to transact and securely share data. It is designed to scale to meet the needs of thousands of applications generating millions of transactions, with simple mechanisms to invite new members, manage certificates, and track operational metrics. Sign up for the preview.
Amazon Timestream
This a fast, scalable, fully managed time-series database that you can use to store and analyze trillions of events per day at 1/10th the cost of a relational database. It is optimized for data that arrives in time order and for queries that include a time interval. It is a great fit for IoT, industrial telemetry, app monitoring, and DevOps data. Timestream automates rollups, retention, tiering, and compression so time-series data can be efficiently stored and processed. Timestream's query engine adapts to the location and format of data making it easier and faster to query time-series data. Learn more.
AWS Lake Formation
This fully managed service will help you to build, secure, and manage a data lake. You'll be able to point it at your data sources, have it crawl the sources, and pull the data into Amazon Simple Storage Service (Amazon S3). Lake Formation uses Machine Learning to identify and de-duplicate data, and also performs format changes in order to accelerate analytical processing. You will also be able to define and centrally manage consistent security policies across your data lake and the services that you use to analyze and process the data. Sign up for the preview.
AWS Security Hub
This service will allow you to to centrally view & manage security alerts and automate compliance checks within and across AWS accounts. It will aggregate security findings from AWS and partner services and present you with built-in and customizable insights that are unique to your environment. Try the preview!
Stay Tuned
I am looking forward to writing about each of these services when they are ready to launch, so stay tuned!
— Jeff;