AWS – Ready for the Next Storm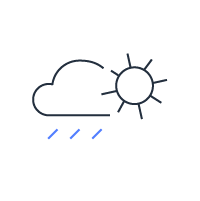 As I have shared in the past (AWS – Ready to Weather the Storm) we take extensive precautions to help ensure that AWS will remain operational in the face of hurricanes, storms, and other natural disasters. With Hurricane Florence heading for the east coast of the United States, I thought it would be a good time to review and update some of the most important points from that post. Here's what I want you to know:
Availability Zones – We replicate critical components of AWS across multiple Availability Zones to ensure high availability. Common points of failure, such as generators, UPS units, and air conditioning, are not shared across Availability Zones. Electrical power systems are designed to be fully redundant and can be maintained without impacting operations. The AWS Well-Architected Framework provides guidance on the proper use of multiple Availability Zones to build applications that are reliable and resilient, as does the Building Fault-Tolerant Applications on AWS whitepaper.
Contingency Planning – We maintain contingency plans and regularly rehearse our responses. We maintain a series of incident response plans and update them regularly to incorporate lessons learned and to prepare for emerging threats. In the days leading up to a known event such as a hurricane, we increase fuel supplies, update staffing plans, and add provisions to ensure the health and safety of our support teams.
Data Transfer – With a storage capacity of 100 TB per device, AWS Snowball Edge appliances can be used to quickly move large amounts of data to the cloud.
Disaster Response – When call volumes spike before, during, or after a disaster, Amazon Connect can supplement your existing call center resources and allow you to provide a better response.
Support – You can contact AWS Support if you are in need of assistance with any of these issues.
— Jeff;