The New AWS Simple Monthly Calculator
Our customers needed better ways to model their applications and estimate their costs. The flexible nature of on-demand scalable computing allows you pick and choose the services you like and only pay for those. Hence to give our customers an opportunity to estimate their costs, we have redesigned our current AWS Simple Monthly Calculator

The link to the new calculator is http://aws.amazon.com/calculator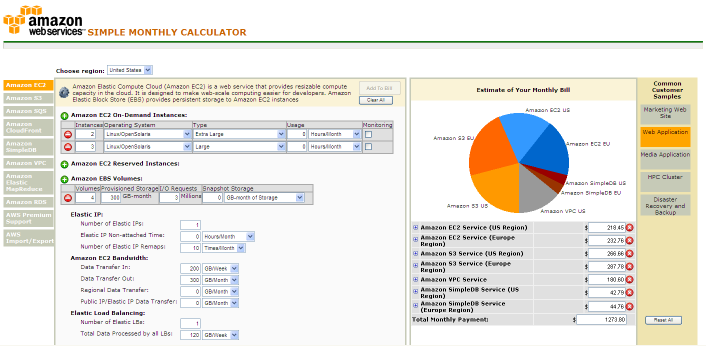 This new calculator incorporates a wide array of pricing calculations across all our services in all our regions. It also shows breakdown of features for each service in each region. Most of our customers use multiple AWS services in multiple regions. Hence the calculator has a mechanism to select a service in a particular region and add it to the bill.
Users can select a region and simply input the usage values of each service in that region and then click on the "Add to Bill" button. This will add the service to the bill. Once the service is added to the bill, the user can modify/update the input fields, and the calculator will automatically recalculate. Users can remove the service from the bill by simply clicking on the red cross button

in the bill. Each input field represents to be a value per month. For example, Amazon S3 Data Transfer out is 40 GB in a Month and 5 Extra Large Linux Instances running for 10 hours in a month. For EC2/RDS/EMR, Users can click on green plus button

and add similar type of instances (for eg., Web Servers, App Servers, MySQL DB Servers) in their topology.
The calculator also shows common customer samples and their usage. Users can click on "Disaster Recovery and Backup" sample or "Web Application" sample and see usages of each service. We will continue to add new real-world customer samples in future. If you would like us to add your sample usage, please let us know.
Last month, we announced new EC2 pricing, new Instance Types and a new AWS service (Amazon RDS). This calculator incorporates all of these new features and services and will continue to evolve as we add new features, new services and new regions .
The calculator is currently in beta and provides an estimate of the monthly bill. The goal is to help our customers and prospects estimate their monthly bill more efficiently. In the future, we would also like to give you recommendations on how you can save more by switching to Reserved Instances from on-demand instances or using AWS Import/Export service instead of standard S3 data transfer. Stay Tuned.
We would love to hear your feedback. Please let us know whether this new version of the calculator is helpful in estimating your AWS costs. You can send your feature requests, comments, suggestions, appreciations, confusions, frustrations to evangelists at amazon dot com.
— Jinesh