Don't just migrate your VDI – modernize it!
By migrating some or all of their digital assets to the cloud, organizations can significantly reduce costs, innovate faster, scale more quickly, and create better customer and employee experiences. A recent study by The Hackett Group shows that migrating to AWS achieves quantifiable business value in the areas of resiliency, agility, cost savings, and staff productivity, including the following post-migration benefits:
54% reduction in outages
45% decrease in security-related incidents
43% decrease in time to market for new application features or functionality
66% increase in administrator productivity
29% increase in staff focus on innovation
20% reduction in total technology infrastructure costs
This blog highlights available migration and modernization options for transitioning on-premises Virtual Desktop Infrastructure (VDI) to AWS, with an emphasis on the proven benefits of modernizing over a rudimentary lift-and-shift approach.
Challenges with on-premises VDI
Like many aging enterprise workloads, on-premises VDI is struggling to keep up with modern business requirements due to architectural design decisions that were made more than three decades ago. As a result, many organizations are seriously considering moving their VDI solution to the cloud, with the primary drivers being:
Significant capital outlays to maintain the status quo of aged VDI infrastructure
Continuous over/under capacity issues that lead to high TCO or inability to adapt quickly to business demand
Security, operational, and financial risks/costs of falling behind on VDI software upgrades and licensing agreements
Growing IT operations burden to support on-premises VDI
Migration options
Customers have a number of options when it comes to migrating from on-premises VDI to the public cloud, which generally fall into three categories:
Rehost their existing on-premises VDI solution on a public cloud (aka lift-and-shift)
Replatform their VDI service by using various Software-as-a Service (SaaS) and Infrastructure-as-a-Service (IaaS) components, often from different vendors
Start fresh with a modern, managed service such as the Amazon WorkSpaces Family of services or Amazon AppStream 2.0, which have cloud-native architectures
Each of these options has benefits and drawbacks:
Rehosting: Rehosting on-premises VDI on a public cloud allows IT to maintain the VDI software they're familiar with, while eliminating upfront capital expenses and some operational overhead. However, this approach risks shifting many existing customer challenges to the cloud, while introducing unexpected new issues.
Replatforming: Sometimes called "lift-tinker-and-shift" or "partially-managed," this approach often leverages varied components (e.g., SaaS VDI control plane from one vendor and a managed IaaS solution from another). In this model, customers are expected to manage the SLA for the core VDI components including; compute, storage, and networking. If they are dealing with multiple vendors, support becomes more complex.
Cloud-native: This approach involves a fully managed approach, abstracting away the infrastructure (e.g., control plane and host VMs) for the most operational savings of the three options. Customers simply select a region and instance type (an integrated bundle of compute, storage and networking) and deploy. In this scenario, a single cloud vendor is responsible for the SLA of the infrastructure and support of the service. Customers with extensive experience using on-prem VDI will need to familiarize themselves with new management and security workflows.
Weighing the options
The AWS Migration Acceleration Program (MAP) team "maps" migration and modernization alternatives as phases along a maturity model:
As customers move from left to right, they reduce total cost of ownership (TCO) and improve agility and innovation, increasing the overall business value of the solution. Although it may be "easier" to begin with a migration or move to managed approach, there are sunk costs in non-recoverable engineering (NRE) and technical debt associated with running a legacy VDI solution on the cloud, not to mention the opportunity cost of delaying the move to a highly optimized cloud-native offering.
Here's another way to visualize the different on-premises VDI migration and modernization alternatives using the AWS MAP model: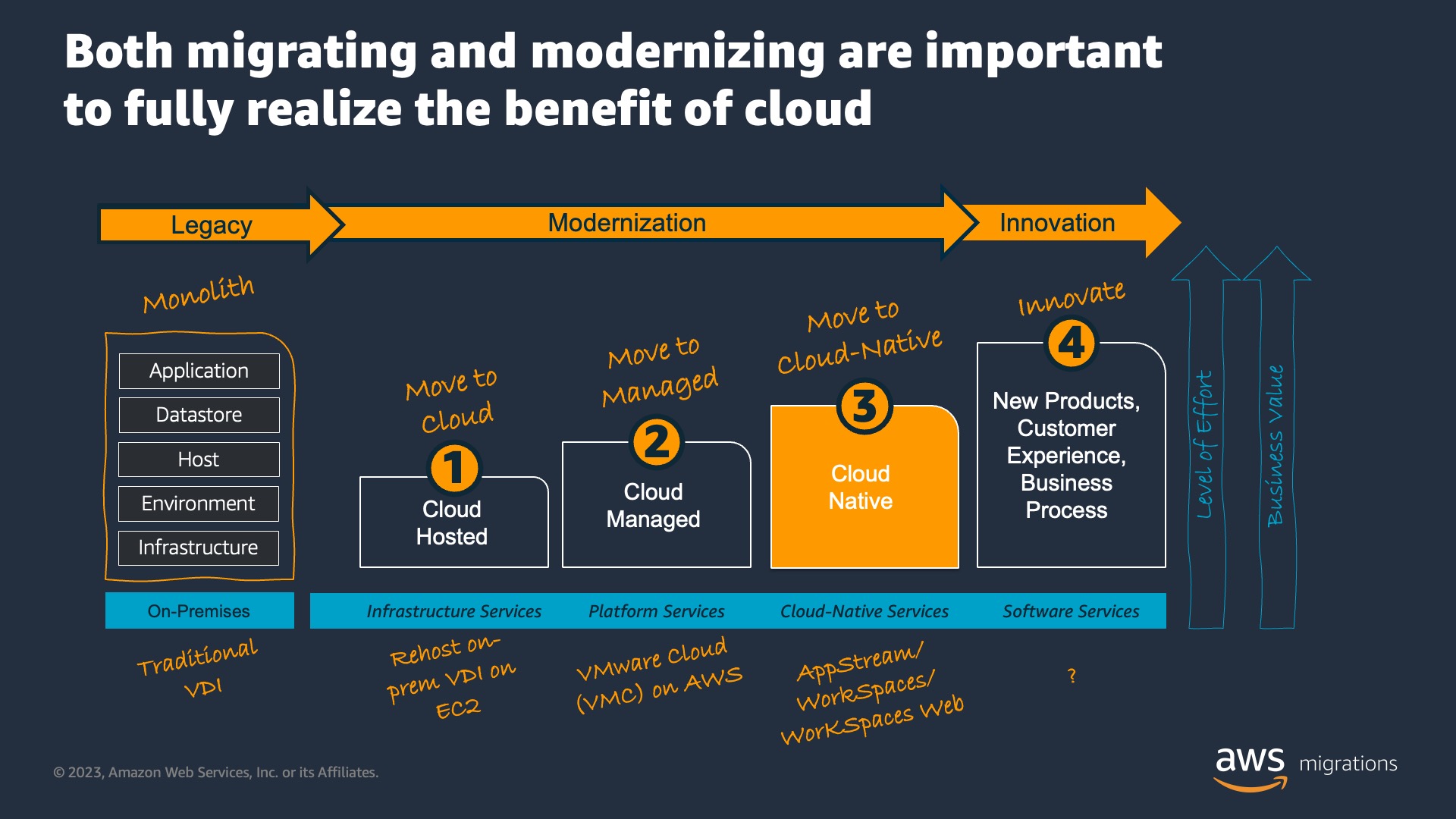 A VDI migration success story
While migrating VDI to the cloud is certainly not a "one size fits all" proposition, moving to a cloud-native approach has many benefits beyond simply reducing costs. Many AWS customers, like Phillips, have accelerated their innovation through the use of AWS End User Computing (EUC) solutions. By relieving their teams from the non-differentiated heavy lifting of VDI, they free up resources to focus on increasing business value by delighting customers and employees.
"Bringing non-web applications into Amazon SageMaker Ground Truth [using AppStream] is something that wasn't done before. It's not just relevant in the healthcare industry, but it's also valuable for others."
Frank Wartena
Program Manager, Data and AI
Philips
Get started
For more information on the benefits of migrating legacy VDI to AWS cloud native services, please watch this webinar. If you are interested in getting started with your EUC cloud journey, please contact your AWS account team or the EUC Specialist team.
| | |
| --- | --- |
| | Jeff Fisher has more than 25 years of experience as a pioneer, evangelist, and customer advocate for End User Computing (EUC) solutions. He is currently a Global Sales Specialist for End User Computing at AWS covering the largest Financial Services, Manufacturing, and Telco accounts in North America. |