From accountant to cloud developer: Karolina's story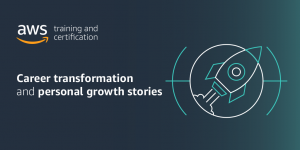 Karolina's route to the world of cloud computing wasn't always straightforward. After extended periods working in accounting and tax law in her native Poland, she finally moved into a career as a developer—the career she'd always dreamed of embracing.
Hailing from a family of strong, science-orientated individuals, and driven by an innate passion for learning, Karolina's pursuit of her goals led her to AWS Training and Certification, which, she says, offered her that all-important first step.
Karolina says she's now in a more fulfilling career, and as a Cloud Architect, she's at the forefront of one of the tech industry's most exciting areas of growth. She uses her expertise to accelerate innovation in machine learning, the internet of things, edge computing, and blockchain.
We hope you'll be inspired by her story.
Karolina Boboli, Cloud Architect, Cloudstate
What attracted you to a career as a developer and AWS Training and Certification?
I was running a small accounting company, working as an accountant and a tax adviser. Seeing the potential benefit that automation could bring to my company, I decided to run an IT project rolling out business intelligence tools. It was a lot of work, but I loved it. When the project ended, I decided to switch to a career as a programmer.
It was a big decision because I knew it would take time to build up the same level of benefits I had achieved in accounting. Also, because many people in my family work in IT, I knew how much there is to learn. But I remember thinking, "If I can learn tax law, I can learn anything."
I made the change, and while working as a programmer, I had a meeting with a cloud service provider about the internet of things (IoT). I was totally fascinated. Six months later, I decided to focus on AWS because of my experience in open-source programming, and as a developer, I knew I could achieve much more with them. I took my first step with the AWS Certified Solutions Architect –Associate exam and now complete one certification every six months. It's a process that's given my career a great boost.
What did you learn from this process aside from cloud development?
In the cloud, everything changes so quickly and so does the knowledge you need. There will be times when you don't have exactly the right skills, but now I don't feel limited by this. You can always achieve something and with persistence you'll get there. It's important to access all the support AWS puts out there.
What's been your most rewarding moment since beginning your AWS Training?
For me, it was becoming a team leader. Seeing the team developing their skills and confidence and delivering the project successfully was brilliant. I'd like to get more involved in coaching people, so I have plans to run more webinars and online courses. However, my dream is still to work in IoT, and I know AWS offers me a way to achieve this. I'm looking forward to new and even more rewarding work.
Learn more about how AWS Training and Certification can help you advance your career as a cloud developer. Hear the stories of other developers who are prioritizing cloud learning and creating a new future.