From surfing the waves to riding the cloud and paying it forward: Uri's story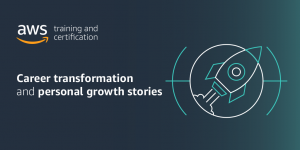 Uri describes himself as a thrill seeker and someone for whom life is at its fullest when he's riding the crest of a wave or riding high on the thrill of passing yet another certification exam. But nothing gives him more joy, he says, than creating systems that have never existed before. He uses his creative skills by working in a successful career as a developer and sharpens those skills with AWS Training and Certification.
For Uri, AWS Training helped him elevate his career to the next level and this, he says, has ultimately been passed onto clients in the form on innovative ideas. But much more than that, Uri is now regarded as a catalyst and leader of innovation and a thought-leader who writes blogs, hosts webinars, and who now believes his calling is to impart knowledge and spend time educating the developer community.
If you'd like to take your career as a developer to the next level, follow Uri's footsteps and read more about his story below.
Uri Parush, Serverless Architect
What attracted you to a career as a developer and AWS Training and Certification?
As a systems architect, I need to understand the IT world as a whole, including the cloud's role in it, and I also need to understand my customers' worlds, too. I was driven by the thought of being able to make the maximum possible impact for and on behalf of customers, so AWS Training and Certification felt like the right path to take.
My AWS Certified Solutions Architect – Professional certification took me about a month to complete using a combination of lab time, exam-readiness courses, a course on A Cloud Guru, and some great AWS whitepapers. Passing my first certification felt a little bit like the other passion in my life—surfing. Both require a lot of effort but both gave me a massive adrenalin rush.
I'm now an advisor to my clients. When I look at their business needs, I can understand how to take them where they need to go and how to evaluate the benefits of on-premises, the cloud, and serverless-managed services.
What did you learn from this process aside from cloud development?
My choice to become a software developer changed my life because there aren't many jobs in life that give you the opportunity to create something completely new. Many jobs allow you to be creative, but not many allow you to be a creator.
I've become a catalyst and leader of innovation. I love the role of evangelizing on the subject of serverless architecture, and I've started writing blogs and hosting webinars to share my knowledge. I love it and only wish I had more time to spend with the community.
What has been your most rewarding moment since beginning your AWS Training?
It was helping one of my clients change not just their technology but their organization's mindset about developing applications and systems. I helped them be serverless and to develop their own business logic for this new type of architecture.
It's an exciting time to be a developer with more creative responsibility coming our way. In the past, you needed more expertise to build each part of the system. Now, you need to be an expert on AWS services. It's easier to gain that expertise, which is fun and more creative, and helps the startups I work with move fast.
Learn more about how AWS Training and Certification can help you advance your career as a cloud developer. Hear the stories of other developers who are prioritizing cloud learning and creating a new future.