Overcome your cloud skills gaps earlier by training your own talent first
As we've discussed in earlier posts, skills training is one of the most effective practices for realizing organizational cloud goals. Enterprises that invest in actively training and validating the expertise of their internal talent are more likely to solve the cloud skills gap earlier, which helps to determine how quickly they're able to leverage the cloud to deliver results. The proof is in the practice; ongoing training is helping enterprises in virtually every industry achieve their cloud strategies.
Innovate sooner by developing your own pool of cloud talent
Internal cloud training creates a core group of expert employees who understand the potential and practical application of the cloud. Once trained, cloud-skilled employees will be able to readily and rapidly comprehend the technology within the context of their specific roles and tasks. As these pioneers learn through experience and share their findings with coworkers across the enterprise, organization-wide cloud fluency can begin to take shape.
This blog outlines the steps to successfully create a comprehensive training program that transforms your current workforce and accelerates your business outcomes.
1. Define your objectives
First, it's important to develop a training and education program that addresses both business and cloud objectives for the growth and development of your employees. You can begin to accomplish this by aligning your learning plan with your organization's broader goals for digital transformation. You may want to focus on training that can help improve efficiencies by:
Reducing costs in IT infrastructure
Increasing productivity
Strengthening commitment to resilience and service level agreement (SLA) delivery as outages are reduced
Accelerating business agility as new technologies become available
2. Assess your cloud skills gap
Use the AWS Learning Needs Analysis to assess your team's current skill levels and identify quantifiable skills gaps—and specific business areas—within your organization that will see the greatest impact from comprehensive cloud training. This will help ensure that you are focusing your training efforts where they are needed most.
3. Prioritize your targets for training
Once you've identified skills gaps, begin developing a comprehensive training program that addresses the most pressing gaps first. This will help build momentum among teams and employees to pursue training or areas that place the focus on urgent business priorities. AWS Training and Certification can partner with you during this process.
4. Create customized training opportunities
Create customized programs that support your specific goals and technical needs from a variety of expert learning modalities. Skills building and training can be administered through onsite or virtual training, digital training, labs, and workshops. You can also explore creating communities of practice that teach through peer-to-peer information sharing and experiences.
5. Promote continuous learning
Over 90 percent of decision-makers agree that cloud-certified employees provide added value above and beyond the cost of training (Global Knowledge). Tap into AWS Certifications to build internal excitement for skills mastery and organizational excellence.
AWS Certifications validate learned skills and boost confidence and competency among your employees. When you include certification goals in the training roadmap, they act as important milestones in your plan and help propel individual learner momentum. Remember to keep these training objectives achievable—and scale them to the teams with the most urgent needs. This will allow cloud training to become embedded within the DNA of your organization.
Establishing your training model for future success
Cloud technologies—combined with comprehensive training initiatives—have the potential to transform both your organization's IT infrastructure and your business as a whole. Arming your people with the relevant skills to help your organization fully leverage the cloud starts with understanding current knowledge gaps. Investing in holistic cloud learning allows your organization to transform in profound ways, engendering sustained growth, development, and skills-building for the long-term.
For more information on how to overcome your organization's skills gap or details about the AWS Learning Needs Analysis, contact us today.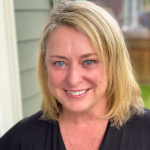 Maureen Lonergan is Director of Training and Certification for Amazon Web Services (AWS), where she leads a team of builders committed to training the next generation of diverse cloud talent. Maureen helps AWS customers, partners, and employees to gain the skills and knowledge to unlock the power of the AWS Cloud in the age of digital transformation.