The thrill of "firsts": Be a part of our cloud development community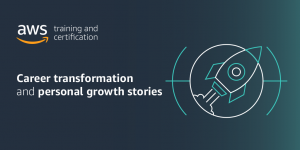 I've always had an overwhelming passion for education. It's the great equalizer and the most astonishing dream facilitator.
Some may see training and certification as an exclusively outputs-based venture. For me, it's more about the life-changing impact on individuals. I'm an educator, coach, mentor, and problem solver. Developers and those who build with technology fascinate me. Because of this, AWS Training and Certification is zeroing in on individual stories of developers who've taken advantage of our training. In these stories, they'll share exactly how it changed their lives. I'm excited for you to get to know them.
Over 12 weeks, we'll share stories of developers across various regions who, as a result of using AWS Training and Certification, opened up a rich new world of potential for their careers. A man named David was able to bring to life his childhood obsession with inventing, and it's a joy to watch how effusive he is about it.
Of course, not everyone starts out as a tech maven. Karolina's first career was in accounting, and now she's a cloud architect who's keen to pass on her knowledge to a new generation of IT enthusiasts.
For Uri, the thrill of creativity led him into a career as a serverless architect, pursuing that next amazing "first" through the development of systems that have never existed before.
It goes to show how rapidly an individual can learn to become an exceptional developer if they have the desire, passion, and skills. What touches me most is how far following through with AWS Training and Certification has taken these brilliant people.
I hope you'll watch David, Karolina, and Uri's stories, and join us over the next two weeks as we learn about an exceptional group of cloud developers.