Training tech workers for the future – a conversation with Maureen Lonergan
This week, Maureen Lonergan, director of AWS Training and Certification was a guest on NPR podcast "Can Do" discussing the future of technology training. Technology represents 10% of the US economy and 8% of its workforce, and it's America's fastest growing economic sector. As readers of this blog, you're aware that there's a gap in the cloud skills of today's workforce and what businesses need to enable their growth using cloud technologies. That is precisely the reason our customers turn to AWS Training and Certification.
In this podcast interview, Maureen shared how and why organizations and learners are seeking to take advantage of training and skills certification opportunities, and the long-term benefits it provides.
"We are seeing a lot of companies train not just 10 or 20 employees, but hundreds or thousands of individuals. In doing so, they start to build training and education into the DNA of the company, creating a continuous learning culture. We have done this with several organizations. For instance, National Australia Bank has trained over 5000 people and AWS Certified over 1500. Because of this investment, they have not only reduced their attrition rate from 20% to 8%, but they have become a prominent employer and attract more talent."
From a learner perspective, Maureen shared how there are training modalities and resources for anyone—whether the learner is totally new to cloud computing or wants to pursue cloud training during their university studies.
"As we look at the cloud skills gap, my team is looking at who is a potential candidate for cloud training. We look at anyone. We have had baristas, physical trainers, and all walks of life. We work with universities so that students are coming out of school with a much needed skills in today's marketplace."
She continued, "Also, we take the skills to underserved communities through AWS re/Start. We partner with organizations to help people who are looking to transition from something non-tech to tech, ramp them up, and pair them up with employers for employment. If we can give them foundational training, they can learn and grow into the roles, it helps them, and it really helps our customers. This program is focused on diversity. We have diverse customers. We want to build a diverse pipeline of cloud talent so that we have diversity in programs, thoughts, and helping our customers be successful."
Maureen also talked about how to increase female representation in technology, creating a community of learning within an organization, and how to keep innovating to reach all types of learners. "Whether it's women, people of color, we'll provide opportunities to anyone who is interested. When builders are likeminded, sharing, and creative, you'll have better retention and you'll provide a better environment overall."
Her parting thoughts for those looking to take advantage of what AWS Training and Certification offers, "If you're at university, look for the AWS trainings. If you access tech training from edX or Coursera, we have our trainings there, too. Have a curiosity. Seek out people who are in these cloud roles. See how exciting it can be. Look how you can become an amazing builder and do innovative things with technology."
The episode is streaming now; search your favorite podcast app for NPR "Can Do" or click here.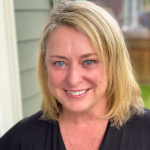 Maureen Lonergan is Director of Training and Certification for Amazon Web Services (AWS), where she leads a team committed to training diverse cloud builders of today and tomorrow. Maureen helps AWS customers, partners, and employees to gain the skills and knowledge to realize their cloud goals in the age of digital transformation.