Amazon QuickSight Now Generally Available – Fast & Easy to Use Business Analytics for Big Data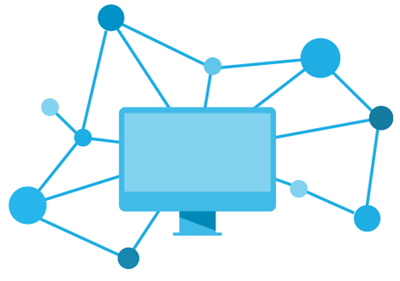 After a preview period that included participants from over 1,500 AWS customers ranging from startups to global enterprises, I am happy to be able to announce that Amazon QuickSight is now generally available! When I invited you to join the preview last year, I wrote:
In the past, Business Intelligence required an incredible amount of undifferentiated heavy lifting. You had to pay for, set up and run the infrastructure and the software, manage scale (while users fret), and hire consultants at exorbitant rates to model your data. After all that your users were left to struggle with complex user interfaces for data exploration while simultaneously demanding support for their mobile devices. Access to NoSQL and streaming data? Good luck with that!
Amazon QuickSight provides you with very fast, easy to use, cloud-powered business analytics at 1/10th the cost of traditional on-premises solutions. QuickSight lets you get started in minutes. You log in, point to a data source, and begin to visualize your data. Behind the scenes, the SPICE (Super-fast, Parallel, In-Memory Calculation Engine) will run your queries at lightning speed and provide you with highly polished data visualizations.
Deep Dive into Data
Every customer that I speak with wants to get more value from their stored data. They realize that the potential value locked up within the data is growing by the day, but are sometimes disappointed to learn that finding and unlocking that value can be expensive and difficult. On-premises business analytics tools are expensive to license and can place a heavy load on existing infrastructure. Licensing costs and the complexity of the tools can restrict the user base to just a handful of specialists. Taken together, all of these factors have led many organizations to conclude that they are not ready to make the investment in a true business analytics function.
QuickSight is here to change that! It runs as a service and makes business analytics available to organizations of all shapes and sizes. It is fast and easy to use, does not impose a load on your existing infrastructure, and is available for a monthly fee that starts at just $9 per user.
As you'll see in a moment, QuickSight allows you to work on data that's stored in many different services and locations. You can get to your Amazon Redshift data warehouse, your Amazon Relational Database Service (RDS) relational databases, or your flat files in S3. You can also use a set of connectors to access data stored in on-premises MySQL, PostgreSQL, and SQL Server databases, Microsoft Excel spreadsheets, Salesforce and other services.
QuickSight is designed to scale with you. You can add more users, more data sources, and more data without having to purchase more long-term licenses or roll more hardware into your data center.
Take the Tour
Let's take a tour through QuickSight. The administrator for my organization has already invited me to use QuickSight, so I am ready to log in and get started. Here's the main screen: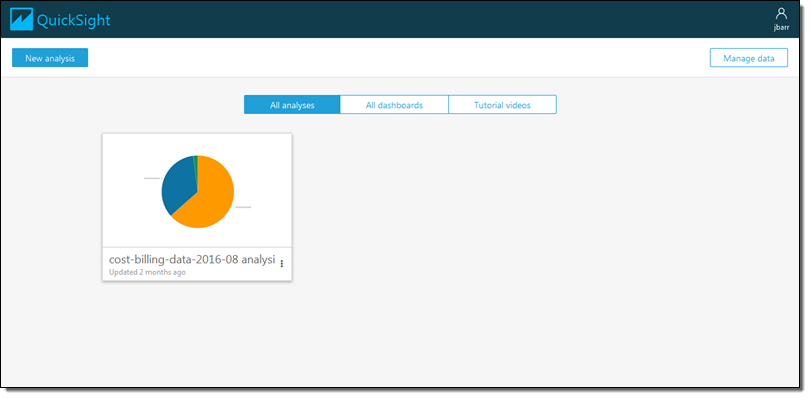 I'd like to start by getting some data from a Redshift cluster. I click on Manage data and review my existing data sets:

I don't see what I am looking for, so I click on New data set and review my options: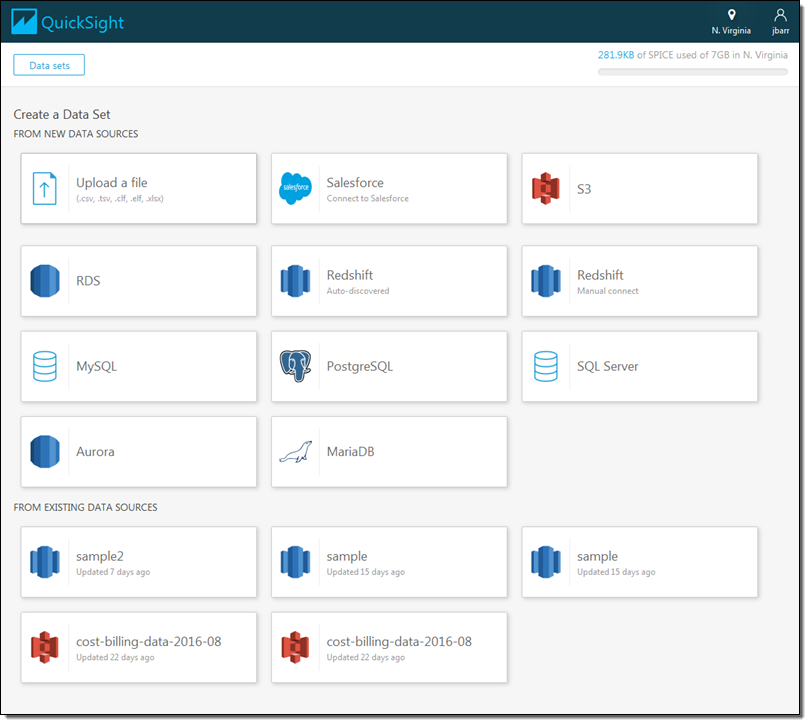 I click on Redshift (manual connect) and enter the credentials so that I can access my data warehouse (if I had a Redshift cluster running within my AWS account it would be available as an auto-discovered source):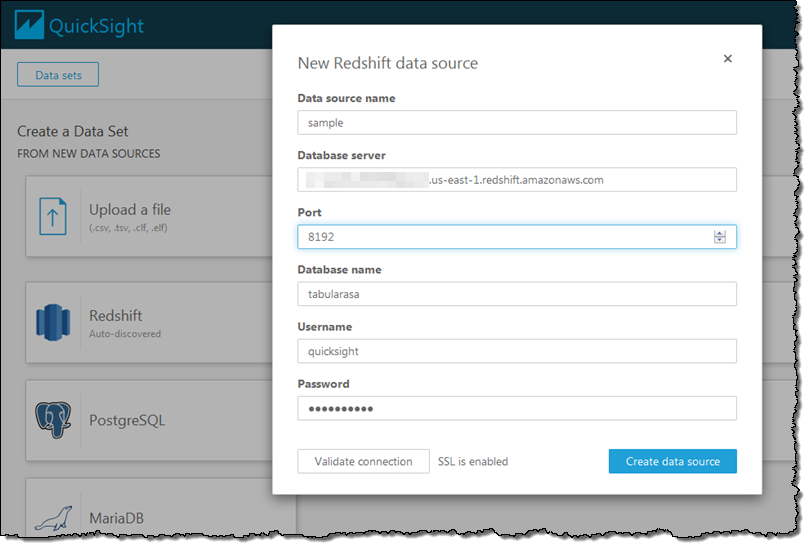 QuickSight queries the data warehouse and shows me the schemas (sets of tables) and the tables that are available to me. I'll select the public schema and the all_flights table to get started: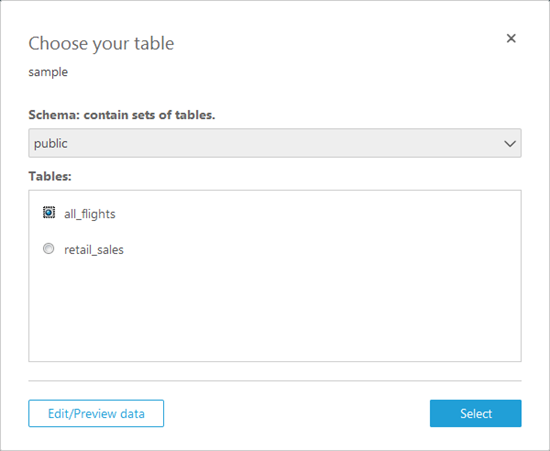 Now I have two options. I can pull the table in to SPICE for quick analysis or I can query it directly. I'll pull it in to SPICE: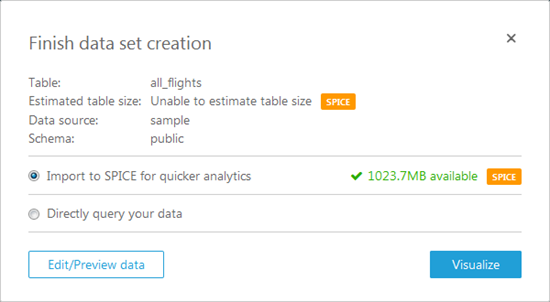 Again, I have two options! I can click on Edit/Preview data and select the rows and columns to import, or I can click on Visualize to import all of the data and proceed to the fun part! I'll go for Edit/Preview. I can see the fields (on the left), and I can select only those that are interest using the checkboxes: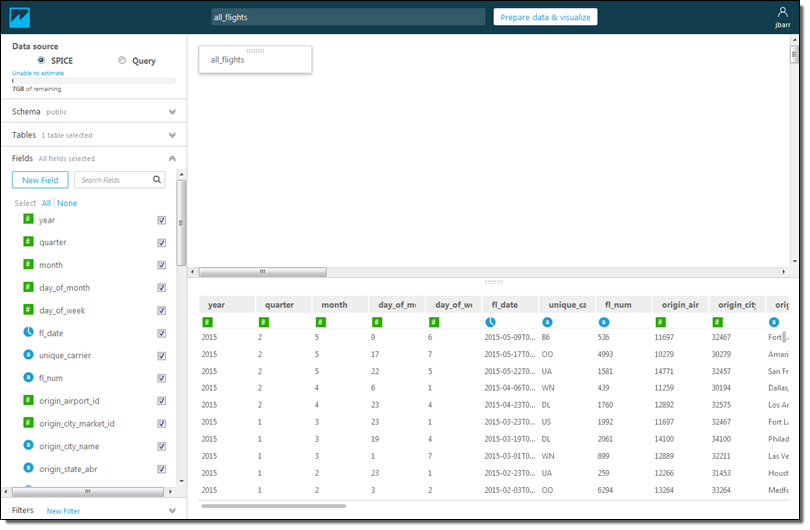 I can also click on New Filter, select a field from the popup menu, and then create a filter: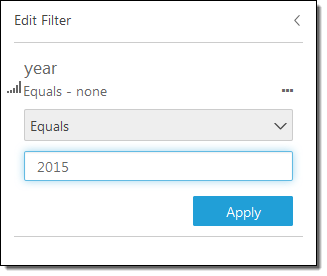 Both options (selecting fields and filtering on rows) allow me to control the data that I pull in to SPICE. This allows me to control the data that I want to visualize and also helps me to make more efficient use of memory. Once I am ready to proceed, I click on Prepare data & visualize. At this point the data is loaded in to SPICE and I'm ready to start visualizing it. I simply select a field to get started. For example, I can select the origin_state_abbr field and see how many flights originate in each state: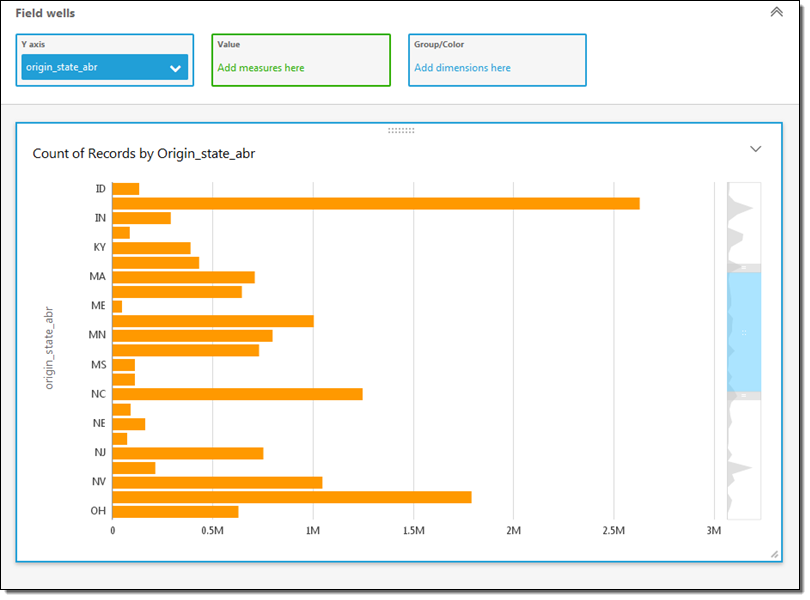 The miniaturized view on the right gives me some additional context. I can scroll up or down or select the range of values to display. I can also click on a second field to learn more. I'll click on flights, set the sort order to descending, and scroll to the top. Now I can see how many of the flights in my data originated in each state: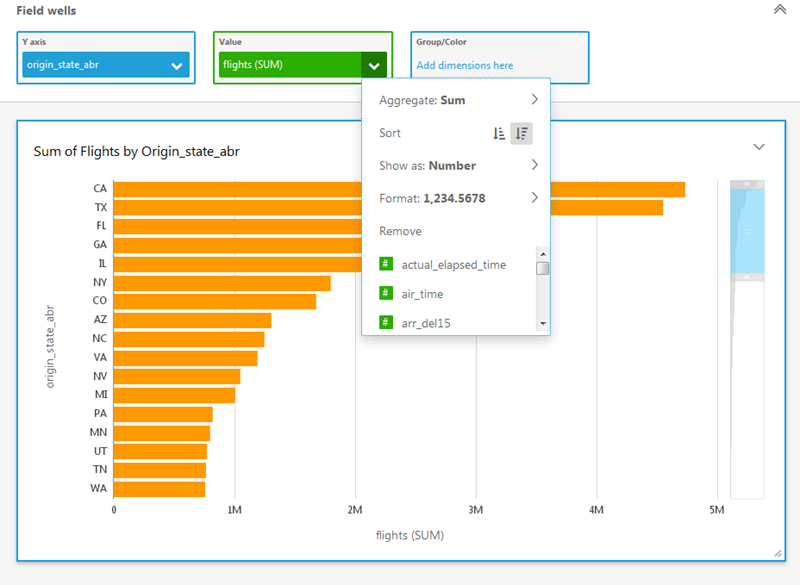 QuickSight's AutoGraph feature automatically generates an appropriate visualization based on the data selected. For example, if I add the fl_date field, I get a state-by-state line chart over time: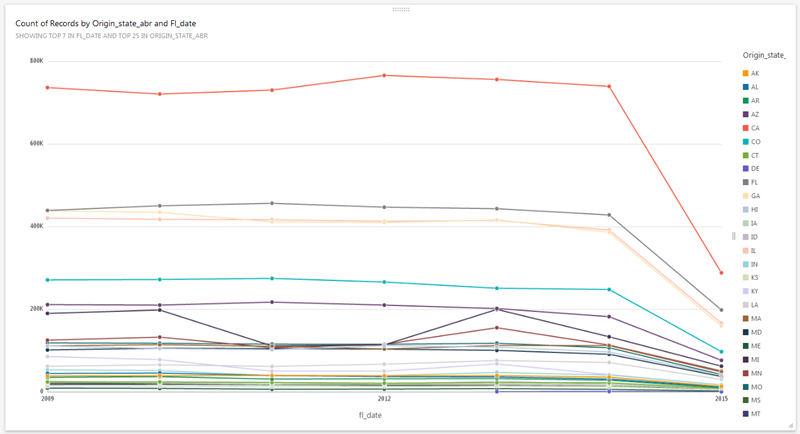 Based on my query, the data types, and properties of the data, QuickSight also proposes alternate visualizations: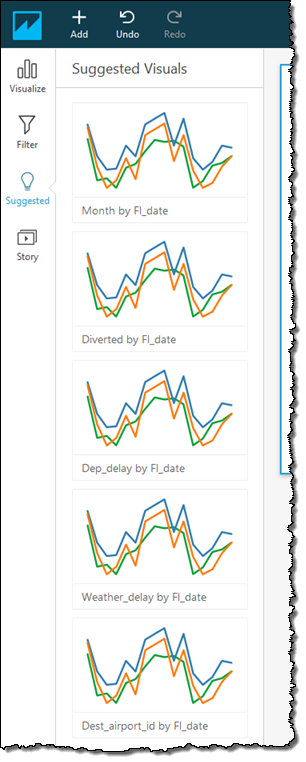 I also have my choice of many other visual types including vertical & horizontal bar charts, line charts, pivot tables, tree maps, pie charts, and heat maps: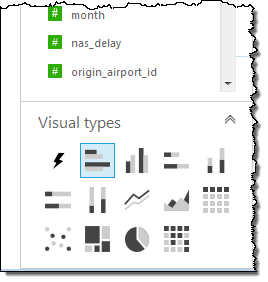 Once I have created some effective visualizations, I can capture them and use the resulting storyboard to tell a data-driven story: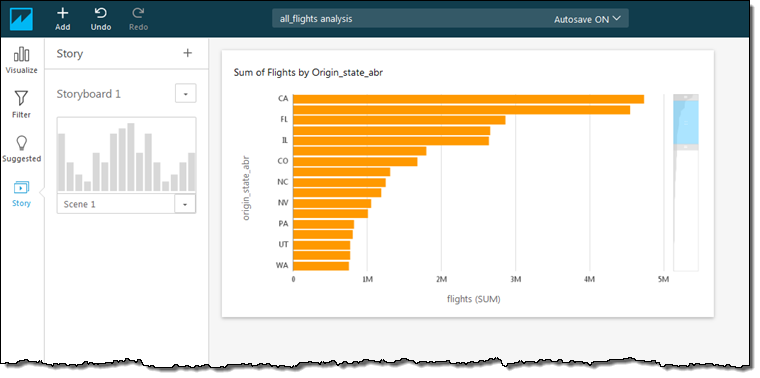 I can also share my visualizations with my colleagues: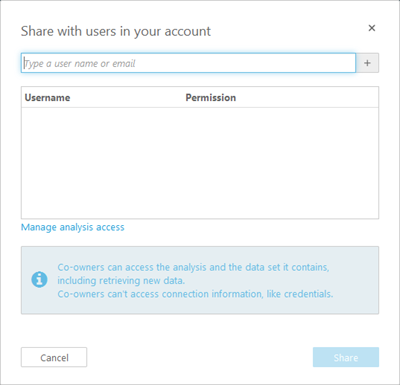 Finally, my visualizations are accessible from my mobile device: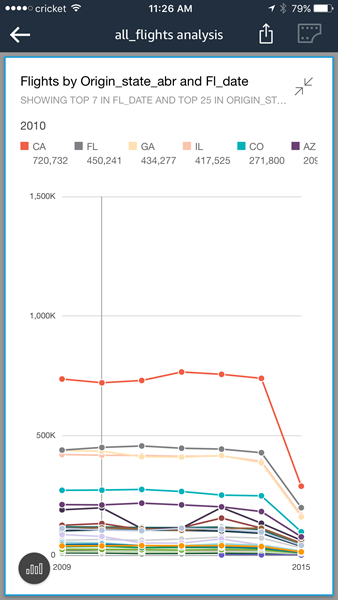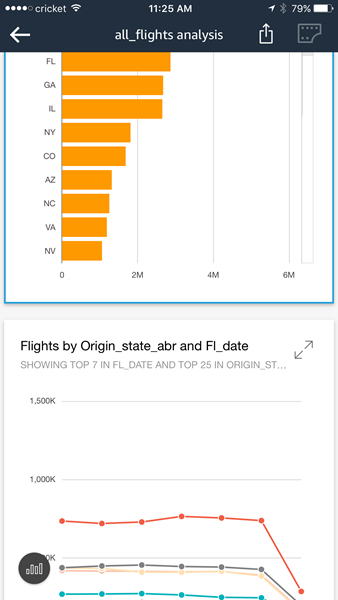 Pricing & SPICE Capacity
QuickSight comes with one free user and 1 GB of SPICE capacity for free, perpetually. This allows every AWS user to analyze their data and to gain business insights at no cost. The Standard Edition of Amazon QuickSight starts at $9 per month and includes 10 GB of SPICE capacity (see the QuickSight Pricing page for more info).
It is easy to manage SPICE capacity. I simply click on Manage QuickSight in the menu (I must have the ADMIN role in order to be able to make changes):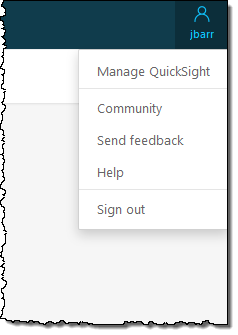 Then I can see where I stand:

I can click on Purchase more capacity to do exactly that:

I can also click on Release unused purchased capacity in order to reduce the amount of SPICE capacity that I own: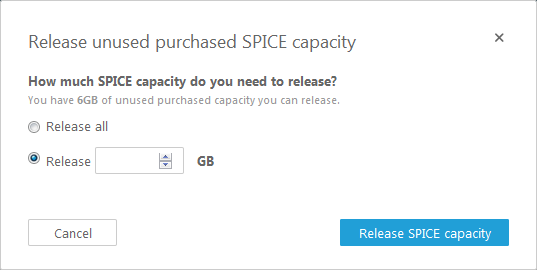 Get Started Today
Amazon QuickSight is now available in the US East (N. Virginia), US West (Oregon), and Europe (Ireland) regions and you can start using it today.
Despite the length of this blog post I have barely scratched the surface of QuickSight. Given that you can use it at no charge, I would encourage you to sign up, load some of your data, and take QuickSight for a spin!
We have a webinar coming up on January 16th where you can learn even more! Sign up here.
— Jeff;