Amazon WorkSpaces Update – New Features for Users and Admins
Amazon WorkSpaces is a managed desktop computing service that runs in the AWS cloud. Administrators can easily provision cloud-based desktops that users can access using the desktop or mobile device of their choice.
Today I would like to recap a series of updates and improvements that we have made to WorkSpaces over the last couple of months. All of these features are in production and available for use today. The features naturally fall into two groups: features for administrators and features for users. Let's start with the users!
---
New WorkSpaces features for users include Single Sign-On (SSO), local printing from Macs, network health checks, and support for the Asia Pacific (Singapore) region.
Single Sign-On
If you use Amazon WorkDocs in conjunction with WorkSpaces, you can now benefit from Single Sign-On (SSO). After your administrator enables this feature and you do your part by signing in to the WorkDocs sync client for the first time, your WorkDocs sync client will automatically sign in and start to sync as part of the WorkSpaces login procedure. If you are connecting from a device that is on the same domain as your Amazon WorkDocs subscription, you will be automatically signed in to your WorkDocs sync client, and you will not be required to provide credentials separately when you access the web collaboration client from that device.
Your administrator can enable SSO by visiting the AWS Directory Service area of the AWS console, clicking the directory ID link for your directory and selecting the Apps & Services tab. For more information and detailed setup see our documentation.
This is the newest feature; it launched today!
Local Printing from Macs
Mac users can now print from within their WorkSpace to their local printer: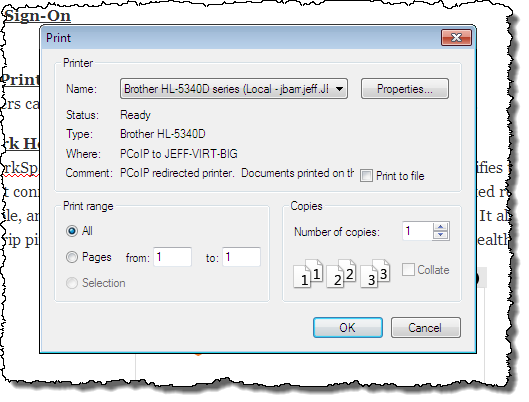 To learn more, read the documentation for Printing From a WorkSpace.
Network Health Checks
The WorkSpaces client now includes a network health check feature. It verifies that the network and Internet connections are working, checks that WorkSpaces and the associated registration service are accessible, and also verifies that port 4172 is open for UDP and TCP access. It also reports on the round trip ping time between the client and WorkSpaces. Here's what the health check looks like: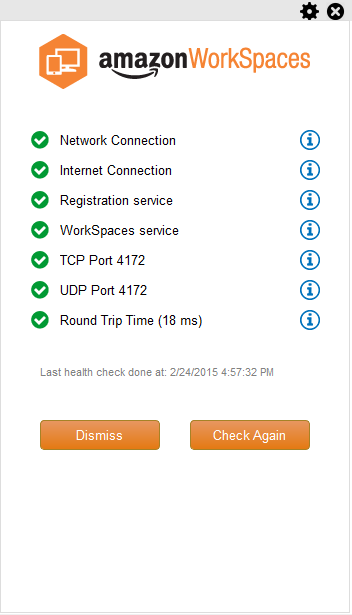 Client Reconnect
The WorkSpaces client now allows users to seamlessly gain access to their WorkSpace without having to re-enter their credentials every time they disconnect from their WorkSpace. The client application saves an access token in a secure store on the local device and uses it to authenticate the user.
Users simply have to click on the Reconnect button on the client in order to gain access to their WorkSpace: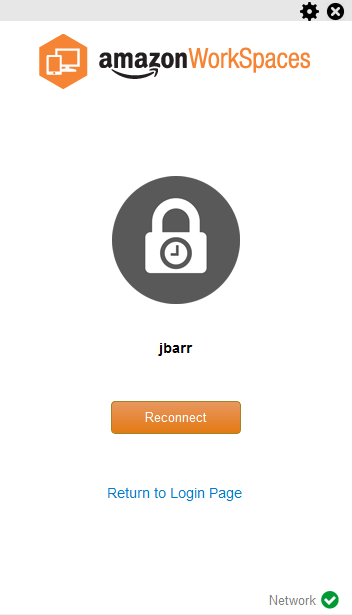 For security reasons, users can reconnect for up to 12 hours without having to re-enter their credentials. Users will be prompted once to enable this feature, and can disable it at any time using the Advanced Settings menu.
Auto Session Resume
The WorkSpaces client will now attempt to resume a session that was disconnected due to a transient drop in network connectivity. The default time for resuming a session is 20 minutes; this can be extended (all the way up to a maximum of four hours) or disabled via a group policy. For more information, read about Using Group Policy to Manage WorkSpaces and Users.
Support for the Singapore Region
You can now launch WorkSpaces in the Asia Pacific (Singapore) region.
---
New WorkSpaces features for administrators include a stand-alone client installer and some important updates to the console.
Stand-Alone Client Installer
Administrators can now download the WorkSpaces installers for Windows and Mac and then make them available to their users. This can be helpful in managed situations where Internet downloads are prohibited. Here are the Amazon WorkSpaces Clients: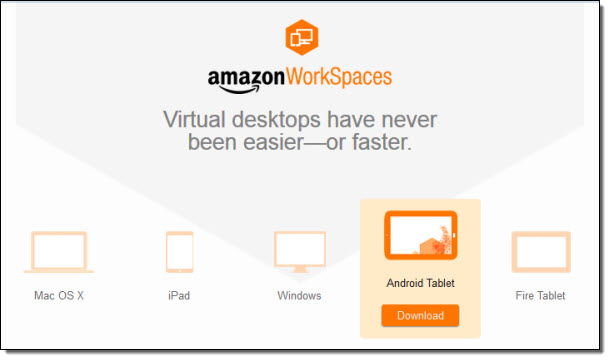 Console – Enable Internet by Default
We have made it easier for administrators to enable Internet access (including assignment of a public IP address) to allow outbound network access through an Internet Gateway in the VPC that contains the WorkSpaces. The setting applies to newly launched WorkSpaces, as well as those that are rebuilt after Internet access has been enabled:


Console – Search
Administrators can now search for WorkSpaces by username, bundle type, or directory via the Console: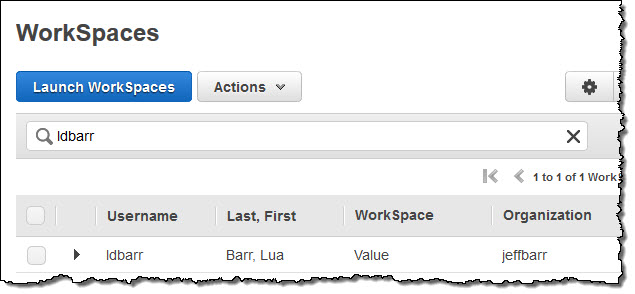 Console – Bulk Actions
Administrators can now select and then reboot or remove multiple WorkSpaces: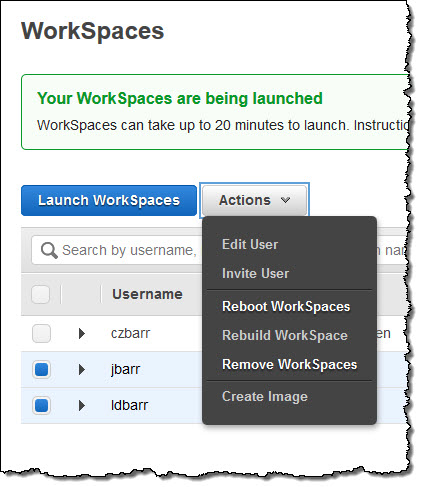 PCoIP Connection Manager Improvements
The PCoIP Connection Manager authentication appliance brokers the authentication process and enables the creation of a streaming session from WorkSpaces to PCoIP zero clients. The appliance was initially designed to only run on an m3.medium and larger instance types. Now, the appliance can be configured for t2.micro, t2.small and t2.medium instance types, helping reduce costs while maintaining good baseline performance. We have also updated the appliance to support Elastic Load Balancing (ELB) so that you are not limited to a single appliance and can scale to support more simultaneous authentication requests than before.
Available Now
Once again, these features are available now and you can start using them today. The session resume feature will be available in all regions by April 8th, 2015.
— Jeff;