CloudFront Reporting Update – New Device Report, CSV, Integration, and More
We are making some improvements to Amazon CloudFront's reporting feature. These improvements will allow you to learn even more about how and where your content is being accessed, export your data for additional analysis, and easily monitor and set alarms on a set of six metrics that CloudFront publishes to CloudWatch.
Let's take a look at each of these new features!
New Devices Report
This report provides information about the types of devices that make requests to CloudFront during a specified time period: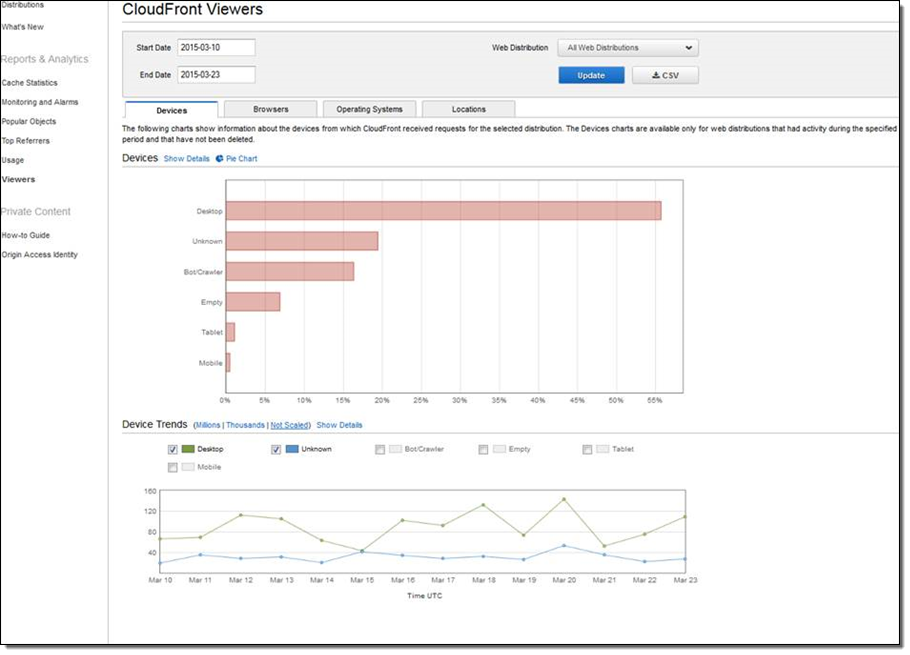 You can access this new report via the CloudFront Console. Simply select Viewers under Reports and Analytics and then click on Devices.
CSV Data Export
You can now export the data contained in the various Reports & Analytics charts to a CSV file. Simply click on the CSV button:

CloudFront Metric and Alarms
You can now view CloudFront's CloudWatch metrics directly (you no longer need to go the CloudWatch Console). You can also click on the Create Alarm button to create an alarm for any desired metric: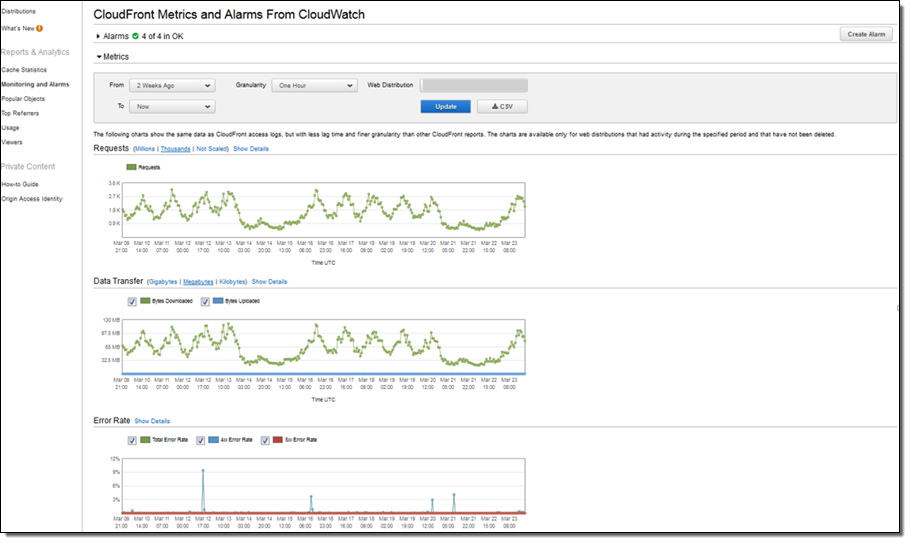 Better Popular Object URL Data
On March 13th we increased the number of characters in the Popular Object URLs report from 50 characters to 500 characters. If you view or download this report for date ranges that start before March 13th, you'll see up to 50 characters. For date ranges that start on or after March 13th, you'll now see up to 500 characters:

Other Improvements
The CloudFront Console now saves your settings (selected parameters and UI preferences) to your local browser so that they remain available when you switch tabs or log out.
There's now a What's New link on the Console so that you can easily learn about newly launched features, upcoming webinars, and other announcements.
You can learn about more Amazon CloudFront Reports by visiting the Amazon CloudFront Reports & Analytics page.
CloudFront Office Hours
The CloudFront team will be holding office hours on March 26th at 10:00 AM PDT. Visit the CloudFront Webinars page to sign up and to learn more about other online events that may be of interest to you.
— Jeff;