New Amazon CloudFront Reporting – Learn More About Your Viewers
My colleague Jarrod Guthrie sent me a blog post with information about four new reports for CloudFront.
— Jeff;
---
Amazon CloudFront continues to add reporting features. Recently, launched we've usage charts, cache statistics reports, a popular object report, and near-real time operational metrics via Amazon CloudWatch. Today, CloudFront added four more reports that will give you more visibility into who your end users are – Locations, Browsers, and OS (all grouped under Viewer reports) and a Top Referers report.
Viewer Reports
The Viewer reports include three different ways to look at your users: by the browser that they're using, by the operating system that they're using, and by their geographic location.

Browsers – The Browsers report shows top browsers that your end users used to access your content. You can display either a bar chart or a pie chart by browser name or by browser name and version: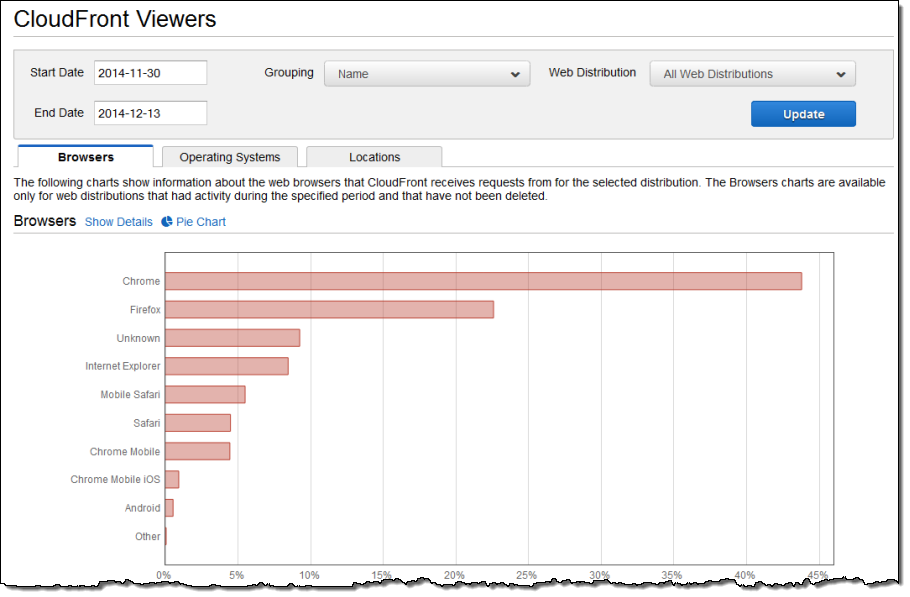 Here's what the pie chart looks like: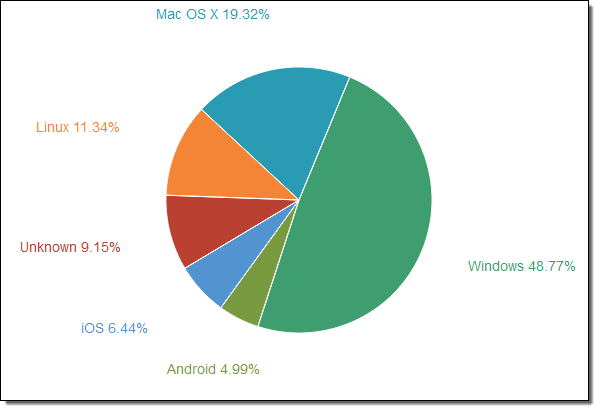 The Browser Trends report shows daily trends in requests by browser:

Operating Systems – As with the Browser reports, the Operating Systems report show the top operating systems that your end users are using as well as daily trends by operating system, either as a bar chart or a pie chart: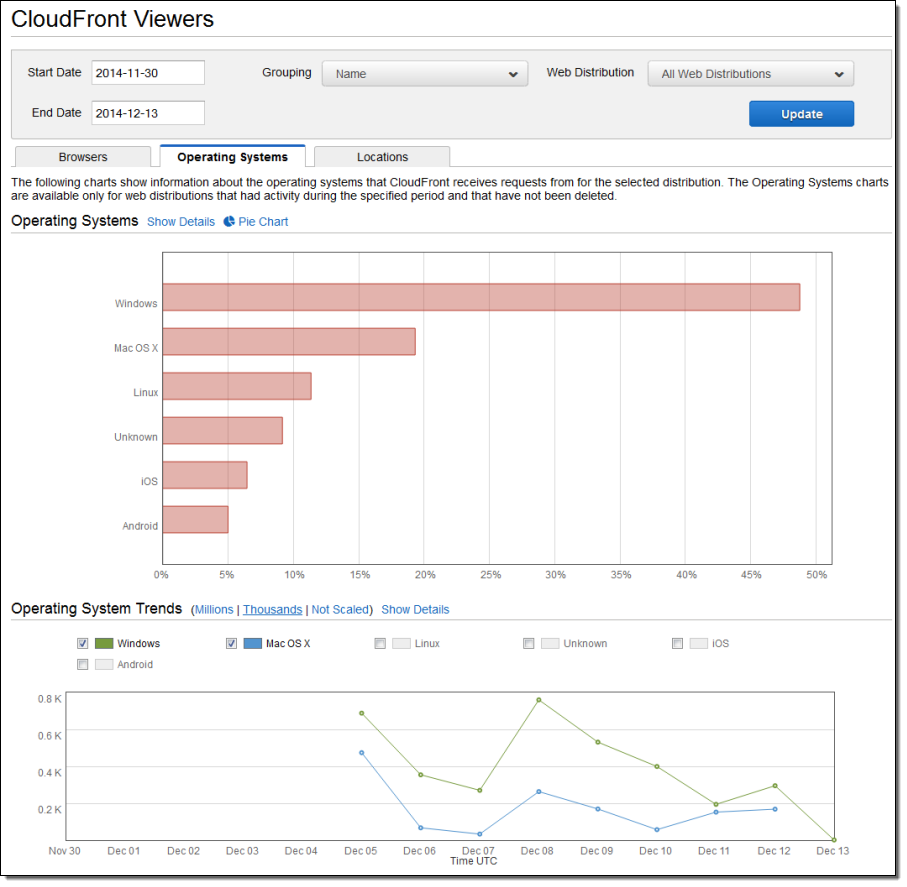 Locations – You can see the top 50 countries where your end user requests are coming from or the top U.S. states. The report includes the request count from each country, the number of requests in a country as a percent of total requests, and the number of bytes delivered to your end users in each country. You can also display a trends chart that shows how request counts are changing for selected countries or states.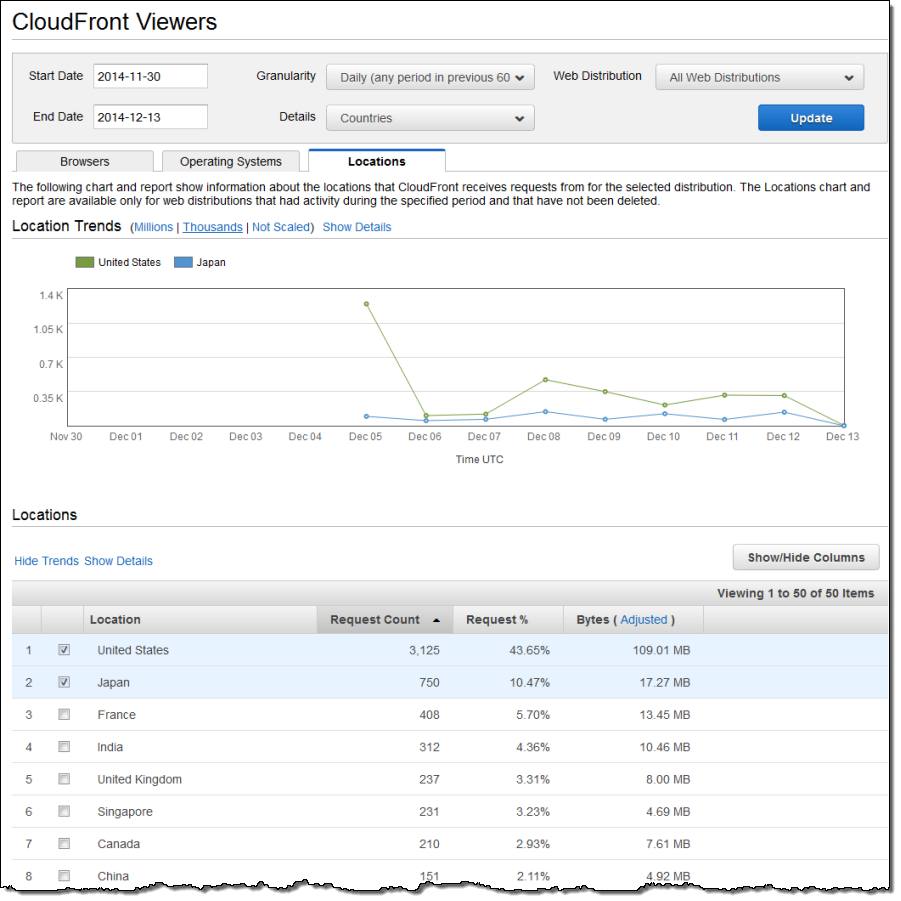 Referrer Reports
Any request for an object on your domain has a HTTP header caller Referer. This header indicates the URL of the webpage from where the request to the object on your domain (or website) was made. The referer header could reference a search engine, another website that links directly to your objects, or your own website. Here's a sample report: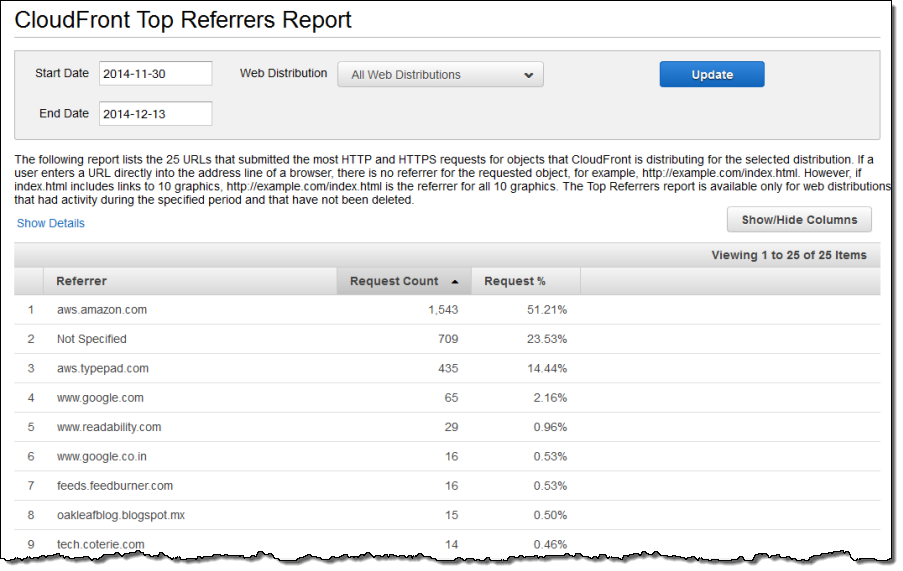 Available Now
The new reports are available now under the Reporting & Analytics section of the CloudFront Management console: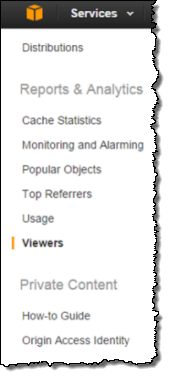 For more information on the CloudFront reporting features, please visit the CloudFront Reports & Analytics page.
If you want to learn even more about these new features, join our upcoming CloudFront Office Hours webinar. on Jan 21st 2015 at 10:00 AM (PT). You can register for this webinar by visiting our Webinars & Videos page and clicking the registration link under the Office Hours Series. Be sure to bookmark this page and check back frequently for new webinars and webinar recordings.
— Jarrod Guthrie, Product Marketing Manager, Amazon CloudFront