New AWS Quick Start – SAP Business One, version for SAP HANA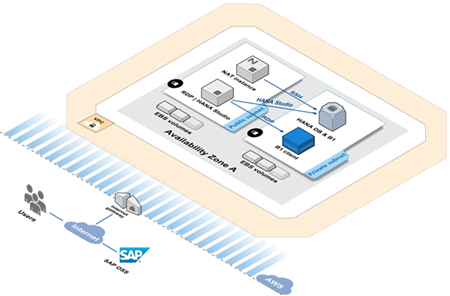 We have added another AWS Quick Start Reference Deployment. The new SAP Business One, Version for SAP HANA document will show you how to get on the fast track to plan, deploy, and configure this enterprise resource planning (ERP) solution. It is powered by SAP HANA, SAP's in-memory database.
This deployment builds on our existing SAP HANA on AWS Quick Start. It makes use of Amazon Elastic Compute Cloud (Amazon EC2) and Amazon Virtual Private Cloud (Amazon VPC), and is launched via a AWS CloudFormation template.
The CloudFormation template creates the following resources, all within a new or existing VPC:
A NAT instance in the public subnet to support inbound SSH access and outbound Internet access.
A Microsoft Windows Server instance in the public subnet for downloading SAP HANA media and to provide a remote desktop connection to the SAP Business One client instance.
Security groups and IAM roles.
A SAP HANA system installed with Amazon Elastic Block Store (Amazon EBS) volumes configured to meet HANA's performance requirements.
SAP Business One, version for SAP HANA, client and server components.
The document will help you to choose the appropriate EC2 instance types for both production and non-production scenarios. It also includes a comprehensive, step-by-step walk-through of the entire setup process. During the process, you will need to log in to the Windows instance using an RDP client in order to download and stage the SAP media.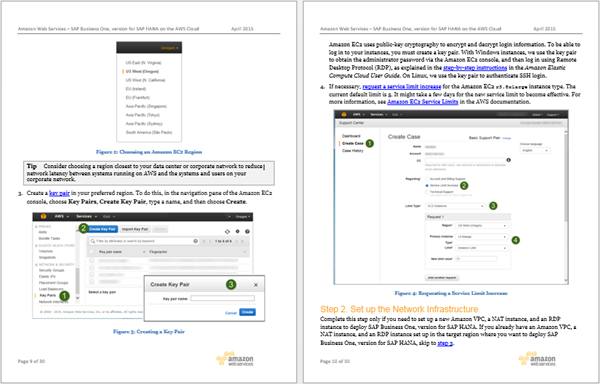 After you make your choices, you simply launch the template, fill in the blanks, and sit back while the resources are created and configured. Exclusive of the media download (a manual step), this process will take about 90 minutes.
The quick start reference guide is available now and you can read it today!
— Jeff;
Modified 2/9/2021 – In an effort to ensure a great experience, expired links in this post have been updated or removed from the original post.