New – Pay-per-Session Pricing for Amazon QuickSight, Another Region, and Lots More
Amazon QuickSight is a fully managed cloud business intelligence system that gives you Fast & Easy to Use Business Analytics for Big Data. QuickSight makes business analytics available to organizations of all shapes and sizes, with the ability to access data that is stored in your Amazon Redshift data warehouse, your Amazon Relational Database Service (RDS) relational databases, flat files in S3, and (via connectors) data stored in on-premises MySQL, PostgreSQL, and SQL Server databases. QuickSight scales to accommodate tens, hundreds, or thousands of users per organization.
Today we are launching a new, session-based pricing option for QuickSight, along with additional region support and other important new features. Let's take a look at each one:
Pay-per-Session Pricing
Our customers are making great use of QuickSight and take full advantage of the power it gives them to connect to data sources, create reports, and and explore visualizations.
However, not everyone in an organization needs or wants such powerful authoring capabilities. Having access to curated data in dashboards and being able to interact with the data by drilling down, filtering, or slicing-and-dicing is more than adequate for their needs. Subscribing them to a monthly or annual plan can be seen as an unwarranted expense, so a lot of such casual users end up not having access to interactive data or BI.
In order to allow customers to provide all of their users with interactive dashboards and reports, the Enterprise Edition of Amazon QuickSight now allows Reader access to dashboards on a Pay-per-Session basis. QuickSight users are now classified as Admins, Authors, or Readers, with distinct capabilities and prices:
Authors have access to the full power of QuickSight; they can establish database connections, upload new data, create ad hoc visualizations, and publish dashboards, all for $9 per month (Standard Edition) or $18 per month (Enterprise Edition).
Readers can view dashboards, slice and dice data using drill downs, filters and on-screen controls, and download data in CSV format, all within the secure QuickSight environment. Readers pay $0.30 for 30 minutes of access, with a monthly maximum of $5 per reader.
Admins have all authoring capabilities, and can manage users and purchase SPICE capacity in the account. The QuickSight admin now has the ability to set the desired option (Author or Reader) when they invite members of their organization to use QuickSight. They can extend Reader invites to their entire user base without incurring any up-front or monthly costs, paying only for the actual usage.
To learn more, visit the QuickSight Pricing page.
A New Region
QuickSight is now available in the Asia Pacific (Tokyo) Region: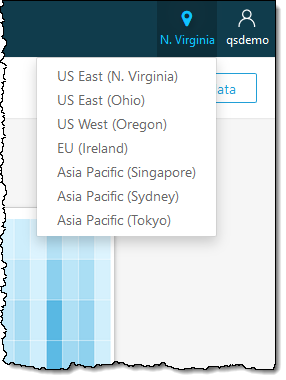 The UI is in English, with a localized version in the works.
Hourly Data Refresh
Enterprise Edition SPICE data sets can now be set to refresh as frequently as every hour. In the past, each data set could be refreshed up to 5 times a day. To learn more, read Refreshing Imported Data.
Access to Data in Private VPCs
This feature was launched in preview form late last year, and is now available in production form to users of the Enterprise Edition. As I noted at the time, you can use it to implement secure, private communication with data sources that do not have public connectivity, including on-premises data in Teradata or SQL Server, accessed over an AWS Direct Connect link. To learn more, read Working with AWS VPC.
Parameters with On-Screen Controls
QuickSight dashboards can now include parameters that are set using on-screen dropdown, text box, numeric slider or date picker controls. The default value for each parameter can be set based on the user name (QuickSight calls this a dynamic default). You could, for example, set an appropriate default based on each user's office location, department, or sales territory. Here's an example: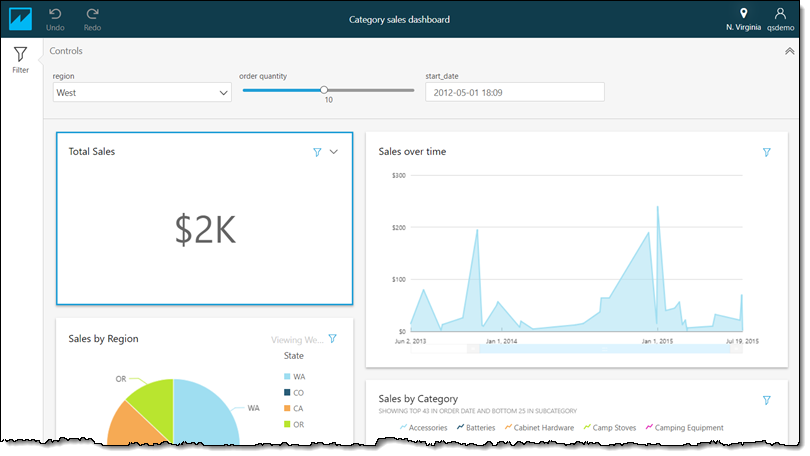 To learn more, read about Parameters in QuickSight.
URL Actions for Linked Dashboards
You can now connect your QuickSight dashboards to external applications by defining URL actions on visuals. The actions can include parameters, and become available in the Details menu for the visual. URL actions are defined like this: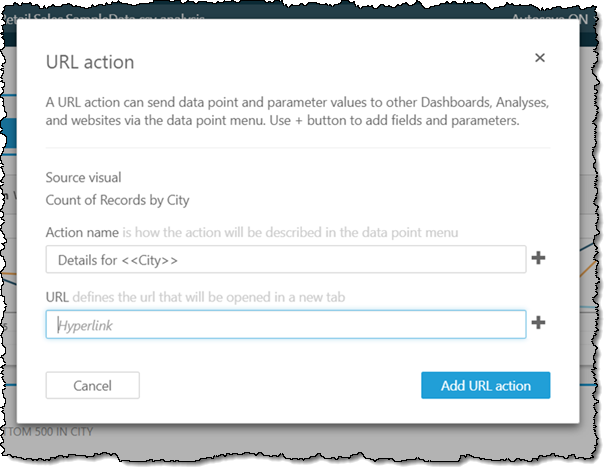 You can use this feature to link QuickSight dashboards to third party applications (e.g. Salesforce) or to your own internal applications. Read Custom URL Actions to learn how to use this feature.
Dashboard Sharing
You can now share QuickSight dashboards across every user in an account.
Larger SPICE Tables
The per-data set limit for SPICE tables has been raised from 10 GB to 25 GB.
Upgrade to Enterprise Edition
The QuickSight administrator can now upgrade an account from Standard Edition to Enterprise Edition with a click. This enables provisioning of Readers with pay-per-session pricing, private VPC access, row-level security for dashboards and data sets, and hourly refresh of data sets. Enterprise Edition pricing applies after the upgrade.
Available Now
Everything I listed above is available now and you can start using it today!
You can try QuickSight for 60 days at no charge, and you can also attend our June 20th Webinar.
— Jeff;