Announcing Generative BI capabilities in Amazon QuickSight
Generative BI capabilities for dashboard authoring are now in Public Preview! Read more.
Data is a connective force that accelerates business growth. However, despite significant investments in data analytics, organizations often don't use data-driven insights to make business decisions. Why? Among other reasons, traditional business intelligence (BI) tools force you to invest in time-consuming processes and specialized training to uncover insights. Where insights are available, business users must spend precious time extracting data from their BI system and importing it into other tools to create the narratives needed to help others make informed decisions. These barriers often ensure that insights stay trapped in the data.
AWS has been on a mission to democratize access to insights for all users in the organization. Amazon QuickSight, our unified BI service, allows insights to be shared across organizations so that every decision in your organization is driven by data. QuickSight breaks down BI siloes by providing interactive dashboards, Paginated Reports, natural language queries, and embedded analytics, and it automatically scales to tens of thousands of users without requiring you to set up, configure, or manage your own servers.
Introducing Generative BI
The latest advancements in generative artificial intelligence (AI) and the use of large language models (LLMs) has opened a new world of possibilities for organizations. At QuickSight, we've been using generative models to power Amazon QuickSight Q that enable any user to ask questions of their data using natural language, without having to write SQL queries or learn a BI tool, since 2020. As generative AI models became more and more powerful, it has inspired us to look at every aspect of BI—from data prep, to dashboard authoring, to data analysis, to data story sharing—and identify ways to reinvent it.
Today, we are pleased to announce that we are furthering the early innovation in QuickSight Q with the new LLM capabilities available through Amazon Bedrock to provide Generative BI capabilities in QuickSight. These capabilities, coming soon in QuickSight, make it easy for organizations to explore data, discover insights, and share them.
With the new Generative BI capabilities in QuickSight, business analysts can easily perform common tasks using natural language, including the following:
Creating visuals in seconds using a new QuickSight Q-powered visual authoring experience
Fine-tuning and formatting visuals using natural language
Creating calculations using natural language without needing to know specific syntax
For business users, who consume and interact with dashboards, we are announcing an entirely new type of content called Stories. With Stories, business users get the power of Generative BI to generate, customize, and share compelling visual narratives using natural language prompts.
Accelerating data-driven decisions for all users
Let's take a look at these new capabilities that help business analysts quickly create dashboards, and help business users easily create powerful sharable narratives using data.
Build visuals using natural language
A new streamlined authoring experience powered by Q accelerates the dashboard creation process by allowing business analysts to simply describe the visuals they want in natural language to quickly generate visuals. They can add the visual to an analysis in one click.
Business analysts can use this new capability by choosing the new Ask Q option at the top of their authoring experience window, then describing the data they would like to see using natural language. Q for authoring can answer vague questions like "shoes" or "top customers" as well as precise ones like "shoe sales in San Antonio for 2020 by month." It also offers alternative related question recommendations to help business analysts see and address ambiguous cases where multiple parts of data match their query. You can easily iterate on a visual before adding it to your dashboard by adjusting question terms, for example, to apply filters or change measures. You can use point-and-click formatting, for example, to change visual types or configure forecast time windows.
Refine visuals in analyses using natural language
With Generative BI, editing visuals in dashboards and reports is as easy as describing changes using natural language. Use the new Build for me menu option on the visual and reduce the number of steps needed to make updates.
Using this capability is simple. Open an existing analysis, choose the visual you want to change, choose the Build for me menu option, and describe the change you want to make in plain language. For example, you can ask to "change to a bar chart" or "change the date axis to monthly" to quickly change a visual's format.
Create calculated fields using natural language
Creating a new calculation is as simple as asking Q a few questions! Simply describe the calculations and QuickSight will generate corresponding expression syntax. Using natural language to generate expressions reduces time spent researching and testing expressions found on the open internet and can be especially helpful for those new to QuickSight or unfamiliar with specific expression syntax.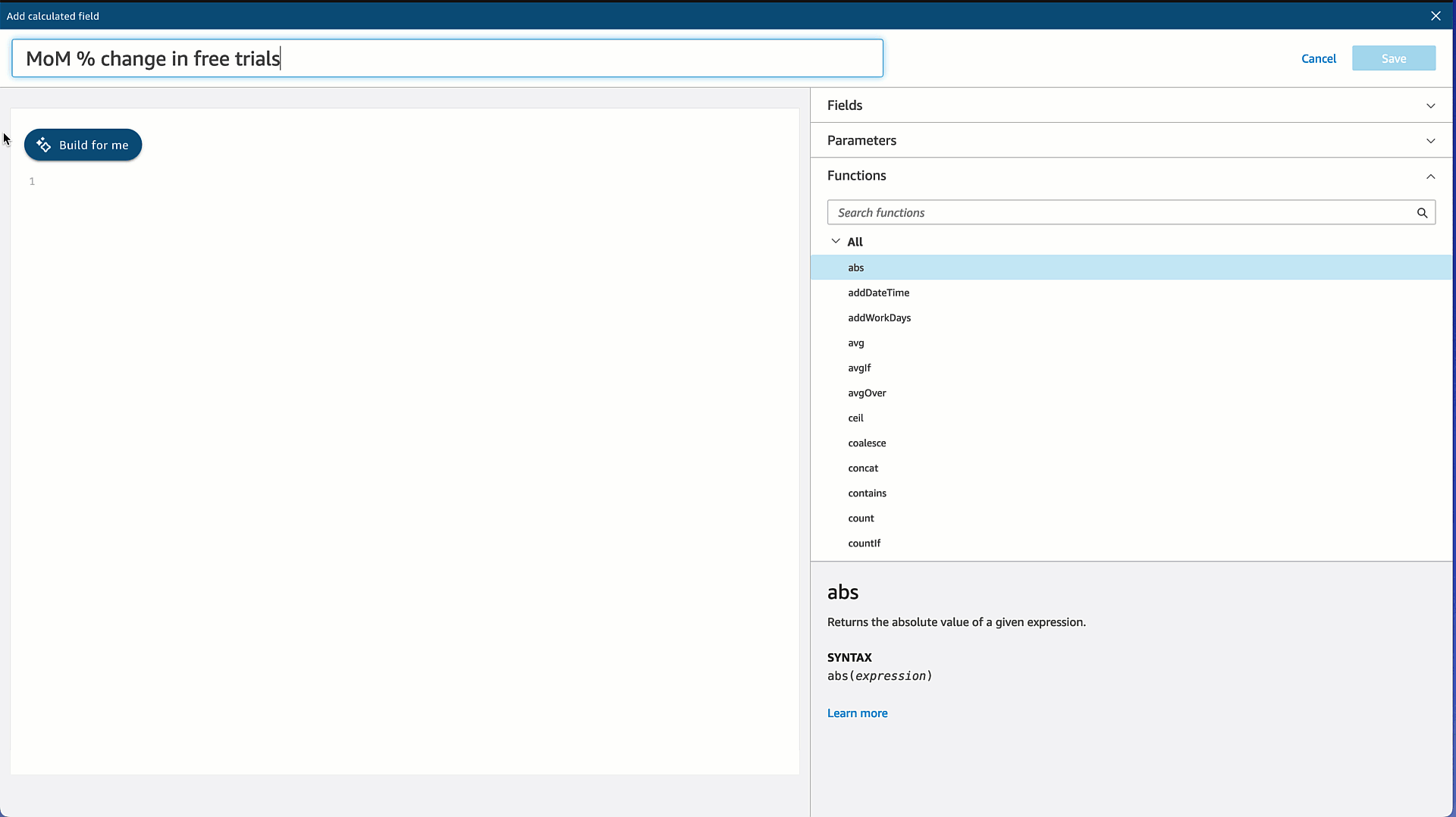 Calculations are generated using the Build for me button. This feature keeps the human in the loop by providing a preview of generated expressions with the opportunity to review before adding to any calculation, as well as the ability to directly edit any generated calculations using QuickSight expression syntax.
Create and share rich data stories
Business users spend a lot of time extracting data and insights from a dashboard to create presentations for other stakeholders. To that end, they often end up copying and pasting visuals into various documents that are shared outside their BI system, where governance is no longer enforced and insights get outdated soon.
The new Stories capability in QuickSight helps business users interpret data and share insights through compelling narratives. Stories bring together data-driven insights, real-world expertise, and artificial intelligence—all framed in engaging design. Persuasive data stories can help teams reach conclusions and drive business decisions faster.
Business users can simply enter the description of the story they want in natural language and let QuickSight generate a story in seconds. Stories in QuickSight incorporate visuals from relevant dashboards alongside text-based descriptions and analysis of your data, including how it relates to general business problems like acquiring new customers or reducing customer churn. You also have the full flexibility to create stories from scratch or modify stories with straightforward point-and-click options.
To get started creating a Story, choose Create Story on your dashboard or pinboard and choose either a scrollable webpage or slide format with the option to refine the visual list. QuickSight automatically builds the outline, fills in text, and incorporates visuals, bringing data together with broad world knowledge of LLMs to create an overall story arc. After you create your story, it's fully customizable, allowing you to make ad hoc changes like swapping a visual, adding an image from your desktop, changing formatting, or adding individual lines of text. You can also use the generative editor to make broader changes such as changing the tone of the story, making sections shorter or longer, or transforming paragraphs into bullet form. You can share data stories with other QuickSight users, and the data governance rules established within reports, dashboards, or Q will remain in place, ensuring only those with access can see sensitive data.
Enterprise-ready: Governed, secured, and scalable
As a fully-managed, secure solution, Generative BI capabilities in QuickSight can be used out of the box to accelerate the path to data-driven actions for all users. Advantages of using Generative BI in Amazon QuickSight include:
Calculations presented in narratives are performed by QuickSight and built using technology proven for years in Q, reducing the risk of data hallucinations that can occur with large language models.
Q topics allow business analysts to improve language understanding in their specific context by adding acronyms and other terminology specific to their organization.
AI-generated data stories are completely customizable, allowing business users to accelerate the time it takes to construct polished end results without limiting their domain expertise or unique points of view.
Q automates data preparation, making it faster for you to prepare data to support natural language queries. Automated data preparation utilizes machine learning (ML) to infer semantic information about data and adds it to datasets as metadata about the columns (fields).
As with Q today, Generative BI keeps all of your data within your AWS account where you can enjoy the security and compliance benefits of AWS's cloud. QuickSight does not use customer data to train the LLMs that underlie the Generative BI capabilities
Continuous innovation at QuickSight
From our inception as a cloud-native, serverless BI service, QuickSight has been innovating at an incredible pace, including the launch of ML insights, Q, comprehensive and easy embedding options, and Paginated Reports—all in one unified experience. QuickSight currently powers business intelligence and embedded analytics with thousands of customers across the globe, including Nasdaq, NFL, Volvo, Capital One, and Siemens. With Generative BI, QuickSight takes the next leap in reimagining how organizations can turn data into impact faster.
Generative BI capabilities in QuickSight will be coming soon. Stay tuned in the AWS Business Intelligence blog and the QuickSight Community for the latest updates and announcement for preview date.
You can also register your interest to be notified when Generative BI capabilities in QuickSight is open for preview.
Learn more about Amazon QuickSight and sign up for a free trial to get started.
---
About the authors
Zac Woodall is Principal Product Manager of AIML at Amazon QuickSight. As the product leader for AIML capabilities in Amazon QuickSight, Zac applies AI to simplify product experiences making data more useful and accessible. Zac has 24 years of experience helping create some of the world's most used enterprise and consumer software, with stints in startups, Tableau, and Microsoft before coming to AWS.
Shruthi Panicker is a Senior Product Marketing Manager with Amazon QuickSight at AWS. As an engineer turned product marketer, Shruthi is passionate about working at the intersection of technology and business to tell great product stories that drive customer value. She has spent over 15 years in the technology industry in roles including software engineering, solution architecting, consulting, and product marketing.