Category: AWS CodePipeline
Understand how to automate trigger of project specific code pipeline for GitHub mono repos users. Currently, if a customer is using GitHub as a version control system and he has only one repository which contains multiple folders each for a different project, change in any file, triggers the code pipeline for the whole repository rather than for the appropriate project. With this blog, they would be able to automate trigger of appropriate pipeline based on the project folder where the file gets changed.
Read More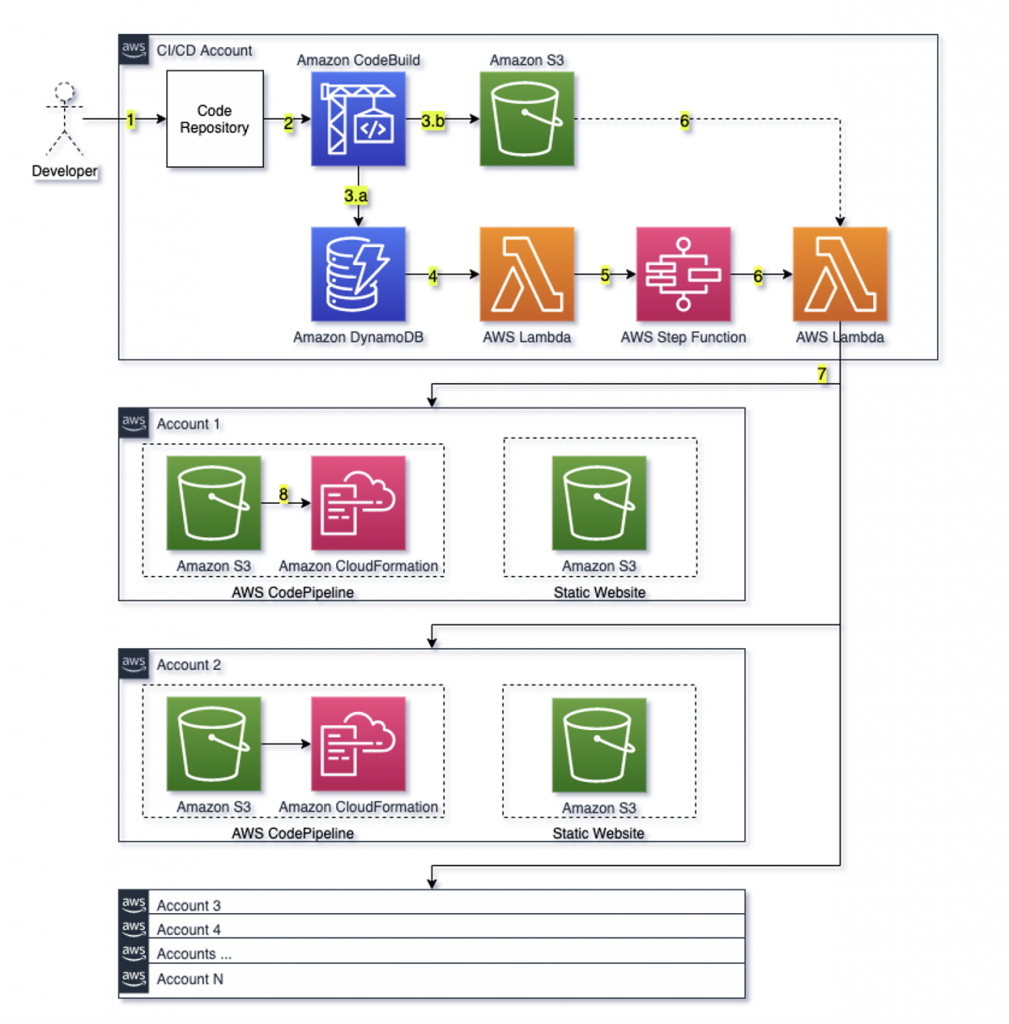 In April 2020, SOMA Global, a leading provider of Public Safety as a Service (PSAAS™), set out to update its computer aided design (CAD) platform to increase reliability to 99.999%, an industry first. SOMA Global adopted an account-based approach for tenant isolation to meet Criminal Justice Information Service (CJIS) regulations. The development and operations team […]
Read More
Since the post Using AWS CodePipeline, AWS CodeBuild, and AWS Lambda for Serverless Automated UI Testing was published, things have evolved with Chrome headless and Firefox headless being supported natively. AWS Lambda now supports container images, AWS Step Functions has added support for Map state and its integration with Lambda, and AWS Fargate has enabled […]
Read More
AWS CodePipeline allows you to use a third-party Git repository as a source for a pipeline, however, the status of the build may not be available on the 3rd party git repository dashboard. As a developer, it is preferable to see the build / pipeline status in the same dashboard when working with repository. This […]
Read More
This post provides a step-by-step guide on how to model and provision AWS Glue workflows utilizing a DevOps principle known as infrastructure as code (IaC) that emphasizes the use of templates, source control, and automation. The cloud resources in this solution are defined within AWS CloudFormation templates and provisioned with automation features provided by AWS […]
Read More
DevOps is a combination of cultural philosophies, practices, and tools that combine software development with information technology operations. These combined practices enable companies to deliver new application features and improved services to customers at a higher velocity. DevSecOps takes this a step further, integrating security into DevOps. With DevSecOps, you can deliver secure and compliant […]
Read More
In the post Using Custom Source Actions in AWS CodePipeline for Increased Visibility for Third-Party Source Control, we demonstrated using custom actions in AWS CodePipeline and a worker that periodically polls for jobs and processes further to get the artifact from the Git repository. In this post, we discuss using an event-driven architecture to trigger […]
Read More
This post describes how to automate the deployment process of a single-tenant SaaS solution to deliver software quickly, securely, and less error-prone for each existing tenant. To achieve a higher level of environment segregation across the tenants, I demonstrate all the steps to build and configure a CI/CD pipeline using AWS CodeCommit, AWS CodePipeline, AWS CodeBuild, and AWS CloudFormation. For each new version, the pipeline automatically deploys the same application version on the multiple tenant AWS accounts.
Read More
In this post, we discuss and build a managed continuous integration and continuous deployment (CI/CD) pipeline that uses AWS CloudFormation Guard to automate and simplify pre-deployment compliance checks of your AWS CloudFormation templates. This enables your teams to define a single source of truth for what constitutes valid infrastructure definitions, to be compliant with your […]
Read More