98, 99, 100 CloudFront Points of Presence!
Note: This blog post was originally published November 1 2017 on Jeff Barr's AWS Blog. We recently created this new blog channel dedicated to Networking and Content Delivery and we wanted to bring some of our more recent posts together for ease of reference. We are excited to bring you new content on a regular basis going forward.
Nine years ago I showed you how you could Distribute Your Content with Amazon CloudFront. We launched CloudFront in 2008 with 14 Points of Presence and have been expanding rapidly ever since. Today I am pleased to announce the opening of our 100th Point of Presence, the fifth one in Tokyo and the sixth in Japan. With 89 Edge Locations and 11 Regional Edge Caches, CloudFront now supports traffic generated by millions of viewers around the world.
23 Countries, 50 Cities, and Growing
Those 100 Points of Presence span the globe, with sites in 50 cities and 23 countries. In the past 12 months we have expanded the size of our network by about 58%, adding 37 Points of Presence, including nine in the following new cities:
Berlin, Germany
Minneapolis, Minnesota, USA
Prague, Czech Republic
Boston, Massachusetts, USA
Munich, Germany
Vienna, Austria
Kuala Lumpur, Malaysia
Philadelphia, Pennsylvania, USA
Zurich, Switzerland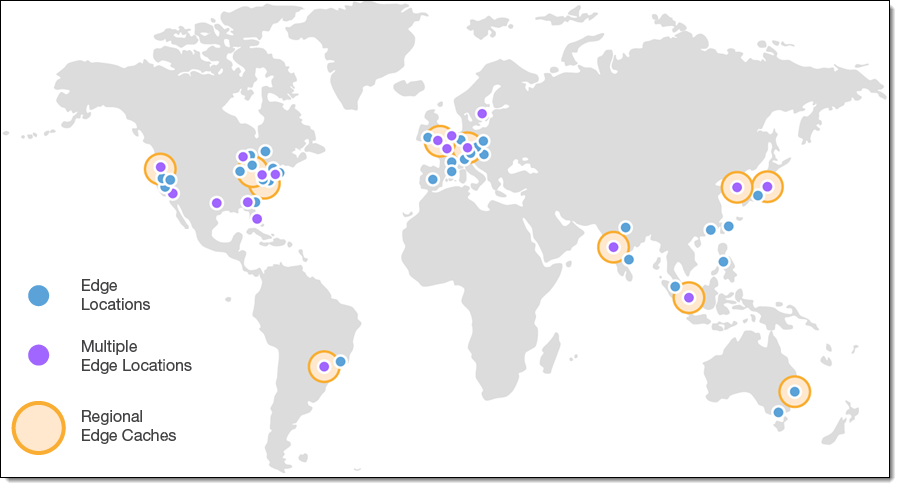 We have even more in the works, including an Edge Location in the United Arab Emirates, currently planned for the first quarter of 2018.
Innovating for Our Customers
As I mentioned earlier, our network consists of a mix of Edge Locations and Regional Edge Caches. First announced at re:Invent 2016, the Regional Edge Caches sit between our Edge Locations and your origin servers, have even more memory than the Edge Locations, and allow us to store content close to the viewers for rapid delivery, all while reducing the load on the origin servers.
While locations are important, they are just a starting point. We continue to focus on security with the recent launch of our Security Policies feature and our announcement that CloudFront is a HIPAA-eligible service. We gave you more content-serving and content-generation options with the launch of Lambda@Edge, letting you run AWS Lambda functions close to your users.
We have also been working to accelerate the processing of cache invalidations and configuration changes. We now accept invalidations within milliseconds of the request and confirm that the request has been processed world-wide, typically within 60 seconds. This helps to ensure that your customers have access to fresh, timely content!
Visit our Getting Started with Amazon CloudFront page for sign-up information, tutorials, webinars, on-demand videos, office hours, and more.
— Jeff;