Startups on Air: On the Ground in San Francisco
There's nothing like rolling through the streets of San Francisco in a Jaguar F-Type with Katy Perry blaring through the speakers, as Mackenzie Kosut, our resident startup evangelist, recently discovered on a trip to San Francisco. Kosut was in town to chat with big data analysis company Periscope Data, customer data platform Segment, and peer-to-peer car sharing service Turo—who supplied the aforementioned sweet ride—for the latest episodes of his video series Startups on Air.
With 125, 175, and 160 employees, respectively, Periscope Data, Segment, and Turo are all growing companies with some similar startup aesthetics (work anniversary balloons abound in their offices). But each, as you can see in the videos below, is working on a unique problem and trying to keep their customers happy.
Periscope Data is a unified platform that lets data engineers, analysts, and scientists collaborate on a single platform at a single source of truth to provide data to themselves and their companies.
Visiting @periscopedata unified data platform #redshift #ec2 #rds https://t.co/ydaXEJQbAN

— AWS Startups (@AWSstartups) September 9, 2017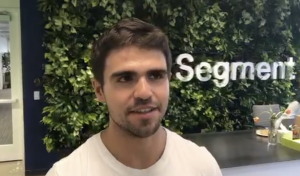 Segment provides a single API for all of its customer's data and is used by the likes of Instacart, Stripe and Salesforce. Plus, they name all of their conference rooms after trees or animals in trees, with shorter names ("Ash") corresponding to the smaller rooms.
Visiting @segment single API for all your customer data #ECS #athena #redshift https://t.co/bBLR7uOAuI

— AWS Startups (@AWSstartups) September 8, 2017
Turo is a peer-to-peer car rental service that was originally founded in 2009. It's now available in over 4,500 cities.
Visiting @turo person to person car rental #ec2#redshift#machinelearninghttps://t.co/OaQvMEEajr

— AWS Startups (@AWSstartups) September 8, 2017