The fastest growing job skills for 2023: 3 takeaways
By Zac Rule, Vice President North America, Enterprise, Coursera
As we begin the new year, many of us in business, government, and higher education are thinking about the types of job skills we should be prioritizing for employability, productivity, and continued institutional success. There is huge interest in innovative learning and hiring practices, with 94% of employers considering skills-based approaches.
In my own conversations with customers, common questions include: Which skills are clear value-adds that will ensure our workforces are competitive? What types of professional development should we invest in to keep up with rapidly evolving technology, macro-economic trends, and organizational strategies? How can we make the case for learning investments?
Coursera, an AWS Training Partner, has released the 2023 edition of The Job Skills Report revealing insights that guide answers to these pressing questions. This report explores data from Coursera's 4 million enterprise learners who access Coursera via their organizations' professional development initiatives—across 3,000 businesses, 3,600 higher education institutions, and governments in over 100 countries.
Through a year-on-year analysis, the Job Skills Report tracks differences in the skills that these learners are seeking out and receiving training on to help predict which skills are expected to grow in interest headed into 2023. Because these learners come from different professions, the findings are generalizable, across all sectors, for all types of institutions in business, government, and higher education. They are helpful for anyone looking to make the case for investing in skills development and training resources in the new year and beyond.
Considering these rich insights, here are three of my key takeaways from this year's report:
1. Digital skills are in high demand
Digital skills, which refer to a range of abilities that allow one to understand, use and create value with and from technology, are the fastest growing skill sets among all learners in business, government, and higher education. Since these skill sets tend to be relatively recent developments, people currently in the workforce must often upskill to learn them, and incoming generations of students and job-seekers should be exposed to them before they enter the workforce.
For example, one of the fastest growing digital skills is data visualization, which mirrors increased interest in data literacy among employers. According to Harvard Business Review, "Data skills are now essential for almost every role in every organization."
The digital skills people are learning are diverse, sophisticated, and rapidly changing. They range from infrastructure and software deployment, to data analytics and visualization, and more. This speaks to the breadth of digital activities that workers now regularly engage with, and the importance of being able to incorporate these high-demand skills into their daily roles. This trend also builds on a growing body of research that underscores the importance of broad digital skills to drive gains and growth for economies and societies at large.
2. Leadership skills are essential to navigating change
Human skills, also known as soft skills, include a range of cognitive, social, and emotional domains, such as critical thinking, decision-making, and leadership. Many of the human skill development courses that learners accessed on Coursera this year (such as communication, collaboration, and people management) are relatively consistent year-over-year. However, this year, demand for courses that addressed change management, and storytelling, increased drastically.
Considering the rapid pace of change, this is not altogether surprising. What is interesting, though, is that enterprise learners—across businesses, governments, and higher education institutions—are increasingly seeking out these courses now.
This could signal a broader recognition that this pace of change will be more constant, and many learners will need to develop additional skills to help steer organizations, teams, and individuals through less-predictable waters. For example, 60% of business executives say we should be moving to a fractionalized working approach, where individuals would need to have an expanded set of leadership skills, as they work on different projects in different capacities.
As employers continue to navigate macroeconomic uncertainty in 2023, businesses, governments, and higher education institutions will need to expand investment in leadership skills.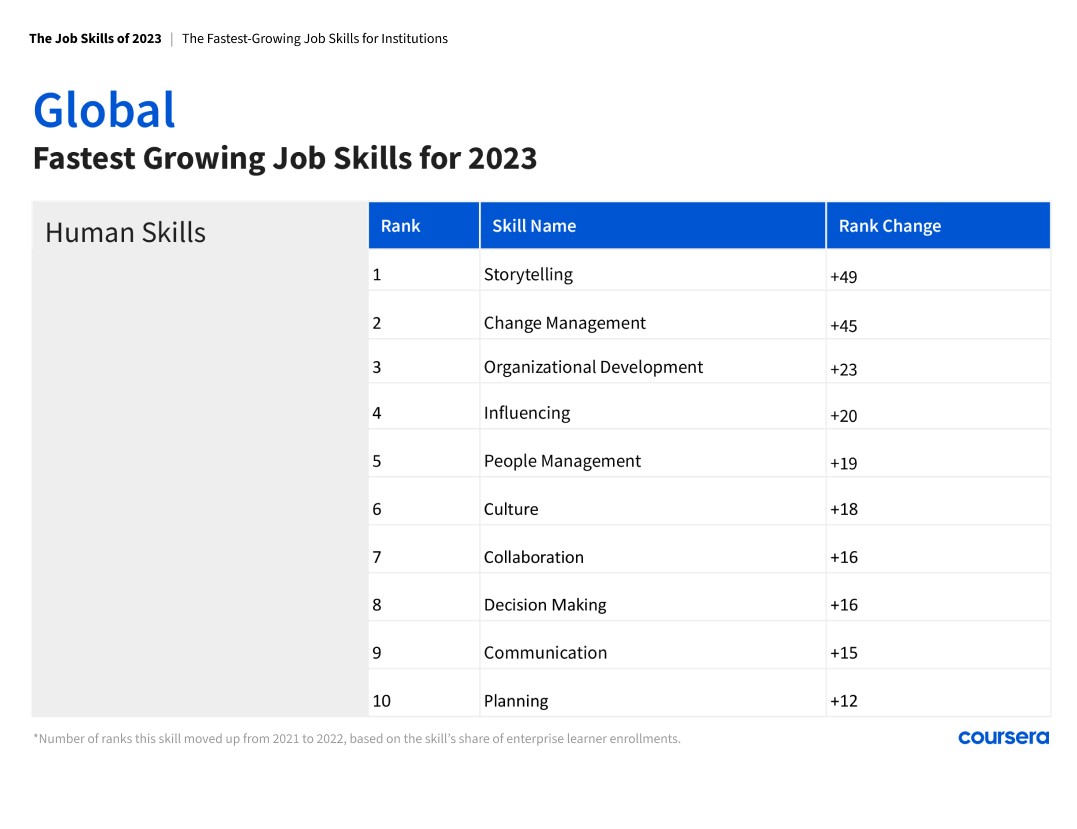 3. Digital and human skills are becoming increasingly intertwined
As the footprint of digital skills increases in our economies and societies, integrating training that balances digital and human skills can strengthen them both. Afterall, the two are complementary: People use human skills to effectively and ethically make use of digital skills, as well as to successfully lead teams and organizations.
For instance, organizational training programs that focus on skills like scrum software development and people analysis—which combine technical expertise with management skills—will help organizations foster a culture where technical domains are included in managerial processes and decision-making, institutionally promoting accountability and inclusivity.
Training programs that balance digital and human skills will also help higher education, government, and businesses "future-proof" jobs, preemptively ensuring that people will have roles that cannot be automated. Recent innovations in artificial intelligence, such as OpenAI's artificial intelligence-driven language tool ChatGPT, have only further underscored the growing pace of automation, and the importance of balancing human and digital skills to help future-proof both career paths and industries.
To meet these job skills trends head on, an increasing number of institutions are turning to skills-based credentials. For instance, Deloitte reports that skills-based organizations are 107% more likely to place talent effectively, 98% more likely to have a reputation as a great place to grow and develop, and 98% more likely to retain high performers.
At Coursera, we're proud to partner with industry leaders like AWS, to provide a relevant and trusted skills-based educational catalog as jobs—and the skills needed to thrive in them—continue to evolve. To learn more about how these insights can provide guidance for your organization, download The Job Skills of 2023 report.
About the author, Zac Rule
As Vice President North America, Enterprise, Zac leads the effort to help corporations of all sizes upskill and reskill their employees in North and Latin America. He is responsible for go-to-market strategies, sales execution, and adoption of the Coursera platform within the Enterprise. Prior to joining Coursera, Zac spent many years helping global corporations drive digital transformation in their business via cloud and data infrastructure. He was most recently Vice President of World-Wide Field Operations at MemSQL where he oversaw significant growth and customer adoption. Prior to MemSQL, Zac was Area Vice President at DataStax, an open source-based big data platform where he oversaw sales and customer success. Zac also spent 10 years at Oracle leading sales teams where he worked with IT and Finance organizations to deliver improved operational capabilities.