Continuous cloud learning sparks scalable business success
Savvy organizations are tapping into the power of the cloud to transform their businesses at a rapid pace, and they're getting a lot in return: sustainable and scalable outcomes. Starting your cloud initiatives with a Cloud Enablement Engine (CEE) is key to building a successful training model that scales with your innovation initiatives. From there, a holistic approach to comprehensive training programs helps you infuse a passion for experimentation and a thirst for knowledge into your organization's DNA. This blog outlines how learning momentum can continue long after cloud initiatives are completed and examine the resulting impact on your organization.
Launch learning initiatives that transform company culture
When your organization makes an investment in comprehensive cloud training programs, you can expect those initiatives to generate positive business results. What you may not expect is the ripple effect that influences learners and your company culture.
By building your cloud talent from within and encouraging ongoing access to education, you'll find that learners will naturally keep growing their skills. With that in mind, ensure your training programs support models of continuous learning to meet the demands and desires of learners: today, it might be cloud, but tomorrow, it could be machine learning or artificial intelligence. Making learning available and supporting your teams as they grow are key to sustaining long-term growth that scales to meet your business goals as they evolve.
George Brady, EVP and CTO at Capital One, is a firm believer in the importance of creating an all-encompassing culture of training. "In whatever new directions [our employees] want to take their skills, they're going to be supported in getting as much training and education as they need," Brady said. We'll examine the impact of Capital One's approach to training later in this blog.
Develop custom learning options to grow cloud skills
Custom learning options are a great way to sustain excitement and enthusiasm around learning while also building confidence. Modalities of learning, such as hands-on labs, virtual classrooms, and on-demand and digital courses provide employees with ready, responsive pathways for building new skills at their own pace. When employees are sufficiently supported by their organization, they become eager to take on new challenges.
As employees further develop their cloud skills, they'll start to take major ownership roles in the process of organizational transformation—one class or project at a time. The resulting pride-of-ownership and skills-building creates a shift in company culture that motivates learners with exciting possibilities for their futures at the company.
Build confidence through certification
One way these individuals can promote additional skill development is through AWS Certifications. Those who are AWS Certified in their professions and specialties have validated their skills and expertise through a rigorous exam, resulting in an industry-recognized credential.
Certifications include the AWS Certified Cloud Practitioner, which is the foundational level certification, as well as professional and specialty certifications for advanced proficiency across various disciplines. Certifications bolster confidence and make employees more efficient. According to the Global Knowledge 2019 IT Skills and Salary Report, 43 percent of IT professionals say certifications help them perform their jobs faster.
After Capital One introduced its comprehensive program for training and, more specifically, AWS Certifications, Brady saw immediate impact.
"When we made the decision to go cloud-first with AWS as our predominant cloud supplier, we also decided we would support all our associates in achieving any number of AWS Certifications they wanted," Brady said. "As a result of that emphasis, we're now in the top three of all enterprises globally for AWS Certifications held by employees, and that's something we're really proud of."
Employees were inspired by one another to pursue certifications and promote their importance at Capital One. That level of passion is a powerful force that drives momentum for continued learning.
Support continuous learning that scales for innovation
Company-sponsored learning events, hackathons, and gamification initiatives all spark continued interest in learning, encourage participation, and build community. Other learning programs, such as offsite trainings or workshops, can offer rich, rewarding opportunities for continuous learning through experience-sharing and peer-to-peer education outside of traditional classroom or coursework.
Another popular strategy is creating a "Community of Practice" responsible for encouraging cloud innovation discussions and advanced learning opportunities throughout the organization. This can take the form of teams or individuals who promote learning opportunities or take the lead on projects to excite employees as they apply new skills.
As you think about continuous learning and future skills gaps, consider the lasting effect on your organization. One-off training initiatives may be applicable to meet the needs of specific teams or projects, but a more inclusive, long-term learning strategy for every team member can lead to broader innovation across the business that keeps all employees current with the industry.
To learn more about how continuous learning can lead to scalable business success, contact us.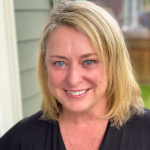 Maureen Lonergan is Director of Training and Certification for Amazon Web Services (AWS), where she leads a team of builders committed to training the next generation of diverse cloud talent. Maureen helps AWS customers, partners, and employees to gain the skills and knowledge to unlock the power of the AWS Cloud in the age of digital transformation.