Make the most of AWS Training and Certification free offerings
***Please take a few minutes to share your thoughts about the AWS Training and Certification Blog. Your feedback helps us continue create content you value.***
Sept 2022 Editor's Note: Since this post was first published, we've expanded our free training offerings to include an expansion to AWS Educate training and resources, new Twitch shows, AWS Cloud Quest: Cloud Practitioner role, and more.
At re:Invent 2020, Amazon announced our commitment to provide free cloud computing skills training to 29 million people globally by 2025 through AWS-designed programs. This is part of our continued efforts to support our employees, customers, partners, and communities by democratizing access to cloud skills training. We know that skills training can help you—whether you are looking to stay competitive on the latest cloud technology or completely reimagine your career. I want to dive deeper into all the ways that AWS Training and Certification can help individuals learn new skills. Start utilizing our free training that is right for you now.
What does free training from AWS look like?
Free, on demand digital training. Our portfolio of more than 500 (and growing!) courses cover all AWS services and solutions, and are designed to be consumed by anyone around the globe, at their pace, and at various skill levels. Digital training allows you to develop skills and knowledge for any of the AWS domains, from machine learning, to networking, security, and more, with short videos. We have the training to meet the needs of various knowledge and skill levels, whether you're just starting to learn about the AWS Cloud, or have been working on it for years. Our courses are developed by AWS experts and our trainers are all AWS Certified. AWS Cloud Practitioner Essentials continues to be our most popular digital course, and is designed for individuals and teams in both IT and non-IT roles. It provides learners with a foundational understanding of the AWS Cloud and helps learners prepare for the AWS Certified Cloud Practitioner exam.
AWS Ramp-Up Guides. Utilize our Ramp-Up Guides to explore learning opportunities grouped by your role, your solutions area, or your AWS Partner needs. We've curated free digital training, classroom courses, videos, whitepapers, certifications, and other information to help you build your AWS Cloud knowledge.
Preparing for AWS Certification. If your goal is to earn an AWS Certification, we offer free digital training, exam preparation courses, sample questions, and other resources to help you prepare for any of our 12 AWS Certification exams.
Interactive cloud learning via Twitch. Knowing our learners are interested in learning when and where it's convenient to them, this summer we offered a new form of live, fun, interactive cloud training via Amazon's live-streaming platform, Twitch. You can view the on-demand episodes for our AWS Power Hour: Machine Learning series and the AWS Power Hour: Cloud Practitioner series to learn the fundamentals of machine learning and the AWS Cloud.
AWS re/Start. For unemployed or underemployed individuals looking for an intensive cloud skills program to launch a career in the cloud, we offer AWS re/Start. It is a free, 12-week, full-time, classroom-based program that prepares learners with little or no IT knowledge for in-demand, entry-level cloud careers. We provide the skills training in collaboration with workforce development programs to prepare learners for cloud positions, connecting graduates with local employers. AWS re/Start has cohorts in 25 cities in 12 countries around the world, and we plan to double that number in 2021. This year, we launched cohorts in Canada, Australia, Ireland, Spain, South Africa, Ghana, and five new locations across the United States. Learn more about AWS re/Start, including how to apply or how to hire program graduates.
More ways to learn with AWS
We understand organizations need individuals with cloud skills to help transform their business. These are just some of the programs AWS Training and Certification offers. We also offer comprehensive cloud training for AWS customers and partners. AWS Academy is working with higher education institutions around the world to train their students, and much more. We're committed to training millions of learners and I hope you'll join us and see what your future holds in the cloud.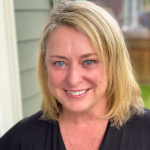 Maureen Lonergan is Vice President of Training and Certification for Amazon Web Services (AWS), where she leads a team committed to training diverse cloud builders of today and tomorrow. Maureen helps AWS customers, partners, and employees to gain the skills and knowledge to realize their cloud goals in the age of digital transformation.