Propel your career with curiosity and a problem to solve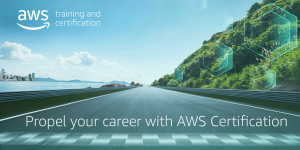 Today, we are continuing our series on career pivots, and looking at what drives individuals to build the AWS Cloud skills they need to propel their careers. If you've never heard of Amazon Elastic Compute Cloud (Amazon EC2), or if you've been wondering how to spin up an EC2 instance yourself, we hope these stories inspire you to start building.
Last week, we wrote about AWS' commitment to train 29 million people globally with free cloud computing skills training by 2025 as well as the expected growth of jobs that require cloud skills. We shared stories of AWS customers who have trained their teams and supported them in earning AWS Certifications. We also shared stories of two cloud builders that had goals to get new jobs working with the cloud. They invested in growing their AWS skills, got AWS Certified, and succeeded in finding cloud roles.
Curiosity and a problem to solve
Changing a career, whether dramatically or in more nuanced ways, can sound daunting. But starting with curiosity or a problem to solve often draws builders and innovators down a new path. For Bodie Paden, founder of Digimatic, he wanted to refresh his AWS skills after his company closed its doors in June 2020. Bodie said, "I've always enjoyed working with AWS cloud infrastructure and building systems there, so I thought maybe I'd look into being what they call a "solutions architect," helping businesses and organizations migrate or build new systems in the cloud."
Bodie knew he needed a project to help him focus, so he started experimenting with a plant monitoring system for his wife's growing plant collection that used sensors and "as many AWS tools as possible." He built his self-described 'intentionally over-engineered' system with the AWS Free Tier and also used this hands-on experience as preparation for the AWS Certified Solutions Architect – Associate exam. Bodie got his certification, shared his story with the world on LinkedIn, and discovered his expertise was in demand. He started a consulting company in late 2020.
Looking for a solution and finding the cloud
Curiosity and a problem to solve also led Judith Sargeant, who has a background in cybersecurity and fraud prevention, on a journey to build with AWS. In 2017, Judith was finishing up a contract and wanted to upgrade her skills. Judith says, "I got interested in blockchain, but everything I tried to do would crash my computer. I went looking for a solution and found the AWS Free Tier. I started with just launching EC2 instances, and my experience helped me get my first job working with AWS." Inspired to look for a solution to learn one skill, she found the cloud. Judith is now in a cloud and application security management role, where she advises on new projects.
For Guillermo Fisher, director of Engineering at Handshake and an AWS Data Hero, his problem to solve emerged in the early days of AWS: the time it took to stand up a server. Guillermo says he was "a software engineer who'd spent a lot of time submitting server requests to Ops." When he started working with AWS around 2012, just six years after AWS launched, he says, "I was initially just surprised by how fast and easy it was to spin up virtual machines (VMs). By 2013, after spending some time experimenting and using EC2 instances for some production workloads, I was hooked."
Guillermo said his journey to learning AWS was inspired by a desire to do more himself, "I was motivated by autonomy–the idea that I would eventually be able to support an infrastructure on my own if I could just get my head around a concept, or a service."
Get started building your future in the cloud
For IT professionals who are used to building things, learning through hands-on experimenting is a natural way to get started with cloud. Guillermo says, "Do it. Get started. Build something using the AWS Free Tier. There are free resources available everywhere—including training—and there's a community of people who are willing to help you out."
Judith also notes that making the time to invest in learning cloud makes sense right now, no matter your background. She says, "This is the way the world is going. If you want to remain relevant, you have to pivot. Do the fundamentals. Do the labs. Get the hands-on practical experience. Anyone can do it. You don't have to be young with a computer science degree."
For these cloud builders, AWS Certification was one milestone on their cloud journey, and a relevant way to validate their skills and expertise. Guillermo says, "Certification is a great way to indicate to peers and potential employers that you know what you're doing, even if you might not have several years of hands-on experience. As a manager, I use certifications to keep my technical skills current. A certification exam can be a forcing function that exposes you to new tech and solidifies your understanding of tech you've been using for a while."
If you're new to the cloud, Judith advises, "Start with AWS Certified Cloud Practitioner for fundamentals. After that, take a look at AWS Certified Solutions Architect – Associate, and then specialize."
If you're considering your own career pivot, check out the AWS Cloud Pivot Playbook. Or sign up for our Global Kick-Start: Get AWS Certified Challenge.