Move your career forward with AWS Training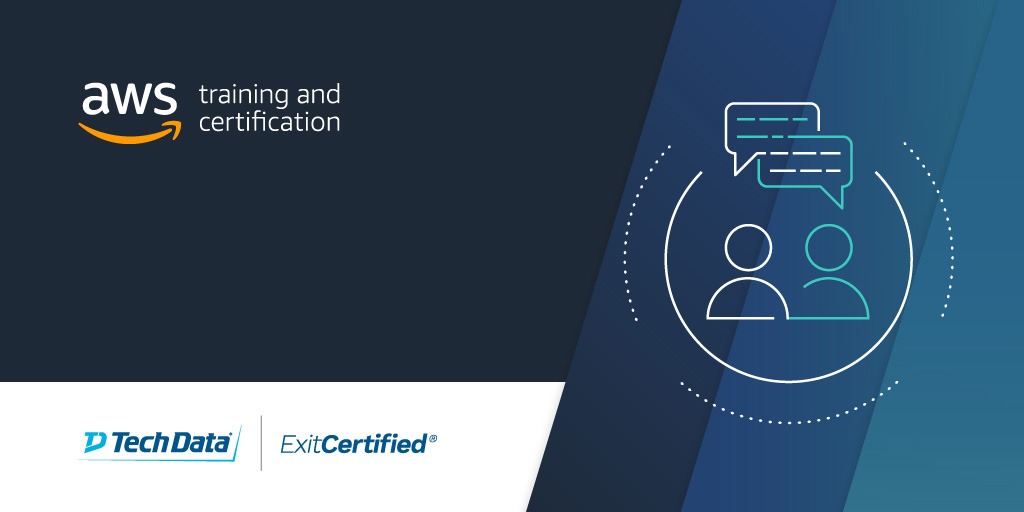 Guest article submitted by Myles Brown, Senior Cloud and DevOps Advisor at ExitCertified, an AWS Training Partner Program member

When hockey legend Wayne Gretzky was little, his dad coached him with the following advice: "Skate to where the puck is going, not where it has been." As it happens, this famous piece of guidance is as relevant to today's IT professionals as it was to young Wayne. If you're serious about your career, you already know that the "puck" is zooming toward the cloud and, more specifically, toward Amazon Web Services (AWS). Your challenge now is to develop the skills that will help you advance your career with similar speed.
Forrester predicts that the public-cloud-infrastructure market will grow by 35% to $120 billion in 2021. Every cloud provider will benefit from that demand, but you have every incentive to focus on AWS. AWS became the world's first cloud provider in 2006, and it's still the most widely used service, boasting millions of customers and thousands of partners. Today, AWS offers more than 125 services, and its security standards have earned the trust of organizations as demanding as global financial institutions and the U.S. military. That might be why IT leaders are eight times more likely to search for skills in AWS than in the next two leading cloud platforms.
So, how can you upgrade your own skills in the cloud? Here are three quick tips:
Keep your skills current. Whether you're new to the cloud or an experienced cloud architect, it just makes sense to keep up with AWS services. Keeping your skills current depends on training and hands-on experience, so commit to being a lifelong learner. You don't have choose a specialization until you're ready. A great place to start for many is the AWS Essentials training courses. In addition, AWS Training allows you to learn at your own pace with more than 500 free digital courses. Built by the experts at AWS, the courses range from foundational to intermediate and advanced across AWS services.
Get hands-on experience with classroom training. More and more organizations are understanding the value of investing in cloud-skills training for their staff. According to 451 Research, 90% of IT decision makers report cloud-skills shortages. Regardless of whether your organization has a formal AWS Training program, you should talk with your manager about how you can advance your AWS Cloud skills. Beyond the free digital courses mentioned above, there are AWS-designed classroom courses taught by AWS Training Partners like ExitCertified. AWS classroom courses go beyond theory to address real-life use cases and contexts, and they allow participants to practice skills in a sandbox environment. In a classroom setting, you can ask questions and get on-the-spot, practical help from an AWS Authorized Instructor.
Map out a path to AWS Certification. With the ongoing investment in cloud technology by organizations, more IT professionals are turning to certifications to advance and validate their cloud knowledge. AWS Certifications are among the most sought-after cloud certifications, including AWS Certified Solutions Architect – Associate, AWS Certified Solutions Architect – Professional, and AWS Certified Cloud Practitioner. Earning an AWS Certification offers many advantages, including increased job effectiveness, improved quality of work, and even a raise or a promotion. According to AWS recruitment specialist Jefferson Frank, 70% of survey respondents reported salary increases of up to 20% after passing an AWS Certification. There are 11 role- and solution-specific, industry-recognized AWS Certification exams. Each exam validates your expertise and knowledge in the given domain. AWS offers exam-preparation courses, sample questions, and other resources to help you prepare for any of the exams. Which AWS Certification will you pursue?
Take the next step in your learning
It doesn't take much predictive skill to see how important cloud technology already is and will continue to be in the future. And it's easy to anticipate that AWS will be central to that growth. As an IT professional, you already know where the puck is going. Training from ExitCertified can help you maneuver it right into the net.
If you're ready for the next step, browse the most popular AWS courses on the ExitCertified website: