re:Invent 2020 – Cloud skills training for everyone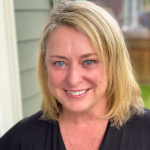 Maureen Lonergan, global leader of AWS Training and Certification, was one of a handful of AWS leaders who presented during the 2020 re:Invent Leadership Series. This post summarizes her talk. Whether you're starting a new cloud career, upskilling your team, or transforming your entire workforce, our programs empower the diverse builders of today and tomorrow to gain and validate skills at every stage of the cloud journey. View the full presentation.
If you're curious about the cloud or looking to grow your career, there's never been a better time to learn. Cloud computing is the number one hard skill companies need most, according to a LinkedIn study from 2019, and IDC FutureScape predicts that by 2022, an estimated 30% of global IT jobs will be left open while employers large and small compete for talent. At AWS, we ensure that as fast as the cloud is changing, the education we offer keeps pace.
This year alone, we've launched dozens of new trainings, expanded our digital offerings, and moved to virtual classroom trainings and online proctoring for AWS Certification exams. While the pandemic has changed some of the ways we deliver learning, it certainly hasn't changed the need for it. Many organizations are accelerating their move to cloud or expanding their cloud utilization to better support their customers.
In my talk, I addressed how AWS Training and Certification helps grow and validate individual expertise; aids broad-scale digital transformation with enterprise cloud fluency and reskilling; promotes upskilling and innovation with a culture of continuous learning; and seeks to develop a diverse future workforce of new learners. No matter where you're at, we empower you at every stage of the cloud journey.
Let's dive in.
Grow and Validate Individual Expertise
We want to make learning accessible for anyone who wants to learn. Our digital training library of more than 500 free courses is available on demand, anytime, anywhere—whether you want to go deep on a specialized topic or you want to take the first steps toward the AWS Cloud. In fact, one of our most popular courses is AWS Cloud Practitioner Essentials. It provides the fundamentals of the cloud for new learners. We also offer live courses with an instructor and other students, currently in a virtual format. You can get started at aws.training or use one of our many Digital Training Partners, like Coursera and edX.
This summer, we leveraged Amazon's live streaming platform, Twitch, to reach people where they are online, too. We launched the AWS Power Hour: Machine Learning series, and it was so well received that we expanded to the series to include AWS Cloud Practitioner. In these free, fun, and interactive trainings, our hosts guide you through the content, aimed at new cloud learners, with demonstrations and real-world examples. The videos are available on demand, at your convenience.
We also help individuals validate their skills through AWS Certification. AWS Certifications are among the most highly rated and sought-after in the industry. We have 12 certifications, ranging from the foundational AWS Cloud Practitioner Certification, to certifications in the core functions of architecture, operations, and development As of August 2020, more than 400,000 individuals hold active AWS Certifications, a number that grew more than 85% between August 2019 and August 2020. This diverse, global community includes people at large and well-established companies and those in emerging startups, and we're proud to empower them with tools and resources to validate their expertise. Organizations trust, and are looking for, AWS Certified talent, so getting certified can propel your career and help build your credibility and confidence. The best preparation is practical experience, but we also offer training courses, exam guides, practice exams, and more.
Broad-scale digital transformation with enterprise cloud fluency and reskilling
Moving to the AWS Cloud is an enormous undertaking for any organization. Even for the most seasoned IT professionals, moving away from on premises requires different skills and understanding a new way of doing business. We work with organizations of all sizes, at various stages of their cloud journey, to reskill their in-house talent. The people you have today are the people you need for tomorrow.
We partner with you to analyze where your talent is now, envision where you need to go, and build a comprehensive training program to get there. Comprehensive training, cloud fluency, and reskilling delivers results. A focus on broad skill enablement allows you to jump-start innovation, lower your operational risk, and increase productivity and ROI.
Who exactly should be trained? EVERYONE. Everyone at your organization should understand the fundamentals and value of cloud—from technical folks and line-of-business owners, to your sales, marketing, and finance teams. Even your administrative teams. This is what we call cloud fluency.
Earlier we talked about the benefits of AWS Certification for learners, but there are also huge benefits for organizations that invest in their teams. In fact, 97% of IT decision makers at organizations who employ AWS Certified staff say it puts their company in a better competitive position to succeed over the next three to five years. Investing in training and certification doesn't just improve productivity and collaboration, it drives greater staff retention and satisfaction. We often hear from executives who worry about the cost and risk of people taking their new knowledge elsewhere. The same survey revealed the opposite is true: 96% agree their decision to support AWS Certification improved the employee retention among cloud-focused staff. Through cloud fluency and reskilling, you empower your people to come along with you on the cloud journey, and you demonstrate your commitment to your people. It's a win-win.
Upskilling and innovation with a culture of continuous learning
Once cloud fluency and comprehensive training programs are in place, your team can reach the next level through upskilling and innovation programs. This is when you truly transform your organization by embedding a culture of learning. It's an ongoing effort in which your people have the space and freedom to experiment and fail, but are also recognized and rewarded when they achieve a goal. When you embed a culture of learning, you accelerate organizational transformation and innovation happens organically and sustainably. Creating this environment isn't easy, and it doesn't happen overnight.
To help you with your journey, we've created the AWS Skills Guild. AWS Skills Guild is built around the key practices we consistently see drive innovation and a sustainable culture of learning. Kmart is one of many examples of successful Skills Guild programs, creating a cloud fluent, fail-fast, learning culture. With the right plan in place, you can empower everyday learners to become enthusiastic skill seekers and fearless innovators.
Develop a diverse future workforce of new learners
Empowering today's learners is important. At AWS, we believe the future of tech is diverse, and we strive to create an inclusive environment that attracts and develops remarkably bright, driven, and inventive builders of all backgrounds. That's why we want to provide educational opportunities that are accessible to anyone with the desire to learn—leveling the playing field to create a stronger and more diverse team of builders. This mission has never been more pressing than in today's environment.
In fact, Amazon announced our commitment to provide free cloud computing skills training to 29 million people globally by 2025. This is part of our efforts to continue supporting the future workforce. This mission has never been more pressing than in today's environment.
As the pandemic continues, we believe more people will want to, or in some cases be forced to, rethink their future employment. This gives us a renewed sense of purpose when it comes to building a diverse pipeline of talent and making cloud careers a viable and highly attractive option.
AWS re/Start is 12-week, full-time, classroom-based program focused on unemployed or underemployed individuals, including military veterans and their families, and young people. We provide all the skills and training needed, so the only thing we ask applicants to bring is an excitement and willingness to learn. We partner with workforce development programs around the country to train learners for entry-level cloud positions and connect alumni with local employers. AWS re/Start cohorts are located in 25 cities around the world, and we'll double that number in 2021. For individual learners, you can find information about this program and how to apply, or if you're an employer and would like to hire from our program, learn more on our website.
AWS Academy is a little different: we focus on bridging the gap between industry and academia. We provide higher education institutions around the world with a free, ready-to-teach cloud computing curriculum that prepares students to fill a wide range of in-demand cloud roles. The curriculum is developed and maintained by AWS, which helps educators stay at the forefront of AWS Cloud innovation and assures students they're getting the most current and relevant content. These students are generally enrolled in a degree or continuous education program, pursuing computer science, information systems, business, or related subjects. AWS Academy is in 35 countries, and more than 1,500 AWS Academy accredited educators at higher education institutions have delivered AWS Academy courses to over 86,000 students worldwide. We're opening doors for higher education students well beyond major tech hubs.
Closing Thoughts
There's never been a better time to learn and AWS Training and Certification can empower anyone who has a desire to learn the AWS Cloud. If you're a new learner, we can help empower you with new career opportunities in the cloud—opportunities that won't just transform your work but potentially your life. If you're an employer or organization, the learning your teams can gain through our programs will help drive cloud adoption and innovation at your organization. There is power in learning. That's why AWS Training and Certification has made it our mission to train millions of learners in the cloud every year. Learn more.