Socionext breaks new ground in real-time AV1 encoding with AWS
Whether they're catching an NFL match on gameday or binging the latest season of Stranger Things, consumers have come to expect nothing but the best from live and on-demand streaming video experiences. For content producers and distributors, this means creating high-quality video that audiences can enjoy with low latency is imperative. However, when factoring in content delivery to a range of devices and with varying network connectivity, maintaining high standards can be difficult, which is where companies like Japanese system-on-chip technology provider Socionext come in. Using AWS Elemental MediaConnect for data transport, Amazon Elastic Compute Cloud (EC2) F1 instances for processing, and Amazon CloudFront for content delivery, Socionext has built a solution that enables cloud-based AV1 real-time encoding, ensuring a consistent high-quality video stream while significantly reducing processing time and delivery costs.
Here's how it works: Capture content with a JVC "CONNECTED CAM" camera that incorporates an encoder and supports the Zixi protocol. The JVC camera is the only professional camera compatible with the Zixi protocol, a mechanism that uses Forward Error Correction (FEC) and Automatic Repeat Request (ARQ) packet loss recovery. The signal output from the JVC camera is sent to MediaConnect for cloud ingress. The signal is then input to an EC2 F1 instance, encoded to next-generation compression codec AV1 in real-time, and transmitted via CloudFront to the intended audience.
When implemented properly, AV1 encoding produces higher-quality imagery in a smaller file size than H.264 and H.265 codecs, but its wide adoption has been hampered by high-performance requirements for encoding. By pairing an EC2 F1 instance and a field programmable gate array (FPGA), Socionext's solution enables real-time AV1 encoding, eliminating dedicated CPU hard costs. It also reduces storage and content delivery network (CDN) costs while improving the end-user experience and quality of the stream, even in an unstable network environment.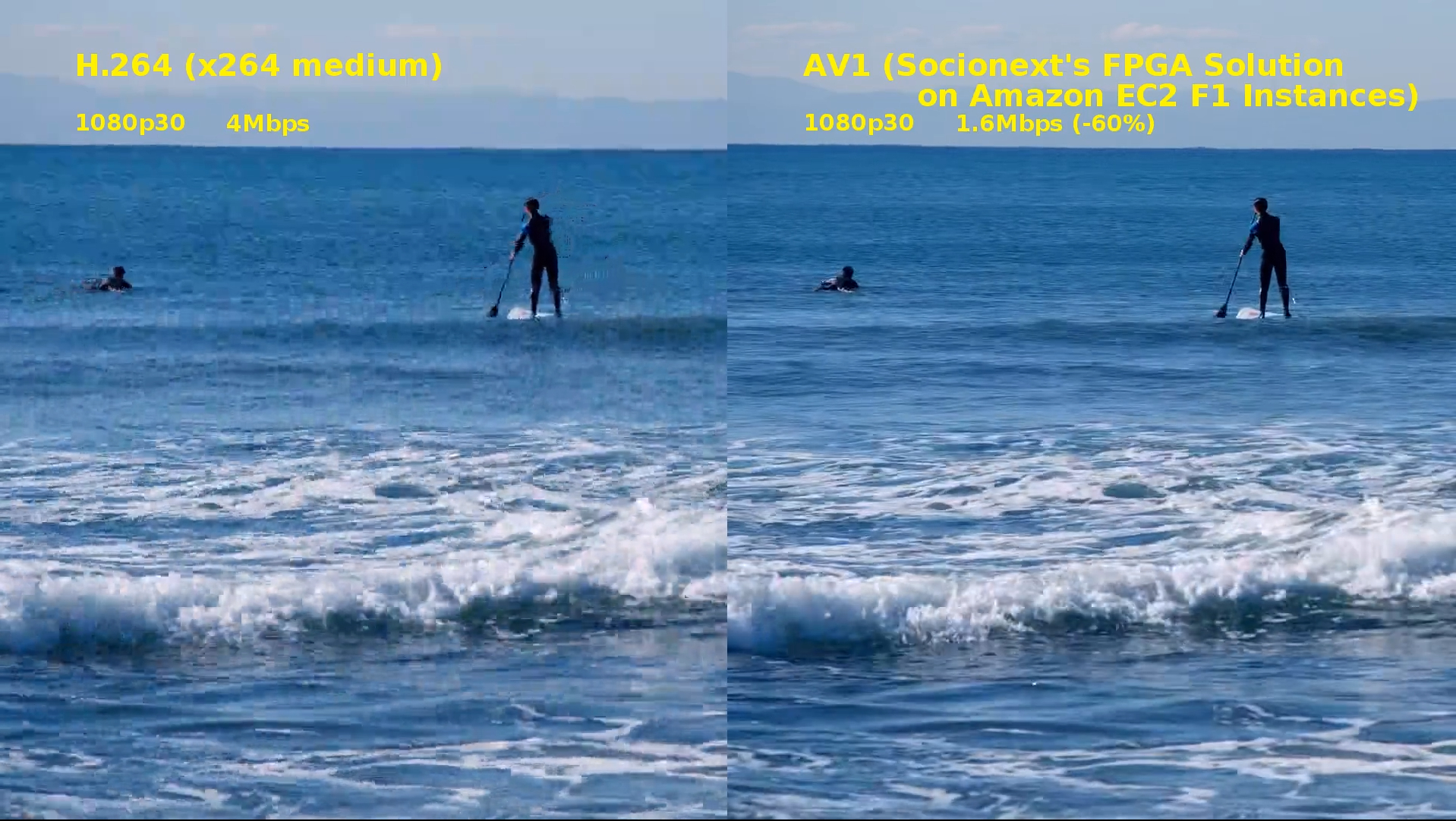 Socionext first tested the solution at NAB 2019, where it successfully performed a real-time transmission in full HD, despite poor network connectivity. "Real-time AV1 encoding will be a game changer for broadcasters and IPTV providers, and the overwhelming positive response we saw from NAB attendees is a testament to that," shared Yasuo Iizuka, General Manager of Video Distribution Solution Team at Socionext. "By supporting higher-quality video streams at lower bitrates, it solves a common industry bottleneck and one that we would not have been able to overcome with on-premises tools. AWS cloud solutions and variable billing were invaluable to creating this solution, and we look forward to continued collaboration with their team."
Interested in learning more? Check out the Socionext website.