Amazon WorkSpaces is Now Available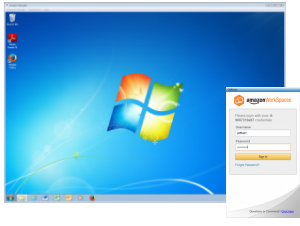 We announced a Limited Preview of Amazon WorkSpaces at last fall's AWS re:Invent conference and I wrote a detailed blog post at that time.
As you may recall, Amazon WorkSpaces provides a desktop computing environment in
the cloud. It gives enterprise IT the power to meet the needs of a diverse user base by providing them with the ability to work wherever and whenever they want, while using the desktop or mobile device of their choice.
During the Limited Preview, companies of all sizes tested Amazon WorkSpaces for applications that range from corporate desktops to engineering workstations.
Feedback on the Limited Preview
Although I rarely include customer quotes in my blog posts, the feedback that we received during the Limited Preview was really good and I decided to share it. Here a just a few of the testimonials that we received.
Peet's Coffee & Tea is the premier specialty coffee and tea company, it was founded in 1966 in Berkeley, California by Alfred Peet. Ashees Sinha, Head of Enterprise Architecture for Peet's, told us that:

"In order to support our growth, we had been looking at options to scale and support mobility of our desktop deployment across all channels including retail and corporate with cost reduction in hardware, software, and operational work. With Amazon WorkSpaces we will be able to reduce downtime, operational efforts, and our data center size, while achieving significant cost savings, getting the scalability and performance needed in alignment with compliance and security goals, and providing seamless experience to our employees."
WorkWise is a leading provider of enterprise resource planning (ERP) and customer relationship management (CRM) solutions for growing businesses. Carl Wysocki, Director of Technology for WorkWise, told us that: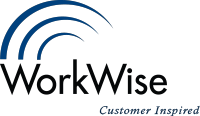 "We needed a solution to help us reduce our costs related to VDI deployment, support, and software packaging for our flagship Role-Based ERP solution, which we will deliver to our customers as a service. Amazon WorkSpaces is the perfect fit. With Amazon WorkSpaces, we not only achieved responsive experiences and high-performance clients during the limited preview, but are also able to remove the cost of infrastructure, connectivity, and bandwidth for our RB-ERP solution. We plan to adopt Amazon WorkSpaces as the enabler to create a cloud-based ERP solution for our customers."
Available Now
I am happy to announce that Amazon WorkSpaces is now available to all AWS customers and you can start using it today!
You'll need an AWS account, a PC or Mac to run the WorkSpaces client, and Internet connectivity (TCP on port 443 plus TCP and UDP on port 4172). You can also run the mobile version of the WorkSpaces client on iPad, Kindle Fire HDX, and Android tablets.
In most organizations, an IT professional will be responsible for provisioning WorkSpaces for each user. In this blog post, "you" refers to this individual, and "your users" refers to the members of your organization that have access to Amazon WorkSpaces.
Important Features
After you download and install the WorkSpaces client for your device, you will have access to a complete Windows 7 experience in the cloud, with persistent storage, bundled utilities and productivity applications, and access to files and other resources on the corporate intranet.
If you have an existing Active Directory domain, Amazon WorkSpaces can use it for user authentication and WorkSpace management. You can also choose to create a directory managed by Amazon WorkSpaces when you start using the service.
As part of this launch we are also rolling out Amazon WorkSpaces Sync. The Sync client continuously, automatically, and securely backs up the documents that you create or edit in a WorkSpace to Amazon S3. You can also install the Sync client on existing client computers (PC or Mac) in order to have access to your data regardless of the environment that you are using.
Getting Started With Amazon WorkSpaces
You can set up and manage Amazon WorkSpaces using the AWS Management Console: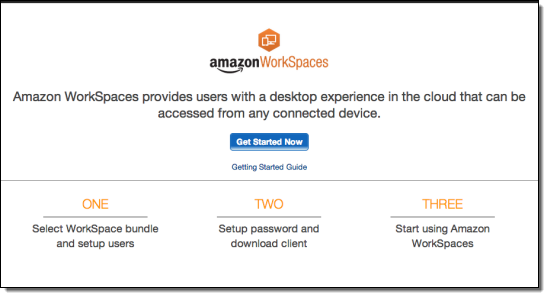 Amazon WorkSpaces provides you with three options for user management. You can:
Use WorkSpaces Connect to integrate with an existing Active Directory domain on your corporate network. You will need to create a Virtual Private Cloud (VPC) and connect it to your network using AWS Direct Connect or a VPN connection. If you have an Active Directory Domain Controller (DC) running in your VPC, WorkSpaces Connect can use it.
Have the WorkSpaces service provision and manage a directory for you within an existing Virtual Private Cloud.
Instruct WorkSpaces to create a new Virtual Private Cloud and to launch a Cloud Directory within it.
The Getting Started page allows you to choose Quick Setup (option 3 above) or Advanced Setup (options 1 and 2):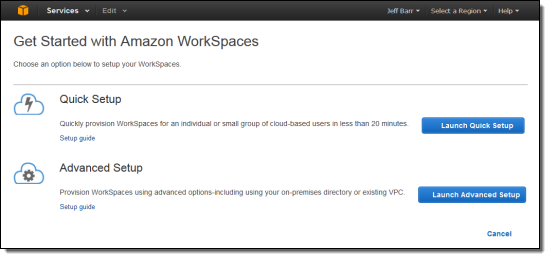 The next step is to provision one or more WorkSpace users. As part of this process you will select a hardware and software bundle for each new user. There are currently four WorkSpace bundles, with 1 or 2 virtual CPUs (vCPUs), 3.75 or 7.5 GiB of RAM, and 50 or 100 GB of storage. Prices range from $35 to $75 per WorkSpace per month.
If you are making use of an existing directory, provisioning is a matter of searching for users and then adding them to the list of WorkSpaces Users: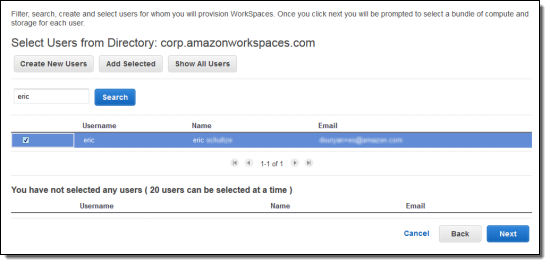 After selecting one or more users, you choose a bundle: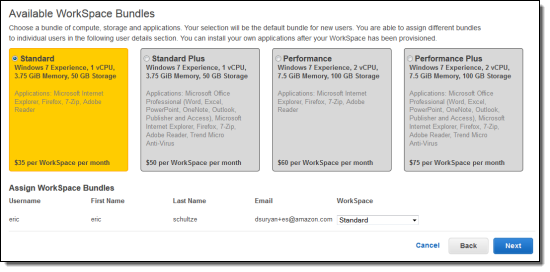 If you elected to use a Cloud Directory, you simply identify the users by first name, last name, and email address while also choosing a bundle: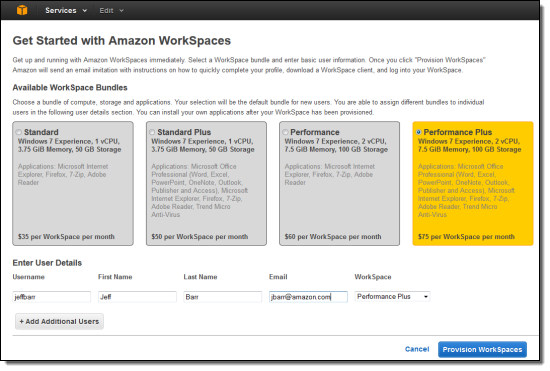 After you click the Provision WorkSpaces button, a WorkSpace will be created in 15 minutes or less and an email will be sent to each new user. The email will invite the user to join WorkSpaces and will allow them to click through so that they can create a password and download a WorkSpaces client for their device.
WorkSpace Management
Once your WorkSpaces are running, you can manage them from the console: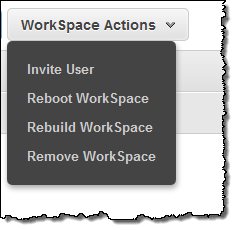 WorkSpaces with users drawn from an Active Directory domain can be managed using the same tools that you use to manage the other clients in the domain.
Two Regions
Amazon WorkSpaces is now available in the US East (Northern Virginia) and US West (Oregon) Regions.
Talk to Us
The Amazon WorkSpaces team is very interested in knowing more about your deployment plans for this cool new service. Please feel free to leave a comment or to post a note in the Amazon WorkSpaces Forum.
— Jeff;