A guide to reimagining merchandise planning solutions with Plantensive – part 2
Part 2 – Navigating today's rapidly changing retail and CPG landscape with modern technologies
The global supply chain disruptions that we've witnessed in our industry from 2020 through 2022 have been nothing short of incredible. Lengthy lead times and out-of-stock inventory on everything from paper and cleaning supplies to beef and poultry have created a consumer climate of uncertainty. Large spikes and dips in supply across virtually all categories of the retail and consumer packaged goods (CPG) industry have made historical data much less dependable and create a greater need for predictive tools and technologies.
In this chaotic environment, it's critical for retailers and suppliers to adopt a more flexible and agile plan for keeping their supply chain moving—and their products moving off the shelves. Fortunately for retailers and CPG companies, advanced new planning tools and processes are now available to help them adjust and thrive in this new market.
It wasn't long ago when the average grocery store used 2D printouts to decide how to stock their shelves. Today, many have adopted cloud-based machine learning (ML) analytics to automate the entire process based on near-real-time forecasts.
Modernizing your Level 2 processes
If you haven't already, now is a good time to update your supply chain planning processes—especially your critical Level 2 planning processes. In our previous blog, we discussed Level 1 planning processes. These comprise high-level strategies that align every part of your supply chain and retail processes, including demand, supply chain, and retail planning. It's important—especially now—that your Level 1 processes incorporate the impact of rapidly changing consumer shopping habits.
Level 2 retail processes focus on the tasks within a specific process step. For example, a category manager might have specific steps to perform to pull data and market statistics for new items in a given product assortment. Think of Level 1 as your overall flow and Level 2 as the detailed tasks within that flow.
To address today's unique supply and demand challenges, a new set of Level 2 processes will need to be developed and integrated into your overall organizational planning system. For example, Level 2 activities associated with merchandise planning (illustrated below) might need to include longer lead times and demand cycles due to out-of-stock events. Each step in the process must provide visibility into supply disruptions—for example, out-of-stock items—and allow teams to move quickly to identify substitute items and determine if they're available to meet consumers' latest delivery expectations.
All of these processes are interconnected, which means that if your business still operates in silos, the resulting delays and misunderstandings in cross-team communications could scuttle your best-laid plans.
So, what's the best plan to follow? Remember that Level 1 demand, supply, and retail processes are all dependent on the information flows and product requirements defined in your Level 2 processes. Having clear exchange points between these processes is as important as the tools and strategies applied to each one.
Supply and operations planning
This is where retailers and CPG brands can use innovative new go-to-market (GTM) strategies, including those targeting inventory maintenance systems and new product introductions (NPIs), as shown in the diagram below. Once these strategies are developed, it's imperative to communicate them to other departments that source, order, deliver, and implement them at the store level. That will require revisiting and updating the communication tools and processes that you use to get new information out to teams quickly and efficiently.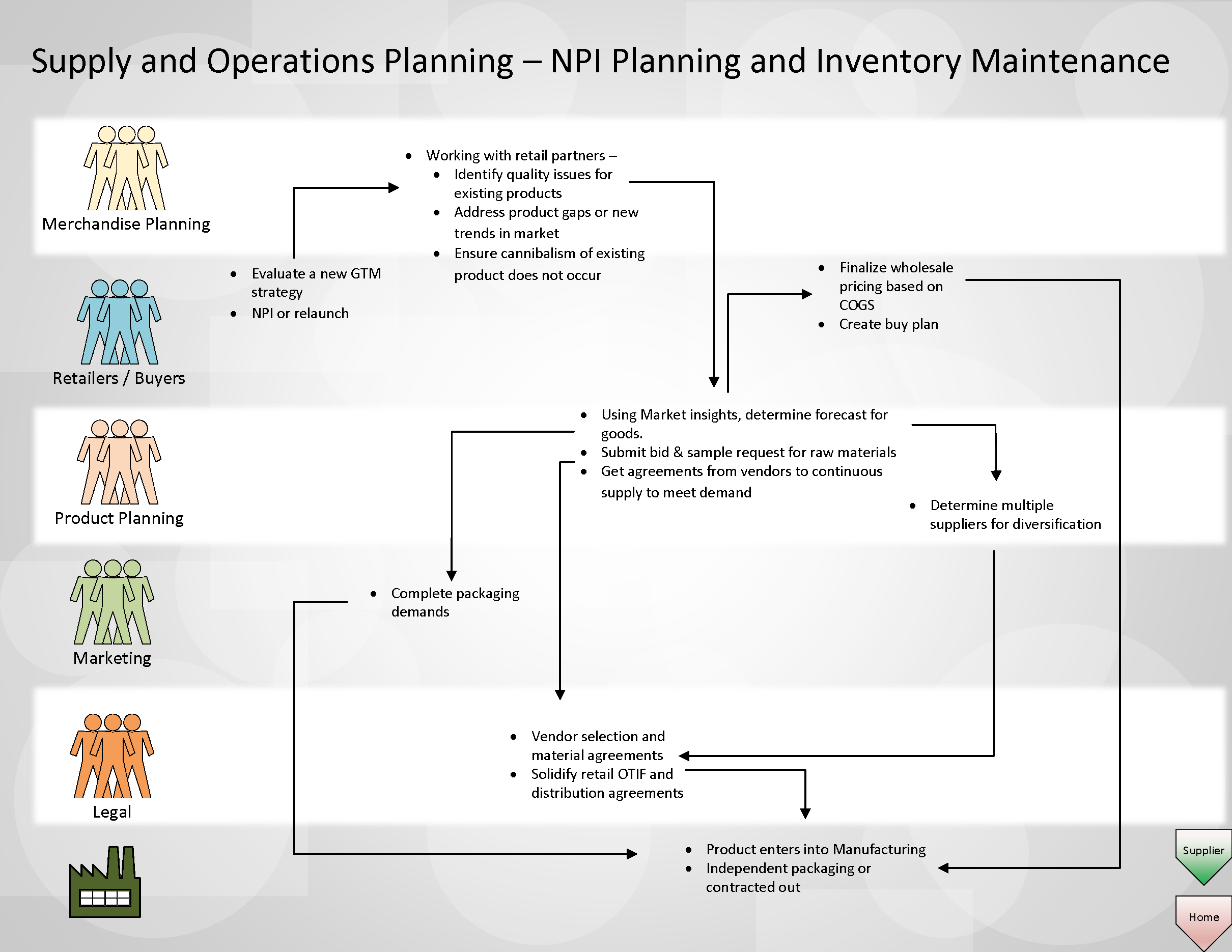 Here are a few examples of Level 2 processes that roll up to support your overarching Level 1 processes.
Level 2 processes for suppliers: This is the first and most critical step in the supply planning process. Can your supplier navigate the supply chain disruptions effectively enough to support your new GTM strategies?
Level 2 processes for retail: Retail operations perform many of the critical functions for ordering and delivering the products that support your GTM strategy. Communications between departments in this division are critical and should ultimately lead to a clear and concise plan to be shared with other operational areas.
Level 2 processes for assortment planning: Assortment planning will turn your GTM strategy into an actionable plan that can be converted into planograms and schematics by your space- or floor-planning departments—and ultimately used downstream by your retail implementation team.
Level 2 processes for store implementation: All your planning and communication efforts end up in the hands of your store-implementation team. Here, space planners and floor planners will take your GTM strategies, assortments, marketing strategies, and demand and inventory plans and create the in-store reality that aligns with the overall vision of your organization.
To successfully navigate the post-COVID-19 marketplace, retailers and CPGs are embracing a new generation of planning tools, processes, and technologies. Operational agility and product innovation are key to growth and profitability in this increasingly volatile supply, demand, and implementation environment. To thrive in this market, industry leaders are replacing outdated manual planning and analysis tools with sophisticated Level 2 merchandising processes that use cloud-based platforms, ML technologies, innovative GTM strategies, and more. Combining clear communications between teams with streamlined data exchanges, the most successful market players are integrating these critical Level 2 processes with an overarching Level 1 strategy aimed at driving competitive advantage.
---
AWS Partner spotlight
Plantensive, a MorganFranklin company, is a supply chain, retail-planning, and category management solutions provider to many of the world's leading companies across the CPG, distribution, manufacturing, and retail industries. Plantensive designs, develops, and delivers effective, efficient, and sustainable planning solutions for supply chain customers. Plantensive's global supply chain services meet you wherever you are in your journey—from your suppliers to your customers.