Raising the bar on accessibility for open-source public sector solutions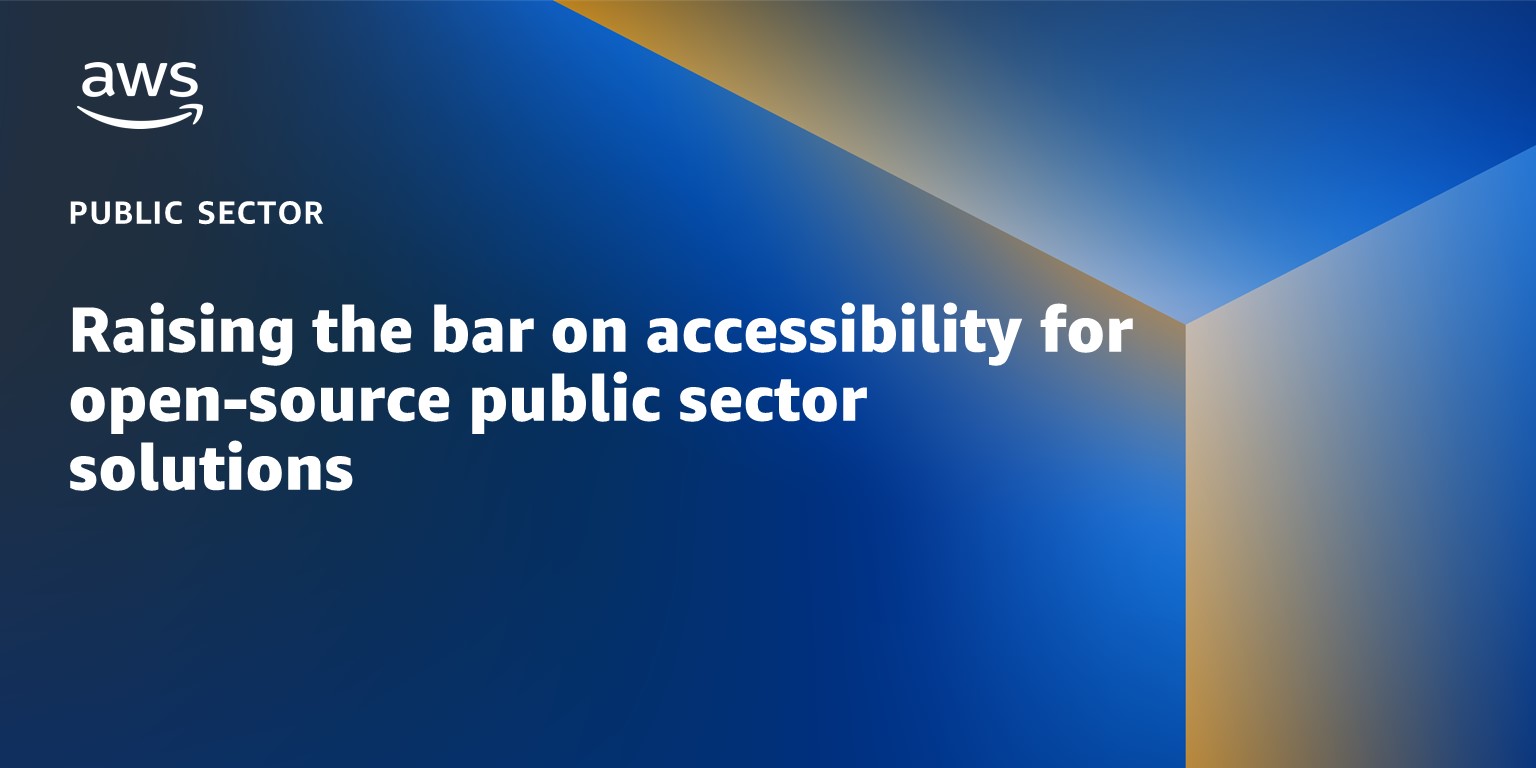 Performance Dashboard on AWS is an open source solution in the AWS Solutions Library designed by AWS experts to help organizations build, deploy, and maintain customizable dashboards to communicate the data-driven performance of public sector services. The Government Transformation Team (GTT) led an initiative to conduct accessibility audits to help our product team identify possible accessibility opportunities within the application.
An accessibility conformance report (ACR) is important for government leaders, government builders, policy decision-makers, and new-to-cloud customers who provide services in regions where laws and policies hold public sector entities responsible for providing accessible digital experiences.
Built-in accessibility considerations on Performance Dashboard
Performance Dashboard on AWS is built using components from The United States Web Design System and Cloudscape Design System. It is designed to surface as much data as possible on the dashboard upon loading, a design consideration that means fewer secondary interactions are required to access dashboard data. Dashboard data is displayed as text in chart legends and within the charts because even simple interactions like mouse-hovering to see data points have a usability cost. Users are also able to access the tabular representation of the data which displays an accessible table below the chart.
To help improve the availability of the data to all users, a defined color-set is paired with differing line patterns to distinguish data points. Users are also able to access the tabular representation of the data which displays an accessible table below the chart (Image 1).
Image 1. A line chart using two colors and variable line types.
Although the supporting data color-set for data is defined, customization on dashboards is important for our government and public sector customers. To help our customers make the best choice when choosing their primary color for data, Performance Dashboard surfaces information about how their color selection may affect those viewing the dashboard.
To give dashboards the customization features customers value, Performance Dashboard also includes the ability to insert images, and incrementally scale to increase legibility. When adding images to a dashboard, creators are presented with a mandatory field to include alt text to each image (Image 2).
Image 2. The user interface for adding an image to a dashboard.
Government digital agencies migrating their services to the cloud or building digital services for their citizens have an important role to play in helping their citizens equally interact with their government. One important consideration for inclusive design is to include people with a diverse set of abilities and backgrounds in the development process.
Though Performance Dashboard on AWS has been designed and developed with accessibility in mind, the nature of dashboard creation dictates the responsibility of making a dashboard truly accessible is one that is shared between the product and its users. Learn how governments can use open-source solutions for faster transformation or check out our open-source project on GitHub and help us continue to improve Performance Dashboard on AWS for all.
Read related stories on the AWS Public Sector Blog:
Subscribe to the AWS Public Sector Blog newsletter to get the latest in AWS tools, solutions, and innovations from the public sector delivered to your inbox, or contact us.
Please take a few minutes to share insights regarding your experience with the AWS Public Sector Blog in this survey, and we'll use feedback from the survey to create more content aligned with the preferences of our readers.
---
Soluzioni open source per il settore pubblico: come migliorare l'accessibilità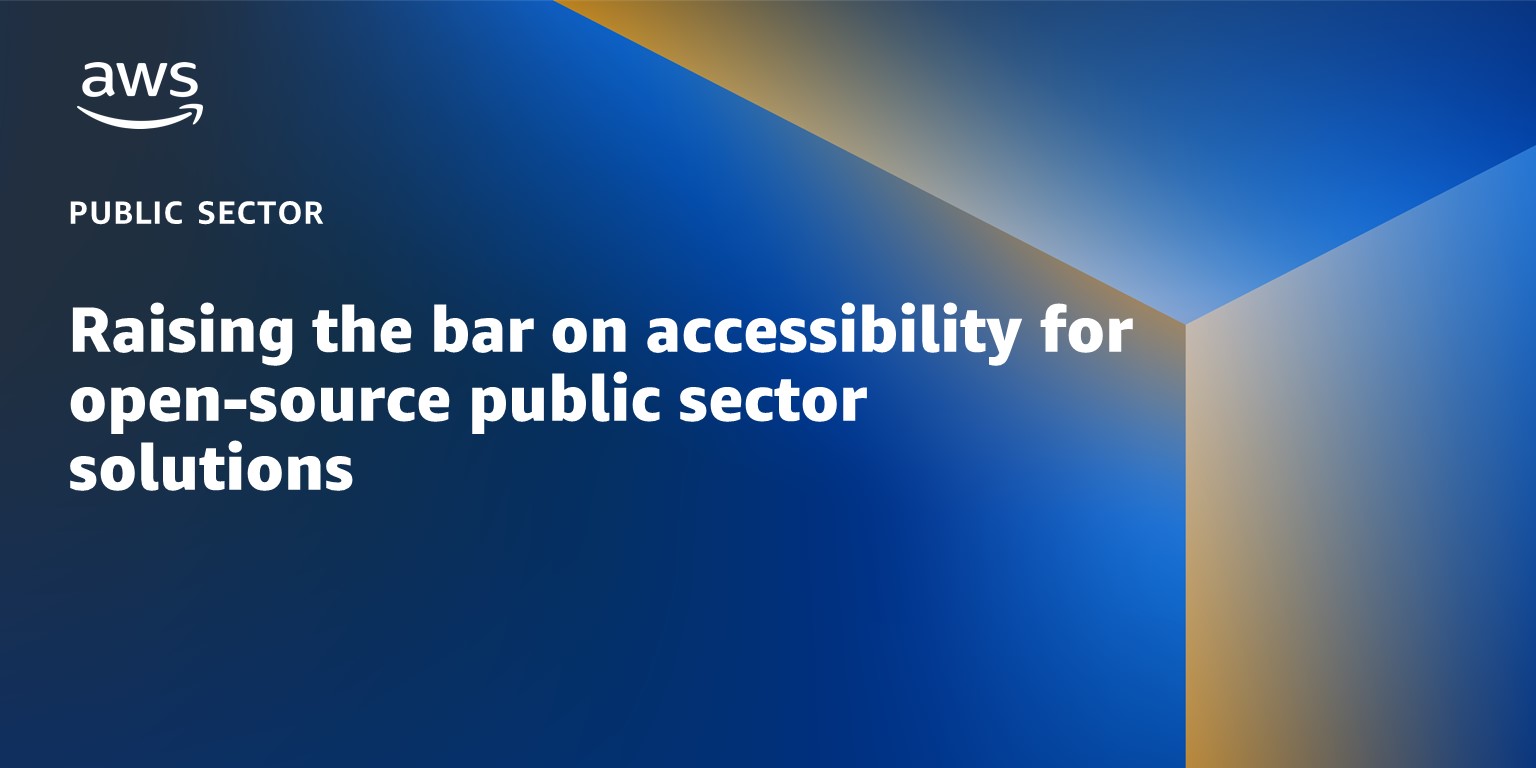 Nell'aprile 2021, Amazon Web Services (AWS) ha rilasciato Performance Dashboard su AWS. Performance Dashboard su AWS è una soluzione open source che fa parte della Biblioteca di soluzioni AWS e che è stata progettata da esperti AWS per aiutare le organizzazioni a creare, implementare e gestire dashboard personalizzabili per comunicare le prestazioni basate sui dati dei servizi del settore pubblico. Dopo questa versione iniziale, il Government Transformation Team (GTT) di AWS si è avvalso dell'aiuto del Digital Accessibility Center (DAC) del Regno Unito, di LevelAccess e di un team interno di AWS specializzato in accessibilità per condurre verifiche sul livello di accessibilità; il nostro team responsabile del prodotto ha così potuto identificare opportunità di miglioramento dell'accessibilità all'interno dell'applicazione.
Questi team hanno testato i flussi degli utenti e le interazioni end-to-end valutandone la conformità ai rigorosi standard delle linee guida sull'accessibilità dei contenuti Web WCAG 2.1. Nel corso dei nostri test, abbiamo coinvolto una vasta gamma di partecipanti, tra cui persone che navigano nelle esperienze digitali solo con una tastiera, persone con disturbi cognitivi, persone che utilizzano tecnologia di attivazione vocale e persone con problemi di vista. Dopo mesi di lavoro e più di 180 miglioramenti specifici per l'accessibilità, Performance Dashboard su AWS è stata sottoposta a una verifica indipendente e ritenuta conforme agli standard WCAG 2.1 di livello AA in materia di accessibilità. Ove applicabile, il testo e gli elementi grafici sono stati progettati per soddisfare i requisiti elevati degli standard WCAG 2.1 al livello di conformità AAA, alzando così il livello delle soluzioni open source per il settore pubblico.
Per i leader della pubblica amministrazione, gli enti pubblici, i decisori politici e i nuovi clienti del cloud che operano in regioni in cui le leggi e le politiche richiedono agli enti pubblici di garantire l'accessibilità delle esperienze digitali, un rapporto indipendente sulla conformità all'accessibilità (ACR) è di fondamentale importanza. Negli Stati Uniti, la Sezione 508 richiede che le agenzie federali rendano accessibile la loro tecnologia elettronica e dell'informazione (EIT) alle persone con disabilità. In Germania, l'ordinanza federale sulla tecnologia dell'informazione senza barriere definisce il diritto di "accesso e utilizzo illimitati delle informazioni, indipendentemente dalle capacità". Il Regno Unito richiede ai servizi governativi di fornire dichiarazioni sull'accessibilità e linee guida che condividano l'obiettivo comune di fornire a chiunque siti Web e app mobili del settore pubblico accessibili e di sensibilizzare il pubblico sui contenuti non accessibili. Inoltre, azioni recenti come l'ordine esecutivo del presidente Biden sulla trasformazione dell'esperienza dei clienti federali suggeriscono che i leader dei governi maturi dal punto di vista digitale comprendono l'importanza di sostenere l'accessibilità nei servizi digitali per tutti i cittadini.
La progettazione di un'applicazione che sia veramente accessibile a tutti gli utenti può richiedere mesi di lavoro ed esige una stretta collaborazione tra responsabili di prodotto, ingegneri del software, progettisti e altre parti interessate. La realizzazione di una dashboard accessibile rappresenta una sfida sempre più complessa, soprattutto considerando la potenziale complessità delle visualizzazioni ad alta densità di dati e la mancanza di linee guida standardizzate sull'accessibilità per le visualizzazioni dei dati.
Considerazioni sull'accessibilità integrata in Performance Dashboard
La soluzione Performance Dashboard su AWS è stata creata utilizzando componenti derivati da The United States Web Design System (USWDS) e Cloudscape Design System. È stata progettata per visualizzare il maggior numero di dati possibile al momento del caricamento, in modo da ridurre al minimo le interazioni secondarie necessarie per accedere ai dati. I dati della dashboard vengono visualizzati come testo nelle legende dei grafici e all'interno dei grafici stessi, perché anche semplici interazioni, come il passaggio del mouse per visualizzare i punti dati, riducono l'usabilità. Gli utenti possono anche accedere alla rappresentazione tabellare dei dati, che mostra una tabella accessibile sotto il grafico.
Per rendere i dati accessibili anche agli utenti con una visione dei colori limitata, abbiamo sviluppato un set di colori definito che viene abbinato a diversi modelli di linee al fine di distinguere i punti dati. Gli utenti possono anche accedere alla rappresentazione tabellare dei dati, che mostra una tabella accessibile sotto il grafico (vedere la seguente immagine 1).
Immagine 1. Un grafico a linee che utilizza due colori e tipi di linee variabili.
Sebbene il set di colori di supporto per i dati sia definito, la personalizzazione sulle dashboard è importante per i nostri clienti della pubblica amministrazione e del settore pubblico. Per aiutare i nostri clienti a scegliere il colore principale più adatto per i dati, Performance Dashboard fornisce all'amministratore dei consigli sull'accessibilità. In particolare, viene evidenziato come la selezione dei colori possa influire sulla fruibilità della dashboard da parte di persone con diverse capacità visive (vedi l'immagine 2 di seguito).
Immagine 2. I consigli sui colori e sull'accessibilità di AWS mostrati su Performance Dashboard.
L'utilizzo delle immagini può presentare diverse sfide in termini di accessibilità. Per offrire alle dashboard le funzionalità di personalizzazione più apprezzate dai clienti, Performance Dashboard include anche la possibilità di inserire immagini e di ingrandirle in modo incrementale per aumentarne la leggibilità. Per garantire l'accessibilità delle immagini presenti nelle dashboard, Performance Dashboard richiede ai creatori di inserire un testo alternativo per ogni immagine aggiunta (come mostrato nell'immagine 3).
Immagine 3. L'interfaccia utente per aggiungere un'immagine a una dashboard.
Le agenzie digitali della pubblica amministrazione che migrano i propri servizi verso il cloud o creano servizi digitali per i cittadini hanno un ruolo importante da svolgere per garantire che tutti gli utenti possano interagire allo stesso modo con la PA. Per garantire l'accessibilità delle loro soluzioni, la cosa più importante che i progettisti e gli sviluppatori possono fare è includere persone di tutte le abilità nel processo di progettazione e sviluppo. Questo tipo di lavoro trascende la politica, le ideologie e i pregiudizi e si concentra su ciò che conta di più: far sì che il design sia funzionale per tutti, in modo che i servizi pubblici digitali possano essere utilizzati allo stesso modo da tutte le persone, con ogni livello di abilità.
Sebbene Performance Dashboard su AWS sia stato progettato e sviluppato pensando ai massimi livelli di accessibilità, una dashboad, per sua propria natura, richiede che la responsabilità di renderla veramente accessibile sia condivisa tra il prodotto e i suoi utenti. Scopri come le pubbliche amministrazioni possono utilizzare soluzioni open source per una trasformazione più rapida o dai un'occhiata al nostro progetto open source su GitHub e aiutaci a continuare a rendere Performance Dashboard su AWS accessibile a tutti.
Leggi le storie correlate sul blog di AWS Public Sector:
Iscriviti alla newsletter del blog di AWS Public Sector per ricevere nella tua casella di posta le ultime novità in fatto di strumenti, soluzioni e innovazioni AWS del settore pubblico oppure contattaci.
Ti invitiamo a dedicare qualche minuto per condividere la tua esperienza con il blog di AWS Public Sector in questo sondaggio; utilizzeremo il tuo feedback per creare più contenuti in linea con le preferenze dei nostri lettori.