Students work backwards to help society identify truth versus disinformation
At CODE University of Applied Sciences, we aim to educate the digital pioneers of tomorrow. For us, that means teaching talented students from around the world modern digital product development using real-world technology and challenges.
One of our initiatives to work toward this mission is the Better Future Lab (BFL) – the Cloud Innovation Center (CIC) at CODE. A CIC is a long term, public-private collaboration between a public sector organization and Amazon Web Services (AWS). CICs serve to help solve challenges that will address, over time and across geographies, the critical problems or opportunities facing governmental organizations, which include education institutions and nonprofits. AWS provides technical support, Amazon innovation methodology guidance, and AWS Promotional Credits to build and test solutions that can be implemented at scale in the cloud.
The challenge
In June, Deutsche Welle, Germany's public international broadcaster, joined BFL to run a pilot challenge to combat disinformation. In the age of social media, disinformation is currently a challenge for the public and journalists in particular. Disinformation is the purposeful spread of incorrect information or falsehoods, and the motivation for spreading disinformation can differ: profit, political influence, propaganda, satire. Social media information can spread disinformation real-time and quickly. How can journalists correct disinformation and how can consumers verify the truth?
Fighting disinformation is possible, but challenging. Journalists use a digital toolset that can be used to find out if, for example, a picture shared online was manipulated or not. Open source intelligence allows that journalist to access information to verify what, when, where something happened, and who created the image. However, there is not a suitable mobile application that supports journalists in their work, but also everyone. We want to find a solution that supports battling misinformation quickly and anywhere.
The approach
A team of four BFL students took on this challenge by hosting an innovation workshop with Deutsche Welle. The workshop was designed to help the students understand who the customer is, empathize with the end user's problem or pain points, develop ideas to solve that problem, and vote on which idea to work on. At the end of the workshop, the students described the solution and its key benefits through a press release, a frequently asked questions (FAQ) document, and a visual. After three days, the student team presented the results to Deutsche Welle and the CODE University community during the launch of the BFL.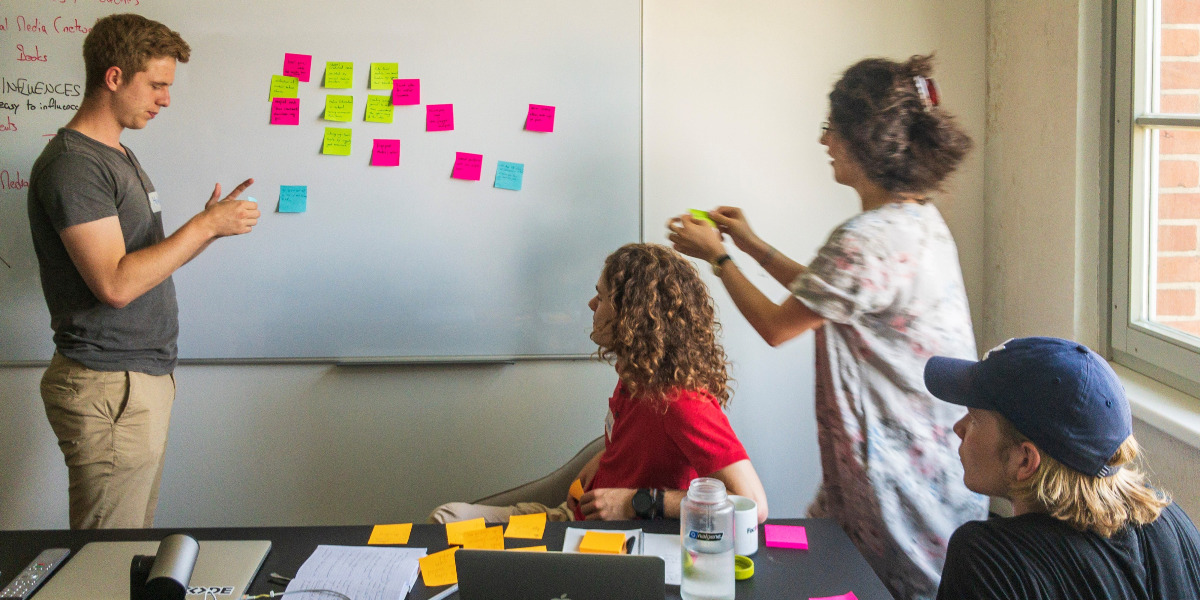 The idea
The team's solution was to create a mobile application that integrates with social media applications, reviews the content stream, and provides an indicator of trustworthiness next to each post. In addition, it also pushes notifications with corrections and explanations for disinformation and provides additional information via links to awareness campaigns.
Here is the storyboard the team used to pitch the idea to Deutsche Welle:
Outcome and next steps
The team's solution is just the first step. There are still many open questions, especially regarding the technical implementation, as well as on how to measure trustworthiness. The solution is available open source for other developers to access and iterate on overtime.
For more information, visit the Better Future Lab website. The lab invites government, educational, and nonprofit organizations in Germany to submit their challenges.
Learn more about other Cloud Innovation Centers supported by AWS worldwide, including California Polytechnic University Digital Transformation Hub, Arizona State University Smart City CIC, Munich University of Applied Sciences (MUAS) Digital Transformation Lab, Sciences Po Public Innovation Lab, Busan City CIC, RMIT University Cyber Ready CIC, University of British Columbia Community Health and Wellbeing CIC, University of Bahrain and Bahrain Polytechnic CICs, and Swinburne Data for Social Good CIC. These centers plan to work together in the future on global challenges that matter to communities.