AWS at VMware Explore US 2022 Recap: 5 Years of Joint Innovations
By Bianca Velasco, Product Marketing Manager, VMware Cloud on AWS
Amazon Web Services (AWS) was proud to participate as a Global Diamond sponsor at VMware Explore US 2022. We joined our partner VMware to showcase our continued partnership and commitment to help customers achieve a faster, safer, and more cost-effective journey to the cloud.
The four-day event brought together tech professionals, cloud enthusiasts, and business leaders to connect and be inspired. Attendees had the opportunity to learn about the latest innovations including a number of great advancements to the VMware Cloud on AWS solution.
From exciting announcements to insightful sessions, this post recaps what you may have missed at VMware Explore US 2022. You can also dive deep on all of the new innovations and announcements on the VMware blog.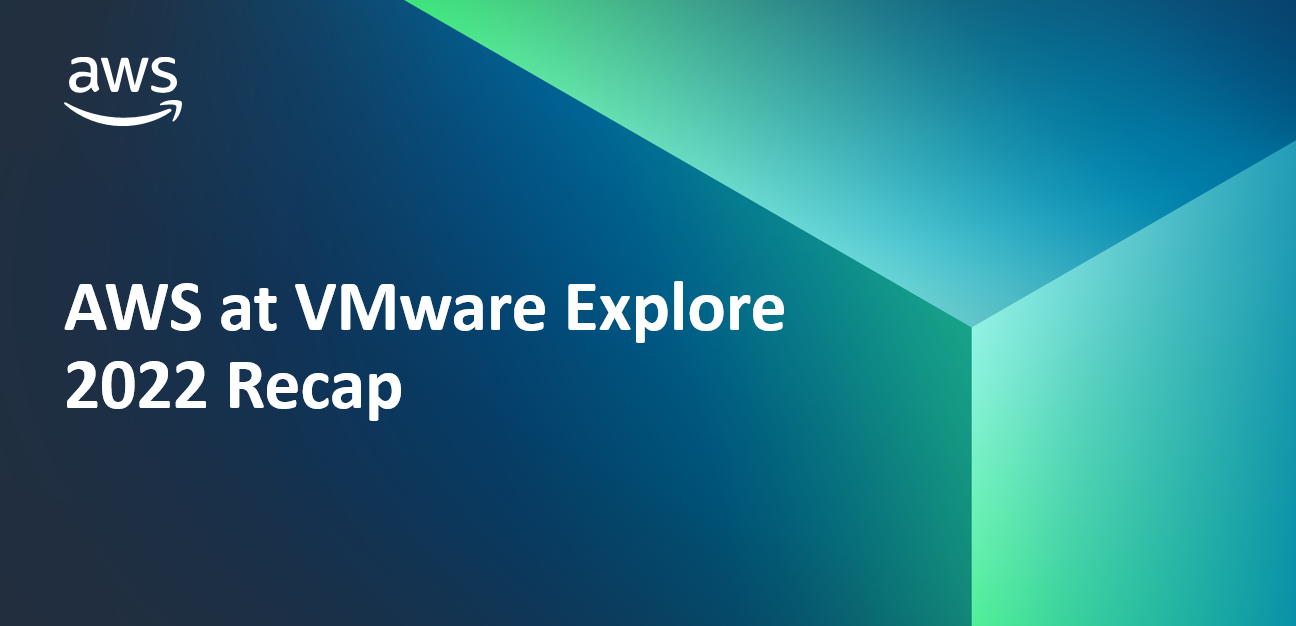 Newest Enhancements to Accelerate Cloud Transformation
In 2022, we marked the fifth year of the jointly-engineered VMware Cloud on AWS solution. Since announcing our strategic partnership in 2016, followed by the general availability of this unique managed offering at VMworld 2017, the VMware Cloud on AWS solution has evolved and continues to help customers globally migrate and modernize their VMware workloads to the cloud.
This year, we're excited to announce the following innovations:
Enhancements in Compute
Amazon i4i.metal is an Amazon Elastic Compute Cloud (Amazon EC2) instance powered by third-generation Intel Xeon Ice Lake processors and offers high I/O performance, low latency, minimal latency variability, and better security with always-on encryption. Compared to I3, the I4i instances provide nearly twice the number of physical cores, twice the memory, three times the storage capacity, and three times the network bandwidth.


.


Learn more about the capabilities and benefits of the i4i.metal instance; check out this blog post or connect with the VMware Cloud on AWS team.
Enhancements in Storage
Amazon FSx for NetApp ONTAP is a fully managed shared storage service that is VMware certified and supported. New external cloud storage options help customers optimize the cost of cloud, have the flexibility to scale, and fine-tune compute and storage independently as needs evolve, all while accelerating vSphere-based workload migration.


.


Find out more about Amazon FSx for NetApp ONTAP and watch the AWS-led breakout session at VMware Explore.
Enhancements in Networking
Project Northstar (Preview) is a networking SaaS offering that will bring to NSX customers a set of on-demand networking and security services, end-to-end visibility, and controls. Customers will be able to use a centralized cloud-console to instantly access networking and security services. It supports both private cloud and VMware Cloud deployments running on public clouds, and enables enterprises to build flexible network infrastructure they can spin up and down in minutes. Learn more about Project Northstar.


.

VMware Transit Connect provides Managed Prefix Lists. With this enhancement, customers will be able to create a Custom Prefix List populated with SDDC group subnets and share this Prefix List to the customer's AWS account so it can be referenced at the appropriate VPC/Transit Gateway route table. Watch this session from VMware Explore to find out more.


.

IPv6 support for workload communication within the SDDC (Preview). With this capability, IPv6 addresses will be supported for East-West connectivity in VMware Cloud on AWS SDDCs.
Enhancements in Availability and Resiliency
Ransomware Recovery for VMware Cloud DR builds upon the rich set of ransomware recovery capabilities available in VMware Cloud DR. This purpose-built ransomware recovery-as-a-service solution enables safe recovery designed to prevent re-infection of IT and line-of-business production workloads through its innovative use an isolated recovery environment on VMware Cloud on AWS. Read this blog post or watch our breakout session from VMware Explore to learn more.
Enhancements to Enterprise Workload Support
Windows 11 support for existing VMware Cloud on AWS SDDCs. In order to install/upgrade to Windows 11 VMs, as per the Windows 11 installation requirements specified by Microsoft, customers are required to add virtual Trusted Platform Module (vTPM) device to the VMs. With this feature, after upgrading to VMware Cloud on AWS SDDC version 1.20+, all existing SDDCs will have support for vTPM using vSphere Native Key Provider (NKP), thus providing enhanced security for Windows 11 workloads.
Regional Expansion
AWS continues to expand our footprint into regions around the world where our customers are requesting our service. With the newest availability in Hong Kong, VMware Cloud on AWS is now available to 21 regions globally. This expansion emphasizes our commitment within the Asia Pacific region, allowing customers to achieve an easier access point into the cloud.
Watch On-Demand VMware Cloud on AWS Sessions
Our sessions were a great way to share insights and engage with attendees. From breakout sessions to fireside chats and demos, attendees had the opportunity to learn how to accelerate their business transformation goals with VMware Cloud on AWS. Click on any of the recorded sessions below to watch on-demand!
Keynote: VMware Cloud on AWS – The Fastest, Safest Path for All Your VMware Workloads
Hear from AWS and VMware executive leaders to learn why VMware Cloud on AWS continues to be the fastest, safest, easiest, and most cost-effective path to the cloud. In this keynote, Steven Jones, GM SAP & VMware Cloud (AWS) and Narayan Bharadwaj, VP GM Cloud Solutions (VMware), discuss our exciting announcements, partnership milestones, and customer stories to inspire your business transformation.


.

Effective Migration Strategies: Lessons from Large-Scale Migrations to AWS
Explore effective cloud migration strategies and best practices to accelerate your cloud transformation. Watch this session for a deep dive into how VMware Cloud on AWS fits into your migration strategy and review lessons learned from large-scale customer migrations.


.

Cloud Migration and Disaster Recovery Modernization Using VMware Cloud on AWS
See how VMware Cloud on AWS, along with VMware HCX and VMware Cloud DR, provides organizations with a familiar, reliable, and cost-efficient way to migrate, operate, and protect their VMware workloads using the AWS Cloud. Learn how Sage, a market leader in accounting and ERP software, adopted disaster recovery strategies and how they modernized their DR capabilities across data centers.


.

VMware Cloud on AWS Integration with Amazon FSx for NetApp ONTAP
In this session, AWS experts dive deep into how you can leverage the fully managed Amazon FSx for NetApp ONTAP solution as a cost-effective datastore using the Network File System (NFS) protocol. Review use case examples to get tips to help simplify and accelerate your cloud migration journey.


.

Accelerating Cloud Migrations with VMware Cloud on AWS Outposts
Learn how VMware Cloud on AWS Outposts allows you to keep your VMware vSphere workloads on premises while seamlessly accessing over 200+ AWS services to accelerate application modernization. Walk through a demo of how to integrate AWS Cloud services with VMware Cloud on AWS Outposts in your data center.


.

Federal Accreditations: VMware Cloud on AWS
Tailored for US federal organizations, learn about other federal organizations that have approached AWS to deliver VMware Cloud on AWS with necessary ATOs and impact-level (IL) accreditations in highly secured regions. Learn about the new developments and accreditations as our solution continues to help organizations modernize their applications.


.

Fireside Chat: Customer Obsessed Partner Innovations
Join leaders from AWS, NetApp, VMware, and WWT as they discuss the latest innovations in VMware Cloud on AWS. Hear how these teams work together and what unique value each provides through the VMware Cloud on AWS offering after five years of joint integration, innovation, and testing.


.

Building a Delightful Developer Experience on Amazon EKS
VMware and AWS extend their strategic partnership to bring Tanzu Application Platform to AWS. Watch this session learn how Tanzu Application Platform on Amazon Elastic Kubernetes Service (Amazon EKS) helps customers to unlock developer productivity and build a rapid and secure sustainable path to production that is integrated with the AWS ecosystem.


.

Build Global Connectivity for Your Business Using VMware Transit Connect
This session helps customers maximize their VMware Transit Connect adoption. Tune in to know the current design patterns for connectivity to on-premises, Amazon Virtual Private Cloud (VPC), and AWS Transit Gateway in the same region and different regions globally. Learn best practices around routing, availability, and architectural patterns to enforce strong security, and hear the discussion on scaling connectivity and performance considerations.
AWS on theCube Videos
In addition to all of the great content presented by our product and solutions teams, AWS executive Steven Jones also participated in several interviews with the team from SiliconAngle that was live broadcasting from the event.
AWS, NetApp, and VMware on Amazon FSx for NetApp ONTAP
Steven Jones, GM SAP & VMware Cloud (AWS), Phil Brotherton, VP Solutions & Alliances (NetApp), and Narayan Bharadwaj, VP GM Cloud Solutions (VMware) jointly announce the general availability of Amazon FSx for NetApp ONTAP. Learn more about our commitment to innovation to help accelerate our customers' cloud journey.


.

Steven Jones on the VMware Cloud on AWS Solution
Steven Jones, GM SAP & VMware Cloud (AWS), sits with SiliconAngle's John Furrier to talk about the evolution of VMware Cloud on AWS over the last five years, the great advancements to the solution in 2022, and the value of this unique managed service
5 Years of Joint Innovations and Counting
AWS and VMware remain fully committed to our partnership. We are dedicated to delivering the best of both worlds for customers who want a seamless and integrated hybrid cloud solution.
We thank everyone who visited the AWS booth or joined our sponsored sessions at VMware Explore US 2022. To learn more how VMware Cloud on AWS can help you a faster, safer, and cost-effective journey to the cloud, visit our website and follow us for new updates: