AWS Global Partner Summit – Report from re:Invent 2015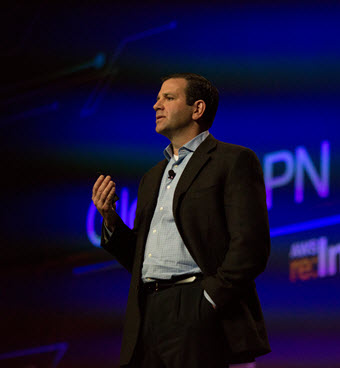 The AWS Global Partner Summit just wrapped up! This annual event is held the day before the main AWS re:Invent keynotes, breakout sessions, and other events.
During the event, members of the AWS Partner Network (APN) had the opportunity to hear from senior AWS leaders. Traditionally, the talks have provided insights into the future direction of AWS and of the APN itself. The following leaders spoke at this year's event:
Terry Wise – Vice President, Channels & Alliances.
Adam Selipsky – Vice President, Sales & Marketing.
Scott Wiltamuth – Vice President, Developer Productivity & Tools.
Andy Jassy – Senior Vice President, AWS.
Members of the AWS Partner Network (APN) also got to hear from AWS customers and partners:
Colin Bodell – CTO of AWS customer Time, Inc (case study).
Pam Murphy – COO of AWS partner Infor (case study).
Summit Theme
The Summit theme this year was "The Power of Transformation." This theme was chosen because many of our customers and partners report that the transformation enabled by the AWS Cloud goes beyond IT and beyond business as usual, to the extent that it is transforming their daily lives in profound ways. This includes the ability to harness renewable energy, make fundamental advances in life sciences, explore outer space, and fuel the digital media revolution.
APN Program Updates
We made lots of announcements at this year's Summit. Here's a summary, along with links to more information on the AWS Partner Network Blog.
New DevOps Competency for Consulting and Technology partners (launched with 27 qualified partners).
Updated APN Benefits and Requirements for Consulting and Technology partners.
Over 40 partners have passed the rigorous MSP third-party validation audit.
We now have over 200 partners in our SaaS program.
We plan to launch new Cloud Migration and IoT Competencies in the coming months.
We announced our 2016 APN Program Benefits and Requirements, including an emphasis on benefits for Competency and MSP Partners.
New Premier Consulting Partners
We announced that the following members of the APN have now ascended to Premier Consulting Partner status (congratulations):
North America:

Cloud Technology Partners
Mobiquity
Pariveda Solutions
REAN Cloud
TriNimbus

Latin America:

CredibiliT
Soluciones Orion

Asia / Pacific:

Blazeclan
GS Neotek
Megazone

Japan:
Europe, Middle East, Africa:

Edifixio
Latinedge – CloudMas
To learn more, read 2016 AWS Premier Consulting Partners.
New All-In Technology Partners
An all-in technology partner makes a public commitment to AWS as their strategic cloud platform. Here are the newest all-in technology partners:
Ayla Networks
eFront
Freshdesk
Juniper
TechnologyOne
To learn more, read New All-in Technology Partners Announced at re:Invent.
AWS Leadership Partner Recognition
We measure our personal progress as Amazon employees by evaluating how well we understand, adhere to, and demonstrate our leadership principles. As part of the Summit, we also recognize and offer our congratulations to select APN members who have exhibited superior performance with respect to four of these principles. This year we would like to recognize the following partners:
Customer Obsession -Tableau, Itoc, Day 1 Solutions, Blazeclan Technologies, Ambab Infotech Pvt. Ltd., Lemongrass, Dedlaus Prime, Pega, F5, Adobe, and Sophos.
Learn and be Curious -Hitachi Solutions, Accenture, NEC Corporation (Consulting), FUJITSU LIMITED, Cloudreach, Cognizant, Tata Consultancy Services (TCS), FPT Software (Singapore), GS Neotek (Korea), Clearscale, Rean, and Rackspace.
Think Big -SAS Institute, Freshdeck, Infor, Informatica, Wipro, Saison Information Systems, Epic, SAP, and Trend Micro.
Invent & Simplify -Alert Logic, Ansys, Aptible, Splunk, Twilio, 47 Lining, Flux7, Avid, Sumologic, Wowza, Chef, and Racemi.
APN at re:Invent
If you are in Las Vegas for re:Invent, be sure to visit the AWS Partner Pavilion. If you are a member of APN or aspire to be one, be sure to read the AWS Partners' Guide to re:Invent 2015.
I want to also highlight a great tool and resource that is going to be available at re:Invent – the interactive, self-paced AWS Partner Solutions Explorer.
Based on the your needs, the Explorer will search through our database of thousands of AWS Partners and guide you to AWS Partners at re:Invent that may be the best fit for you (based upon the AWS Partner's APN Competencies, AWS Test Drives, AWS Marketplace AMIs, and AWS Quick Start Reference Deployments). If any additional questions arise, you can simply ask one of our AWS experts onsite for assistance. The AWS Partner Solutions Explorer will be located in the Artist Foyer on Level 2, the AWS Partner Pavilion, in the Executive Summit, and in the AWS Booth. Check it out!
— Jeff;
Modified 10/27/2020 – In an effort to ensure a great experience, expired links in this post have been updated or removed from the original post.