AWS Test Drive 3.0 Launches at re:Invent 2014
Would you buy a car without driving it? Would you spend tens or hundreds of thousands of dollars on a license for an enterprise software package without seeing it run in a real environment? I hope that your answer to both of these questions is "no way!"
As you might already know, I am a big fan of the AWS Test Drive program. You can quickly and easily launch a Test Drive on the cloud and put a wide variety of enterprise applications to the test without installing any software, spending any money, or bothering your IT department. In other words, the Test Drive home page is the online showroom for enterprise solutions and you are more than welcome to take any of the Test Drives out for a spin around the cloud!
Test Drive 3.0 Launches at re:Invent
Appropriately enough, we are launching the "3.0" model of the Test Drive program at the third re:Invent. As part of the APN Summit Keynote, APN Partners from around the world are launching a catalog of over 200 new or updated Test Drive labs that you can now browse through. The catalog includes new Test Drives for Microsoft, Oracle, SAP, Red Hat, Siemens, NetApp and many others. It includes new Test Drives for security, management, content management, line-of-business, HPC, big data, and health sciences. There are new Test Drives from Asia Pacific, Latin America, Japan, Europe, and for AWS GovCloud (US).
This launch at re:Invent marks the culmination of efforts by APN Partners to launch 120 new Test Drive labs this year, 30 of which are going live today. The APN Partners have also updated 87 of the older Test Drives from the 2012 and 2013 re:Invent launches.
More re:Invent News
Here are some of the other plans that we have for the Test Drive program at re:Invent:
The Test Drive Showroom at re:Invent showcases Test Drive and the AWS Partner Network (APN) partners from all around the world. The Test Drive Showroom will be networked using AWS Direct Connect by way of networking resources provided by Level 3 and Cisco (thanks again).
Access to Free AWS Usage for Pilot Programs – Attendees at re:Invent will be able to nominate themselves for free AWS usage to deploy a pilot of select Test Drive solutions, for up to 90 days. At re:Invent, the APN partners will push to pilot 100 new customer proof of concept systems, using the same CloudFormation-based deployment model that powers the Test Drives.
Zero Client Demos – The Test Drives will be running over Amazon WorkSpaces on Zero Client devices supplied by Teradici's OEM partners. This marks the first time Zero Clients have been used at re:Invent, and showcases the speed and flexibility of WorkSpaces.
AWS Marketplace Linking – A new feature of Test Drive will enables links from the AWS Marketplace directly in to Test Drive. The Test Drives will allow customers to easily take the software for a sping before they decide to buy it via the Marketplace.
In keeping with the theme of the Test Drive, and because this is Las Vegas after all, the Test Drive Showroom is graced with the presence of this Lamborghini Aventador, courtesy of Lamborghini Las Vegas: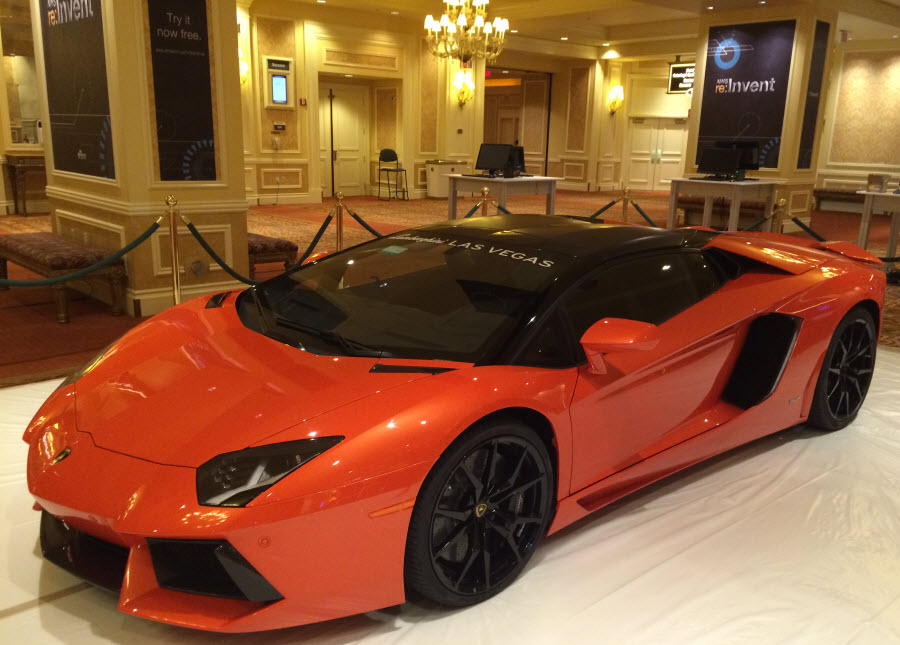 The Lamborghini web site is powered by AWS and will definitely be able to deal with a post-conference surge in buying activity (read the case study to learn more).
— Jeff;