Restaurants are hungry for data insights as food delivery analytics gains traction
This is a point of view from Wavicle — an AWS Select Tier Consulting Partner specialized in custom data, analytics, and cloud solutions.
"Eating out is fun." You may or may not remember that nostalgic tagline from decades ago. Now there's a modern 21st century corollary to it: "Eating in is fun." Whether at home, in the office, on campus, or somewhere in between, more and more diners are opting to eat in as they take advantage of the myriad of food delivery options available online and via mobile apps.
This megatrend impacts restaurants of every size, from fine dining to quick service. So it comes as no surprise that restaurants are peering inside their food delivery operations to see what's really going on. Here's what we are learning—and why food delivery intelligence is key.
Mapping out the fast-changing food delivery terrain
Today, food delivery is mainstream—and growing. According to a recent UBS report, food delivery sales could rise annually more than 20% to $365 billion worldwide by 2030, up from $35 billion. "There could be a scenario where by 2030 most meals currently cooked at home are instead ordered online and delivered from either restaurants or central kitchens," says UBS.
Food is traveling from kitchen to customer in a variety of ways due to surging consumer demand. According to data provider Second Measure, by the end of 2019, 26 percent of American consumers ordered meals from delivery services like DoorDash, GrubHub, Seamless, UberEats, up from 20 percent just one year prior. But some restaurants, such as Applebee's, Chipotle Mexican Grill, and Noodles & Co., are bypassing third-party delivery companies altogether, instead opting to invest in native delivery services that let consumers order directly from the brand's own digital platform. Factors motivating this choice include a desire to deepen customer loyalty, ensure food quality, control the brand experience, reduce costs, and maintain ownership of data.
Additional delivery options are quickly coming onto the scene. In many neighborhoods, virtual restaurants—also known as ghost kitchens or off-premises meals—are becoming more common. In some urban areas, the appearance of autonomous vehicles or "delivery robots" is also on the horizon, meaning the sandwich you order for lunch could soon be arriving in an autonomous vehicle.
Without a doubt, food delivery is not only growing fast but also swiftly evolving. What does this mean to restaurant owners, operators, and marketers? Answers and insights can be found in the right data analytics.
Data feeds the food business
"Delivery orders are booming, and business models are shifting fast to find ways to serve that customer base," says a recent National Restaurant Association report offering actionable insights into the restaurant industry through 2030. To keep pace with every change and innovation coming to food delivery, the report declares that "data is king."
Having access to real-time analytics on the performance of restaurant locations and food delivery provider combinations is essential in an increasingly competitive marketplace. With proper analytics at their fingertips, restaurant owners and operators are able to continuously improve on key metrics such as delivery times, which in turn results in the most important outcome for everyone: happy diners.
Industry statistics show that food delivery allows for individual restaurant locations to increase sales by 10-to-20%. However, operational issues can quickly result in the inability to satisfy demand. Without comprehensive analytics in place, restaurants are less likely to have the right staffing levels, the proper inventory, the right menu items available for food delivery, and the best food delivery partnerships to optimize the experience for their customers. And without the ability to measure the performance of third-party food delivery, restaurants can be negatively impacted by poor reviews, lost customers, and lost revenue.
Serving up the right delivery analytics makes all the difference
Right now, Wavicle and AWS are working together to bring restaurant owners the food delivery data they need to accelerate time to insight, decision-making, and greater ROI. Wavicle's ActiveDeliver™ offers dashboard intelligence on food delivery that combines existing corporate data such as point of sale (POS) with third-party food delivery data to track, measure, and visualize key metrics. Customizable reports display key performance indicators (KPIs) that span sales metrics, delivery metrics, customer analytics, and food delivery fees.
ActiveDeliver™ collects and stores multiple data sources in the AWS Cloud – ranging from the restaurant point of sale, food delivery partners, social comments, and customer satisfaction data. AWS Lambda (an event-driven, serverless computing platform) and Amazon Comprehend (a natural language processing service that uses machine learning) are used to find insights, perform sentiment analysis, and can be assigned to restaurant-specific themes. The datasets are stored in Amazon Simple Storage Service (S3) and leveraging AWS Glue, data is loaded into a pre-defined data model in Amazon Redshift and delivered to end users via AWS QuickSights.
Let's say a restaurant general manager wanted to evaluate the performance of its food delivery partners for all or some restaurant locations. In particular, the general manager desired to assess metrics such as:
● How long it takes a food delivery driver to arrive at the restaurant once an order is placed
● How long the driver waits for meal preparation and packaging
● How long it takes the driver to deliver food to the customer
ActiveDeliver™ makes it simple for the general manager to view food delivery data for specific orders, as well as averages for route, restaurant, and fulfillment time—with the ability to "slice and dice" these metrics by restaurant location, food delivery partner, date range, and time of day. ActiveDeliver™ also offers analytics for food delivery customers with insights on total sales from new and existing customers, as well as market basket analysis and customer satisfaction scores.
ActiveDeliver™ visualizations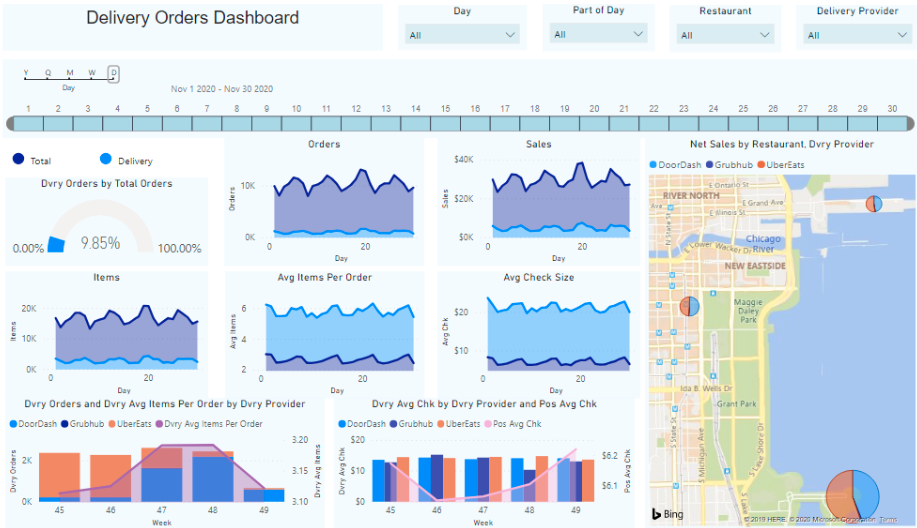 Summary of key metrics for quick service restaurant locations in one month. Displays total orders by delivery vs. non-delivery (in-store and drive-thru) and other high-level KPIs that can be segmented by time, order, delivery partner, and location. Drill-downs allow for variable attribute displays for all or just one location.
Summary of operational performance by food delivery partner
Summary of delivery order status by delivery partner (scheduled deliveries, completed deliveries, refunded deliveries) with customer analytics on visit frequency, average check size, and more.
Case in point: how a leading quick service restaurant uses data analytics to optimize food delivery
Wavicle partnered with one of the world's largest quick service restaurants (QSR) in 40 markets across five continents. With Wavicle's solution, QSR operators now have access to key analytics at a macro-level, giving them the ability to dive into details, resolve specific issues, and optimize food delivery performance.
Since implementation, this particular QSR has continuously increased food delivery orders, which now exceed more than 10 percent of sales in locations that offer delivery. Additionally, the average dollar value per transaction is higher for food delivery vs. non-food delivery. Access to metrics enables the QSR to measure and improve the performance of its food delivery operations.
Adding data intelligence to every food delivery business menu
As 2030 nears, "the definition of 'restaurant' will change," predicts the National Restaurant Association. "The digital world and evolving consumer preferences are resulting in an array of restaurant models aimed at giving customers what they want, when and where they want it. Some restaurants will morph into a hybrid model, offering counter service, full service, takeout and delivery, and meal kits."
As the food industry swiftly evolves, one thing is certain: food delivery as an integral part of restaurant and food service models is here to stay. Which means that appetites for meaningful real-time intelligence to guide business decisions and optimize food deliveries will continue to grow.
— About our guest author —
Duane Lyons, Restaurant Analytics Practice Leader, Wavicle Data Solutions
Duane Lyons specializes in helping companies across the food value chain overcome their most daunting data analytics challenges. Wavicle delivers business results for organizations with custom solutions that capture, analyze, and share growing volumes of data from traditional on-site systems, cloud applications, social media, and other sources. By combining its expertise in data engineering and architectures with artificial intelligence and machine learning concepts, Wavicle helps enterprises imagine new ways to manage costs, increase sales, and become more efficient. Wavicle is recognized as an Inc. 500 company in the 2019 list of fastest growing private companies in America.