StreamShop brings audiences to brands with Amazon IVS
Scalable live commerce solution supports Natura and other major Brazilian companies
Established at the height of the COVID-19 pandemic, live interactive streaming platform StreamShop now helps some of the largest companies in Brazil to connect with consumers through high-quality, low-latency live commerce streams. The company's customizable offering helps brands to easily integrate shoppable live video streams and payment management within their websites.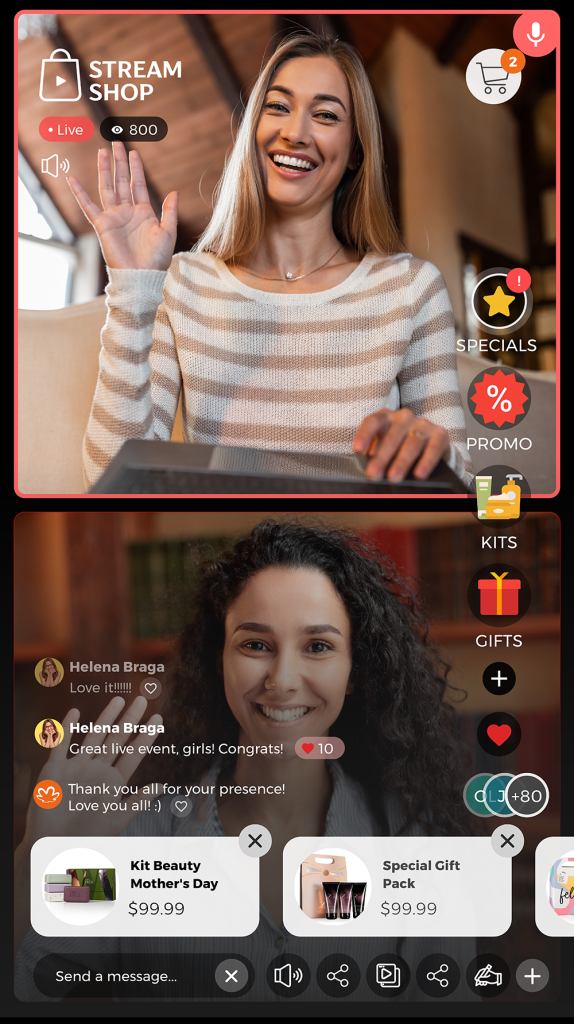 Developed as a pilot program for purpose-driven beauty retailer Natura, StreamShop now hosts 600 shops—or channels for live streaming content—for the global cosmetics company while supporting other large brands. For Natura, each shop features influencers, or sellers who educate consumers on the latest products and offer beauty-related expertise through interactive, shoppable live streams hosted on the company's website or app. By providing these dynamic near-real-time experiences, Natura can build brand affinity and inspire purchasing decisions.
Under the hood, StreamShop uses Amazon Interactive Video Service (Amazon IVS), a managed live streaming solution, to manage the company's live video streams, providing a stable, scalable experience for viewers tuning in to channels. In 2021, StreamShop logged nearly two million unique users on the platform, with a peak audience of 200,000 concurrent streams for a Black Friday shopping event, and that's only the beginning.
"Amazon IVS was initially attractive because it facilitates live streaming sessions from mobile devices, and those streams are delivered with high quality and low latency," explains StreamShop CEO and founder Marcio Machado. "Scalability and stability are also key for us, as well as great support, which has made Amazon IVS a great fit."
Along with facilitating live commerce functionality, StreamShop is also being used to further reimagine ecommerce. For example, the platform helps wine retailer evino host a digital storefront that allows potential customers to interact with a knowledgeable sommelier through live stream, then adds selected products to their carts and check out, all within the same player window. Based on its success, this activation is being scaled to include additional staff and cross-promotions with select vintners. The platform is also used by financial institution Banco Inter for employee training and as an interactive sales tool that allows customers to make investment purchases during live streams.
"With StreamShop running on Amazon IVS, we can easily run many-to-many live streaming scenarios and accommodate transactions. We focus on developing the technology so that our customers can focus on creating experiences," says Machado.
To provide further insights to customers, the platform features a dashboard that uses Amazon IVS to offer an overview of metrics, such as stream attendance, conversion numbers, quiz responses, and chat activity recap. Brands can also choose to make videos available on demand, maintaining the shoppable links in the recording. In addition to using Amazon IVS, StreamShop also taps into an array of other AWS solutions, including Amazon CloudFront, a content delivery network (CDN) service, for video on demand and web traffic and Amazon DynamoDB, a fully managed, serverless, key-value NoSQL database.
"Our customers are constantly requesting new features," concludes Machado, "and with Amazon IVS, we can deliver what they want and improve our platform so that they always receive the best experience possible."
To learn more about integrating interactive live video with ecommerce, see Amazon Interactive Video Service.