How iconik's media management hub and AI accelerate remote collaboration
Authored by Parham Azimi, CEO at iconik. The content and opinions in this post are those of the third-party author and AWS is not responsible for the content or accuracy of this post.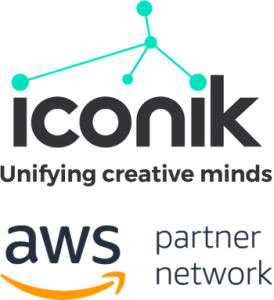 Video is no longer just for the media and entertainment industry. Today, prominent businesses in every vertical are becoming "media companies" as they discover video as a means to communicate both internally and externally. According to statistics from Wyzowl, 99% of marketers using video planned to continue doing so, with 59% of those not using video planning to do so soon. The use of video exploded further across all industries, from daily video conference calls, to marketing videos to give information normally communicated during in-person meetings. Every business is now a video company, even if you manufacture lawnmowers!
This means that every video workflow is vastly different in terms of editing and review processes, in addition to the distribution channels used. It is no longer a question of one-size-fits-all and the technology must reflect each company's unique needs.
Remote collaboration
No matter the industry, remote collaboration is a key issue for every type of video producer. For some time, media companies and other video producers have been slowly moving towards remote workflows for collaboration. This initial shift has been driven by a number of factors:
1. Global teams
Many companies have much more global teams than ever before. Enabling remote collaboration means that teams can work together more effectively, despite not being in the same location. It also means they are able to spread production across time zones to complete work more quickly.
2. Disaster Recovery (DR)
Disaster recovery has always been important. Having cloud-based workflows inherently improves DR because compute and storage infrastructure is distributed across data centers and even across regions, rather than in any one on-premises location. Cloud-based workflows also provide more efficient DR, because you only spin up and pay for the capacity you need when you need it. The days of limiting server capacity to 40% are gone. The past year has taught us that access to offices is not always guaranteed.
3. Efficient production
During production, many media companies are looking to process shoots as they happen. If the team can access the media management platform remotely, then video files can be instantly uploaded in-the-field ready for review and editing by others.
4. The right talent
We all know that finding the right talent can be a challenge, even more so when you are constrained by geographic location. Remote collaboration makes it possible for companies to find the right talent, regardless of where they are based.
5. Flexibility
Being flexible is key for any media workflow. Cloud-based remote workflows are inherently flexible and enable companies to quickly scale up and down resources as required.
This shift has accelerated to an extent that no-one could have truly predicted. We recently conducted our latest media stats report and the results are extremely interesting. There has been a significant increase in the number of companies storing high-resolution original assets in the cloud, making the storage split 65% cloud / 35% on-premises for those high-res files. This was an 11.6% rise in cloud data, which equates to 12.1 PB of data added to the cloud in 2020, an increase of 490%. Amazon Simple Storage Service (Amazon S3) rose to become the preferred storage platform for iconik's customers, with usage growing by 1009%. Overall, iconik's total asset count has increased by 477% since December 31, 2019, now managing over 55M assets.
While some companies were already making that switch to the cloud, for others, switching to remote workflows has been daunting, especially those relying on huge on-premises infrastructure. How do you move tens or even hundreds of thousands of files comprising petabytes of data? How do you coordinate management of those assets when multiple creatives are working on the same files? There is nothing worse than edits being lost because two people are trying to work on the same media file at the same time.
The dawning of a new age
Media companies have quickly adapted to remote collaboration workflows thanks largely to a huge array of technology and advanced tools that have emerged over recent months and years. iconik is a hybrid architecture-based media management hub that keeps media files organized, while making it easy to find the right versions, collaborate with other stakeholders anywhere in the globe, and distribute to multiple platforms. iconik includes API integration with several of the AWS Elemental Media Services to enhance media workflows and processes. These managed services let you build and adapt video workflows quickly, reduce capacity planning, easily scale with growth, and benefit from pay-as-you-go pricing.
One of the biggest challenges for media companies remains ensure they are efficient. Being able to easily find the right content at the right time may seem a simple task but it can be difficult if not well organized, and makes all the difference in terms of maximizing efficiencies. This is especially important for remote workflows where the team is not located in the same building, maybe not even in the same time zone. Artificial Intelligence (AI) has unlocked new ways of working and efficiencies for media production workflows.
Because AI can recognize details in media files, such as color, subjects, feelings, and environments, it is possible to auto-tag media files based on the contents. iconik was already using Amazon Rekognition, an image and video recognition service, to enable users to automatically tag media, ensuring that content is instantly searchable based on those tags. Time-based tags from AI allow users to search and find a specific frame within a video.
More recently, iconik added support for transcription, including API integration with Amazon Transcribe, a service that makes it easy for customers to convert speech-to-text using Automatic Speech Recognition (ASR) technology. iconik's transcription feature uses Amazon Transcribe to convert audio dialogue to text. It has the potential to save much needed time. Previously, transcribing content could require half a day to deliver, but now users can have this in an instant. With ASR, you can now more efficiently use a fraction of the human labor resource time validating automated transcripts rather than creating them.
The transcriptions are displayed as closed captions in the iconik player but are also visible in formats that separate the text by speaker or display individual lines of text against a time code. With the transcription function, users can search through all the spoken dialogue stored in the asset's metadata. This enables them to easily search for the best clips of an athlete, actor, or location, just from spoken phrases.
Maximizing cloud efficiencies
There is no denying that video production is more important than ever. For those that were not yet using cloud-based workflows, the switch can seem daunting. However, the reward definitely outweighs that, enabling remote collaboration, flexibility, efficiency, and above all, enabling companies to keep better control of their costs.
Learn how iconik helped one customer migrate 270 TB of video assets to AWS. Find out more about iconik or get in touch to book a demo. Check out iconik's latest media stats report.
About iconik® is a smart media management solution that unifies creative minds. You can share files from any storage location, collaborate on video, and enrich media with AI – whether you're working alone or as part of a global team. For more information, please visit http://www.iconik.io.