Recap of the AWS Public Sector Summit – Canberra
We just wrapped the AWS Public Sector Summit in Canberra, Australia where 900+ attendees participated in workshops, roundtables, bootcamps, breakout sessions, and a keynote delivered by Teresa Carlson, Vice President of Worldwide Public Sector at AWS.
Teresa was joined onstage by Australia Post, Geoscience Australia, and an adviser to the Australian government, who shared how they use the AWS Cloud to strengthen cyber security, improve service delivery to the public, and innovate faster.
Watch the keynote video on-demand.
Throughout the packed day, attendees could opt for sessions spanning Data and Analytics, Security, Industry & Innovation, and Developer tracks, based on their business and technical interests.
A few featured sessions include:
How Novel Compute Technology Transforms Medical and Life Science Research: Genomic research has leapfrogged to the forefront of big data and cloud solutions. This session outlined how to deal with "big" (many samples) and "wide" (many features per sample) data on Apache Spark. Attendees also learned best practices for keeping runtime constant by using automatically scalable micro services such as AWS Lambda, as well as how AWS technology has powered research at CSIRO.
Terraforming Geoscience with Infracode: Geoscience Australia welds science and technology with tools such as Terraform on AWS, to examine the geology and geography of Australia. The organization gave us an inside look at how it secures Australia's natural resources, builds Earth Observation infrastructure, and analyzes geoscientific data. Learn how Geoscience Australia is taking advantage of this and other innovations – including Packer and CI/CD – to drive change, improve developer experience, and deliver value to users.
Robots: The Fading Line Between Real and Virtual Worlds: Our Summit audience got to witness how live, virtual 3D worlds rendered with Amazon Lumberyard – a complimentary, cross-platform, 3D game engine – interconnects with IoT devices in the real world. This session illustrated how AWS IoT can be used to remotely control inanimate objects such as Sphero robots, using Bluetooth. Attendees observed how AWS IoT and AWS Lambda empower users to create bi-directional communication between moving robots, which can detect collisions in a virtual world created through Amazon's game engine. Learn how voice commands control physical and virtual robots using AWS IoT through Alexa Skills Kit and the Amazon Echo.
View all breakout sessions videos.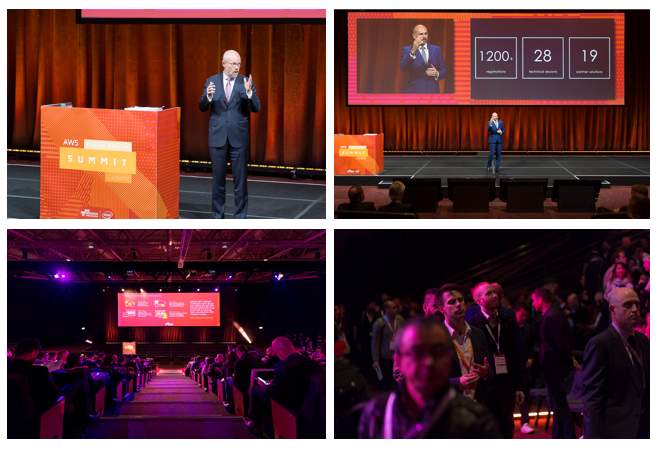 Interested in attending more AWS Summits? Find them in cities near you.