AWS SaaS Factory Insights Hub Provides SaaS Thought Leadership and Guidance
By Merve Soner, SaaS Business Lead at AWS
Since the AWS SaaS Factory started in 2017, we have provided organizations building software-as-a-service (SaaS) solutions with guidance through direct engagements, webinars, bootcamps, conferences, and events.
Based on what we have learned from AWS Partners throughout these engagements, the AWS SaaS Factory team has established a wide range of best practices that help businesses plan, build, launch, operate, and optimize scalable SaaS solutions on Amazon Web Services (AWS).
We are excited to announce the launch of AWS SaaS Factory Insights Hub, a central directory that makes these resources and best practices available to organizations seeking extensive SaaS knowledge.
This new experience makes it easy to navigate the rich collection of AWS SaaS Factory resources in a single location. Included in the SaaS Factory Insights Hub are curated lists of blog posts, on-demand webinars, analyst research, AWS Quick Starts, learning modules, re:Invent sessions, whitepapers, and a range of other resources. It's all designed to help organizations in their journey to SaaS on AWS—no matter what stage you're at.
Get started using AWS SaaS Factory Insights Hub >>
Dive Deep on SaaS Knowledge
AWS SaaS Factory Insights Hub allows you to search and browse available resources by your role, knowledge level, content category, content type, or keywords. You can also view all new and featured content to follow the latest updates from the SaaS Factory team.
You'll find various resources covering both business and technical aspects of a SaaS delivery model, such as SaaS 101, SaaS product strategy, go-to-market (GTM), packaging and pricing, migration strategies, billing and metering, tenant isolation, and data partitioning.
Whether you work for or with an organization offering SaaS solutions to customers, or just want to take your SaaS knowledge to the next level, the AWS SaaS Factory Insights Hub helps you stay up-to-date.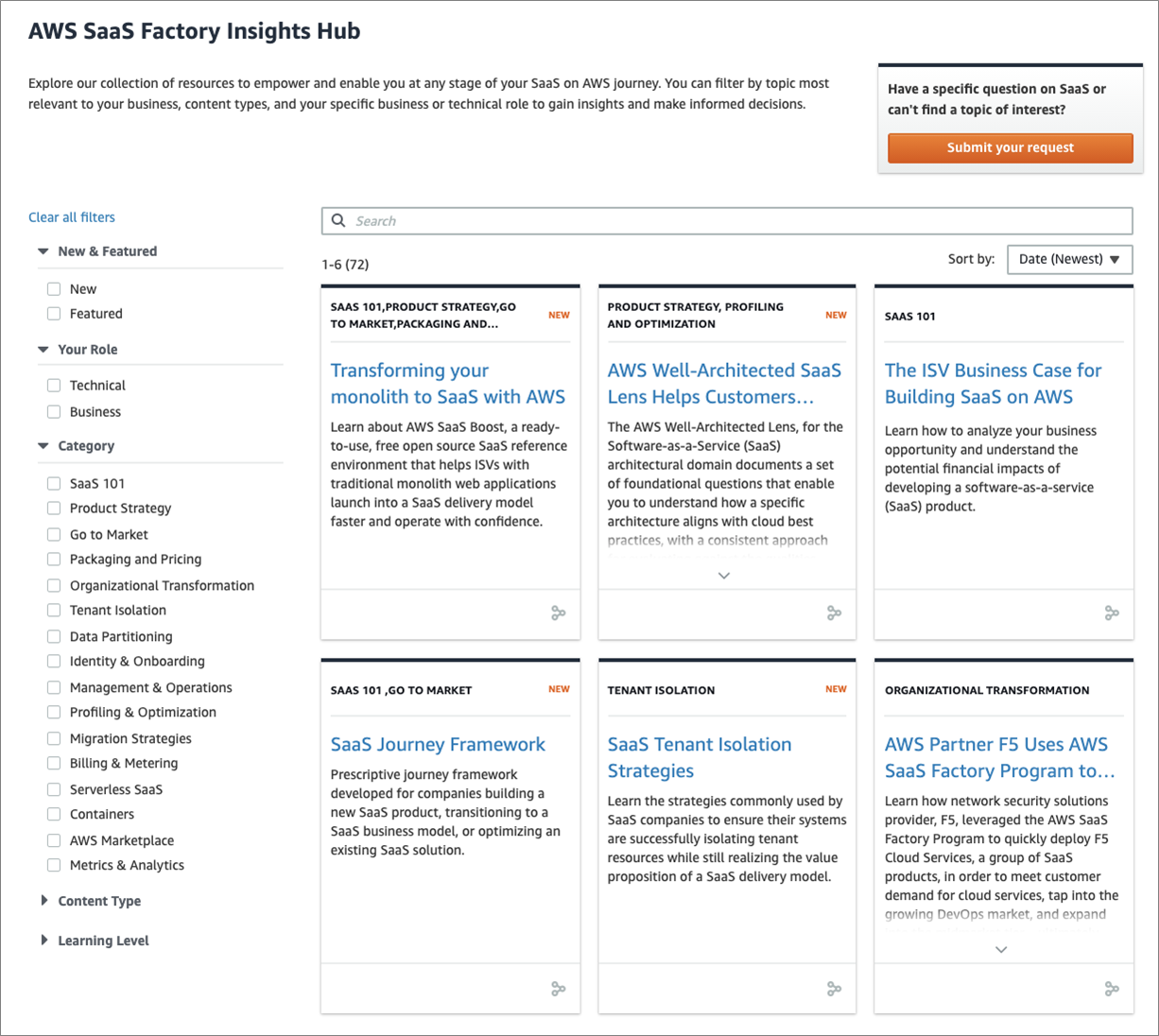 Resources for Any Stage of the SaaS Journey
Here are a couple of recently published resources you can find on the AWS SaaS Factory Insights Hub:
F5 Case Study
Read how F5 developed and launched its first SaaS offering in less than 18 months by collaborating with AWS SaaS Factory and AWS Marketplace.
SaaS Journey Framework Whitepaper
Check out this whitepaper that provides a prescriptive journey framework for companies building a new SaaS product on AWS, transitioning to a SaaS business model from traditional software and technology delivery models, or optimizing an existing SaaS solution.
SaaS Tenant Isolation Strategies Whitepaper
Learn the full range of strategies that are commonly used by SaaS companies to ensure their systems are successfully isolating tenant resources, while still realizing the value proposition of the SaaS delivery model.
Learn more in our whitepaper >>
Get Started with AWS SaaS Factory Insights Hub
Visit the AWS SaaS Factory Insights Hub to get started. We'd love to hear from you about your experience with AWS SaaS Factory Insights Hub and possible topics you'd like to see added.
Please use this form to provide your feedback and suggest topics for our team!

About AWS SaaS Factory
AWS SaaS Factory helps organizations at any stage of the SaaS journey. Whether looking to build new products, migrate existing applications, or optimize SaaS solutions on AWS, we can help. Visit the AWS SaaS Factory Insights Hub to discover more technical and business content and best practices.
SaaS builders are encouraged to reach out to their account representative to inquire about engagement models and to work with the AWS SaaS Factory team.
Sign up to stay informed about the latest SaaS on AWS news, resources, and events.